Granary which was a present to bride made national monument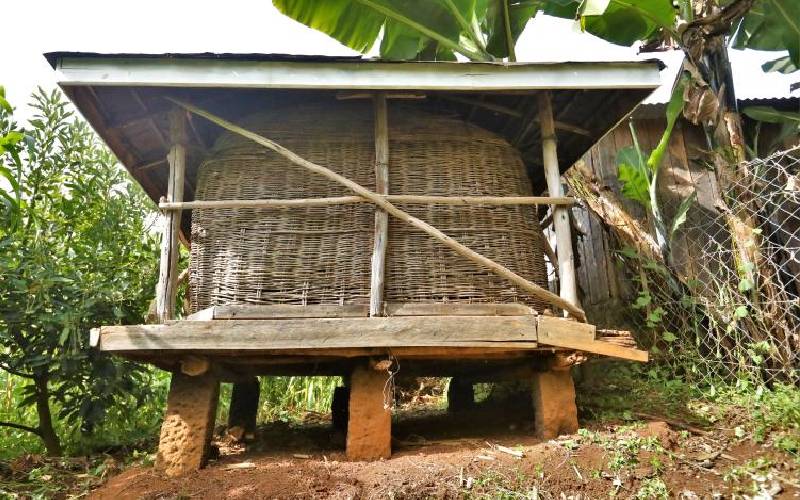 The only gift Enersto Theuri thought he should give to his wife Narcisa Nyokabi when they married in 1943 was a granary.
To him, the store would ensure the family had a place to store food so they would have a constant supply throughout the planting seasons.
However, what never crossed Theuri's mind when he was undertaking the project at his home in Karima, Othaya, Nyeri County, was that the granary would one day attract so much attention.
The granary remained an ordinary storehouse until this year when the National Museums of Kenya (NMK) took it over.
NMK noted that the granary qualified to be a national monument being the oldest in Kikuyu land.
In a gazette notice, dated April 30, 2021, the Cabinet Secretary for Sports, Culture and Heritage Amina Mohammed said the granary is of national interest and declared it a protected monument.
Sitting in the middle of the home, the granary, built using locally available materials is not worn out despite the fact that it has been in existence for 78 years.
Theuri's first son, Naftali Nderitu, said they are amazed that an act through which their father wanted to show his love for their mother, and by extension, the entire family has attracted national attention.
Theuri died in 1976 and Nyokabi died in 2007.And the family cannot demolish or modify the granary without the permission of NMK, thanks to the gazette notice.
The storehouse is in Thuri village near the famous Karima Mission, where former President Mwai Kibaki attended school.
Nderitu, 69, said his siblings received the news that NMK had taken over the granary with a lot of amusement. He said they were not expecting it.
The retired teacher said his father constructed the granary all by himself.
"He told us he considered the granary a special gift to our mother.
"He wanted to have a place to safely store food he produced and by so doing ensure the family had enough stock," Naftali said.
Concentration camp
"Our parents were also committed Christians. They were among the few people in the area to be converted to Christianity at that time."
Theuri was a tailor and had a shop at Karima market.
In 1952, when the State of Emergency was declared in Kenya, Theuri and his wife were forced to go to a concentration camp.
They uprooted the granary and relocated it to the camp at Gatugi village.
When time came for them to go back home, they moved it back to their compound.
Nderitu said other than maize, his parents also stored beans and potatoes in the granary.
"The granary is raised from the ground and measures taken to ensure rodents don't access what is stored in it," said Nderitu.
"This meant food in it was always safe. Cooked traditional food could also be stored in the granary for days, even weeks. It was always our first stop when we came back home from school,"
However, Nderitu said, they have not used the granary since their mother died.
"But that does not mean it had lost value. We always preserved it and that is why it has lasted this long. We have always treasured this gift our father gave our mother as a show of his love for her and his entire family," Nderitu said.
Constantine Kibaba Muriithi, the NMK senior heritage warden said the granary will serve as a heritage to future generations.
"They will have an idea of how traditional granaries, which are being phased out in many parts of the country, were made and learn about their importance. People will be coming here to learn about the traditional granaries," said Muriithi.
Gazettement of the granary means it is now under the control of NMK which will allow the public to access it.
It will be secured and moved to a more central place within the homestead where it will easily accessible by the public. It will also be retained in its original form.