Fire ravages a conservancy, with reports of dead elephants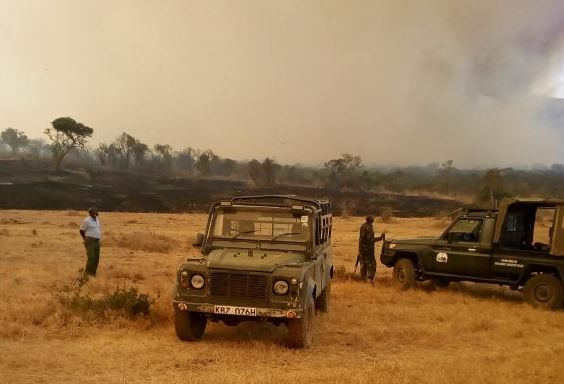 More than 8,000 acres of pasture have gone up in flames in the expansive Loldaiga Conservancy in Laikipia.
The fire broke out on Wednesday near a venue where British soldiers were undergoing training.
Yesterday, the British High Commission in Nairobi confirmed that "there had been a fire during a UK-led exercise in Loldaiga Conservancy."
A statement sent to newsrooms said that investigations have commenced into the incident.
Sources within the conservancy claimed the fire broke out when a cooking stove went up in flames.
There were claims that the inferno had resulted in the deaths of wild animals, including five elephants and old lions that could not outrun the fire.
In its statement, the High Commission acknowledged that among the issues being probed were the animal deaths.
"The welfare of the local community and its wildlife is of the utmost concern to the UK. Reports of dead elephants are being looked into as a matter of urgency by the British Army, Kenyan Authorities and our Loldaiga Conservancy partners," read the statement.
On Wednesday, the soldiers were joined by residents from the nearby Nginyii and Muramati villages as they attempted to stop the raging fire from spreading.
But strong winds blowing from Mt Kenya hampered efforts to contain the fire, as helicopter services were sought to help douse the flames with water from the air.
On Thursday, aircraft from Tropic airfield located near Nanyuki town were mobilised to assist in the rescue operation.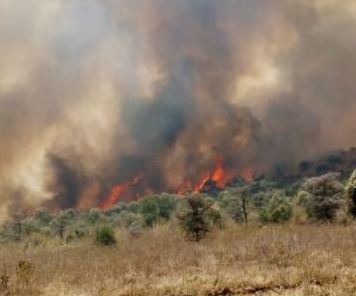 Nights in the cold
The fire broke as residents from Nginyii and Muramati villages, and others neighbouring the 45,000-acre conservancy, have been spending nights in the cold trying to keep elephants away from their farms.
Francis Gathara, a resident of Nginyii, said the extent of damage was enormous and there was a need to prevent such catastrophes in the future.
In Daiga, community scouting leader John Maigua mobilised the youth to put out the fire after the soldiers were reportedly overwhelmed.
"We have a duty to respond to all forms of disasters as damage caused will take more than 50 years to recover," said Mr Maigua.
He added that local families had donated their private choppers to participate in the exercise.
A spokesperson for the British High Commission said they were keen to help the residents. "Our priority is to urgently assist the local community where they have been impacted. We are putting all our resources into containing the fire and are working closely with the Kenyan authorities to manage the situation."
The statement said the military exercise has been paused with all personnel now working to fight the fire.
"So far 350 troops have been deployed to beat the fire and double the width of fire breaks while three helicopters and a crop-sprayer aircraft are pouring water on the fire from above. Additionally, four water tanker trucks are dumping water on the ground," the spokesperson confirmed.