Why water in Lake Elementaita is turning pink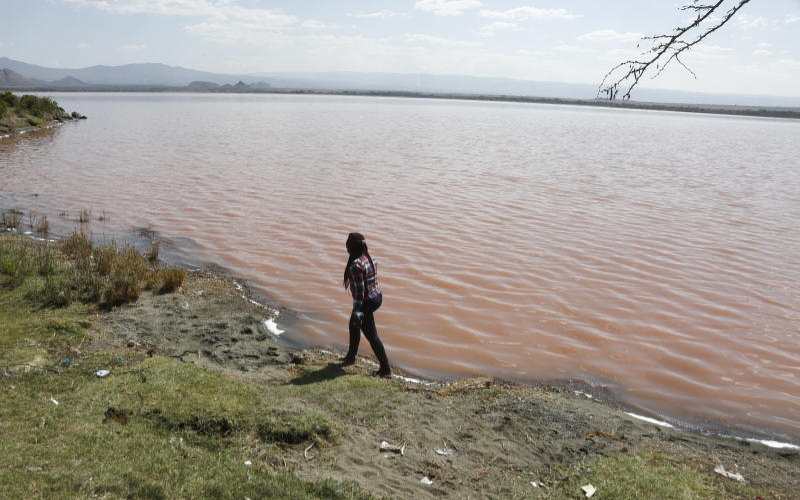 From afar, it looks like a vast mass of water with patches of pinkish-brown dotting the ends.
At close range, it is a mass of light-pink- a new phenomenon of water changing colour in Lake Elementaita.
The change of colour is becoming a puzzle, however, it remains a common phenomenon in the alkaline lakes within Rift Valley. It is almost ordinary during some seasons for lakes to turn colour from clear to lighter colours and sometimes to pink-red.
According to locals, the phenomenon has been experienced before in Lakes Solai and Bogoria. Lake Magadi, too, has a shed of pink, explaining the colour of salt mined at Lake Magadi.
"At some point, Lake Bogoria changed colour to almost red. Lake Solai also changed colour at some point before the water levels within the Rift Valley lakes increased. Often before they change, the lakes dispel a pungent smell," Johana Karatu, a resident from Lake Bogoria said.
The phenomenon in Lake Elementaita has been observed for the past six weeks.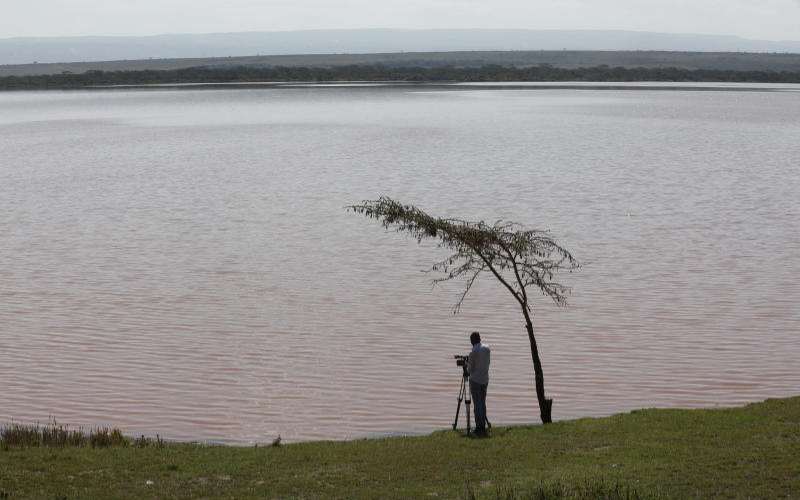 Geologist Dr Sila Simiyu said the case is not unique to Rift Valley lakes. The change of colour, he said, is influenced by change in pH levels and the concentration of salt within the alkaline lakes.
During the sunny season, rates of evaporation are high, resulting in high concentration of salt within the alkaline lakes.
Rift Valley alkaline lakes, he says, have no outlets. The change in colour comes as a result of a reaction between high concentration of salts and erosion materials. He adds that plants swept into the lake after long rains combine with salts to react.
"The change of colour is as a result of a combination of factors. It is a chemical reaction of erosion materials that rot over time and high concentration of salts within the alkaline lake. This leads to change of colour," Dr Simiyu said.
The cases are also exclusive to Rift valley lakes because of volcanic activities. Minerals within the rocks underneath Rift Valley alkaline lakes include salts whose concentrations are higher as compared to other lakes outside Rift Valley.
According to Dr Simiyu, the change of colour, however, does not affect the flamingo populations within the lakes as algae thrive in such hostile environments.
In Lake Magadi, the phenomenon is the same since the concentration of salts is high.
"Potassium concentration is high. Usually, salt from these lakes are usually expansive than normal salt we consume because of high concentration of potassium," Dr Simiyu added.
Lake Magadi is among world-renown lakes with huge deposits of minerals known as Trona.
Trona is processed into bicarbonate of soda, commonly known as baking soda.
And while the changing colours of lakes within Rift Valley continues to be weird, the phenomenon keeps changing depending on the rain patterns.
When it rains, a lot of water gets into these lakes, diluting them. Evaporation is also reduced and the water gets clearer. However, if the season becomes drier, the salt concentration in alkaline lakes become higher and the lake will continue changing colour from clear to light-pink and finally to pink-red.
According to Dr Simiyu, salt concentration (sodium) in the Indian ocean is usually lower as compared to Rift Valley lakes without outlets.
Alkaline lakes in Rift Valley often host immense blooms of microscopic blue-green algae which produce chemicals that can damage cells and the nervous system in most animals.
According to scientist Paul Gacheru, flamingos get the pink colour from the algae they feed on.
"The bright pink colour comes from a pigment found in algae which the birds eat. Once digested, pigments are absorbed making flamingo feathers and skin pink," Mr Gacheru said.
In 2020, a crater lake in India changed colour from green to Pink.
Lonar Crater Lake is said to be seven times saltier than seawater.