New plan to help conserve Masaai Mara ecosystem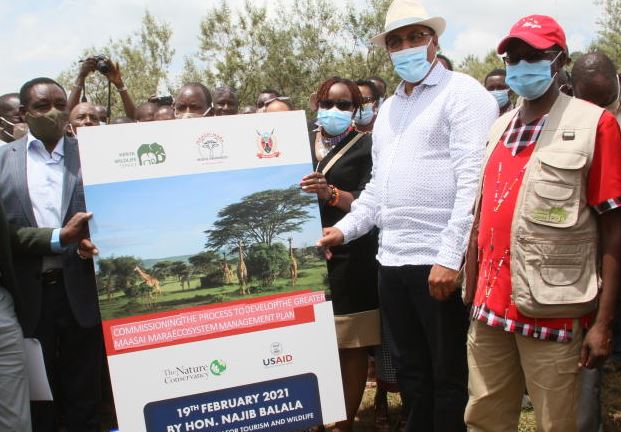 Efforts to conserve the Masai Mara Game Reserve got a boost as 16 community conservancies launched a management plan after a long delay.
The Greater Mara Ecosystem Conservation Management Plan comprises seven thematic areas that focus on wildlife protection, natural resource preservation, land use, opening of wildlife corridors and other sustainable conservation measures.
Speaking during the launch on Friday, Tourism Cabinet Secretary Najib Balala reiterated that the plan that will be implemented for the next two years will save the world-famous park from the fast-growing population pressure.
"Since 2008 when I was the Minister for Tourism and Wildlife there were plans to have the Mara Management plan then in 2016 there was another draft plan but nothing has happened. Last year I vowed to have the plan by the end of August but we are here today to launch it today," said Mr Balala.
The CS also hit out at the Narok County government for allegedly delaying in coming up with the Mara conservation plan.
"I want to tell the county that they are not developing the plan for me as a CS but for the community and future posterity of the wildlife heritage. Masai Mara is a jewel of tourism not only to Kenya but also the world," said Balala who was accompanied by his Chief Administrative Secretary Joseph Boinet and Kenya Wildlife Service Director General John Waweru.
Balala also challenged the 16 conservancies under the Masai Mara Wildlife Conservancies Association (MMWCA) to ensure that the local community benefits from the project.
"We do not want a situation where tourists flock Masai Mara park yet the community and the land owners are reduced to spectators. We want the communities to benefit from the proceeds from tourism," he added.
MMWCA Chief Executive Officer Daniel Sopia said for the last 10 years the communities living around Masai Mara Game Reserve have embraced wildlife conservancies saying that so far over 15,000 land owners have leased their lands for the course.