Why 11 rhinos may have died during relocation to Tsavo park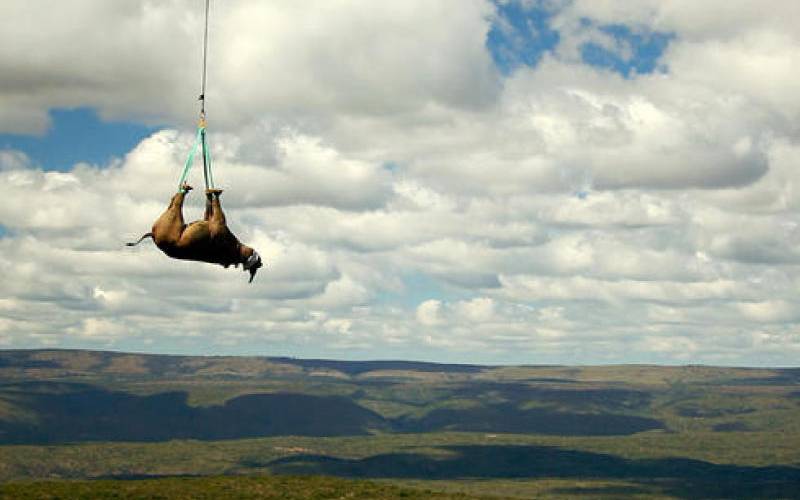 Scientists might have discovered the reason why the 11 black rhinos died in 2018 while being translocated to Tsavo East National Reserve.
A study done by Cornell University College of Veterinary in the United States analysed the effects of lifting tranquillised rhinos upside down by their feet while translocating. The study revealed that the method was actually safer as compared to when tranquillised black rhinos are transported while lying on their side.
Hanging black rhinos upside down, the study reveals, improved ventilation to some extent over rhinos lying on their side.
In the study which was carried in Namibia, the team of researchers compared two groups of rhinos. While one group was sedated and transported while lying on their sides as is often done after being darted, the other group was suspended upside down on their feet as is the norm when being airlifted.
"In this study, suspension by the feet was actually associated with very slightly better respiratory gas exchange," reads part of the study published in Journal of Wildlife Diseases.
In their research, they found out that the breathing and blood circulation of the hanging black rhinos was slightly better than those lying down. All the rhinos were moved within the same site, an activity that lasted for 10 minutes.
Lead author of the study Dr Robin Radcliffe, in a statement, said, "While this was unexpected, and the margins small, any incremental improvement in physiology helps to enhance the safety of black rhinoceros during capture and anaesthesia."
"We found that suspending rhinos by their feet is safer than we thought," he added.
Science Daily, a science research journal noted that while the finding might sound comical, it is vital information for conservationists working to save the vanishing creatures.
Although the researchers said it was good news for conservationists working with black rhinos in rugged terrain, the research might have also shed light on the death of 11 black rhinos in Kenya in 2018.
The rhinos were sedated and transported from Nairobi and Lake Nakuru National Park to Tsavo East. The incident sparked an uproar across the world. Researchers admit that anaesthesia drugs used to tranquillise these large mammals can be dangerous.