Journalists, non-media stakeholders engage in launch of environmental reporting award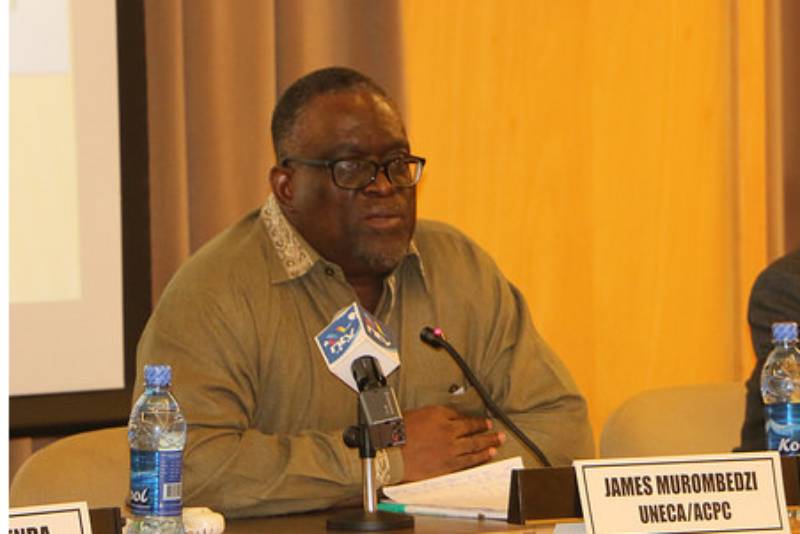 It is "very wrong" to view Covid-19 as a stand-alone crisis when the nexus between the disease and other crises that threaten human existence is obvious. Journalists must, therefore, help the world, whether policy makers or citizens, to participate and concurrently tackle the current crises by appealing to relevant entities to act most appropriately.
This was the message during the launch of the African Climate Change and Environment Reporting (ACCER) Awards 2020, an initiative that targets African journalists telling the continent's environment and climate change story.
Several high profile environment and climate change stakeholders from the media and other organisations graced and spoke in the webinar that was attended by at least 140 people from around the globe. Here calls were made for media stakeholders to take advantage of resources around them to tell, first to Africa, the continent's story to reduce effects of climate crisis on people.
Speaking in the launch webinar themed: "Environmental Journalism in Times of Crisis: Covid-19, the panel focused on the challenges environmental journalism faced, the opportunities that existed for journalists in this sector and what kind of attention and perspective non-media stakeholders expected from media in terms of environment and climate change coverage, especially now that a different crisis (Covid-19) seems to be competing for the same attention.
Dr James Murombedzi, the Chief of the African Climate Policy Center (ACPC) of United Nations Economic Commission for Africa (ECA), said there was adequate capacity in Africa to interpret the science and use the same to guide policy formation and people capacity in tackling crises, but rarely were such opportunities exploited. Instead, he said, focus was on the foreign experts, some who have no clue what homemade solutions were available.
"How do journalists ensure that the citizens understand and participate in the response to the crises such as covid-19 and climate change," he posed.
Democracy, said Dr Murombedzi, is dependent on the information that goes out to policy makers and the citizens. "All these depend on the availability of information, of which media is the custodian".
He said despite the fact that policy makers engage in massive debates on how to approach crises, the African narrative was minimal in the global spaces, since the climate policy and framework formation had very little input from the science in Africa. "And, in climate policy and governance, whose policy are represented in the decision making processes. It is foreign because all this is driven by public opinion that is not African or with very little input from the African scientists, not because the science of the African scientists is less reliable, but because there is little African science engaging in the matter at hand," added Dr Murombedzi.
He called for more empowerment of journalists to advance their knowledge on development and policy issues.
Emmanuel Wongibe, the Deputy Director General of Cameroon Radio TV, said climate change and Covid-19 needed to be tackled concurrently. "Covid-19 has pushed climate change and environmental reporting to the back burner," he said.
Others such as sports, business and politics were equally affected.
But the effects of the disease on the global economy have been adverse, and so reporting on them, Wongibe said, has been a must, as financial resources have to be allocated according to priorities set, but where climate change and environment issues do not seem to fit.
He, however, said all was not lost because there were many approaches to effectively link climate change and environment with Covid-19, as none of them is an event. "Both are drawn out processes that call for a sustained attention. Both are going to be here with us for long, and we have to juggle both in our sharing of resources," he added.
Lilian Odera, a senior editor at Kenya's KTN, said media as the purveyors of knowledge owed it to the public to interpret and report environmental issues, while at the same time finding ways to appeal to political leaders to prioritise appropriately. "We, as journalists, are also human and are equally affected by the effects of climate change".
She said critical issues at play made it difficult for journalists to report effectively on the climate crisis and environmental conservation issues, but said all was not lost.
Kofi Adu Domfeh, a seasoned journalist in Ghana and a past winner or the ACCER Awards, was categorical that there was so much opportunity in reporting on environment and climate change, not only through awards, but also for knowing that through the pen scribes could save the world in whatever little way from ravages of climate crisis.
"Covid-19 is causing a lot of challenges, but these have so many links to the environment we live in. The environmental implications of this disease, for instance, are so many, and through journalists, and media practitioners, can be tackled."
He said there was need to explore, with the support of experts in different sectors, be it science, economy or even agriculture, to direct the world to a better post-Covid period.
Leah Wanambwa, a senior Policy Officer, Climate Change and Desertification Control at African Union Commission, representing the non-media stakeholders perspective in the webinar, said they were interested in seeing a balance between policy, science and public opinion, for more accuracy. Journalists, she said, need to help in such times of crisis as this, to fact-check and prevent spread of fake news and to lessen the work of verification for their target audience.
Avenues exist at the AUC for journalists "to share what solutions or innovative interventions exist out there to tackle this pandemic and the climate emergency". She asked that media includes more community voices in their writings, instead of only focusing in the board rooms where policy makers spoke.
Several participants, most of them journalists, engaged the seven-member panellists in the discussion that ran for more than two hours, with some asking if it was important to treat climate change as a development issue, and if media could change the narrative to shape the climate and covid narrative to be less focused on the Western perspective.
Mr Wongibe said it was important to get the African narrative told to Africans. "It is in telling our own story to us that we will find the solutions to our own problems," he said.
Eugene Nfrongwa, a seasoned journalist from Cameroon, who also moderated the panel discussion, said: "It is painful how African journalists are very conversant with the climate change discourse focusing on what is happening globally but have no clue what goes on back home".
"Do we envision a greener recovery path," posed Joe Ageyo, a seasoned journalist in Kenya.
Augustine Njamnshi, the continental Africa Coalition for Sustainable Energy and Access coordinator, who is based in Cameroon, responded to Mr Ageyo by urging media to help push economies to give climate change the attention it deserves in terms of resource allocation. "It should not look like climate change is competing for media attention and resource allocation with Covid-19. If anything, this disease has only come to worsen the situation for Africa, a country that contributes so little to the global warming. The biggest contributors are only responding to Covid-19 because it is directly affecting them".
He urged media to tell the world about the injustice by the West in addressing the climate crisis. "Where has the money for stimulus projects for countries suddenly come from? They are only helping now because Covid-19 is running a 100-metre race, while climate change, which is here to stay, is running a marathon," he said.
"But are citizens taking ownership of the climate issue, thanks to journalists? A journalist has to look for a sexy topic, and that has not helped address the climate crisis," said Ibrahim Sane, a media specialist in Senegal.
The call for the awards was later made, with journalists invited to submit stories online until September 30, 2020. The stories, published any time between August 2018 and August 2020 can be in English or French, and entries will be accepted for print, TV, radio and digital categories. There will also be a prize for photography.
Dr Mithika Mwenda, the Pan African Climate Justice Alliance Executive Director, said the Awards, now held biennially, was birthed in 2013 to encourage journalists to give the "critical climate crisis the attention it deserves to help save humanity and the rest of the biodiversity".
The committee steering the ACCER Awards is composed of media personalities from Kenya, Nigeria, Senegal, Benin, Ghana, Cameroon and several non-media stakeholders working with the UN, AUC, Oxfam and Friedrich Ebert Stiftung.
The ACCER Awards 2020 theme is "Making Climate Action a Way of Life".