Community plans for bird sanctuary to conserve birds around Lake Baringo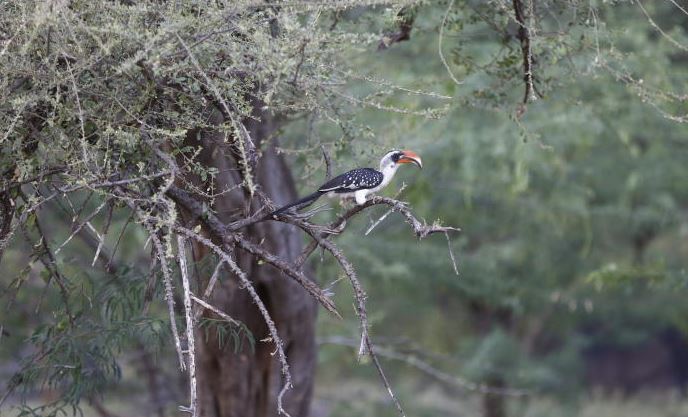 A towering cliff near Lake Baringo is currently under consideration to be made a recognised bird sanctuary.
Famous for the iconic African Black eagle, also known as Verreaux eagle, the almost five-kilometre stretch of the cliff is a sight to behold.
Kapsoi Bird Watching cliff that towers at 84 metres at its highest point is home to more than 370 bird species, and has been proposed as a bird sanctuary by the local community in its latest quest for conservation.
The proposal, locals say, is part of the initiative to conserve the rich birdlife as well as tap tourism potential while creating a platform for birders to access the species with ease.
"This is one of the oldest bird watching sites that has recorded high number of species. The cliff brings together waterbirds like African fish eagles from neighbouring Lake Baringo and dryland birds that breed within the cracks and fissures of the cliff," said Lake Baringo warden Jackson Komen.
The proposal by the community to conserve the site, he says, seeks to bar encroachment activities while also creating opportunities for locals to tap the tourism sector.
"This is a multi-sectoral approach targeted at creation of a bird sanctuary and brings together agencies, including Kenya Wildlife Service, the Baringo County Government and Nature Kenya. The move aims at boosting conservation of the area for purposes of breeding of birds," he said.
Mr Komen said the initiative is also aimed at opening up tourism potential along the Loruk-Maralal road.
"The plans have been there for a long time and community sensitisation is currently ongoing. Once everything is in place, a watch tower will be put up so that tourists can easily watch the birds fly in from Lake Baringo and out of the cliff," he added.
Komen said the cliff plays a critical role in birdlife that contributed to Lake Baringo being designated as both an Important Bird Area as well as a Ramsar site.
Ramsar site is a wetland site designated to be of international importance under the Ramsar Convention. The Convention on Wetlands, known as the Ramsar Convention, is an intergovernmental environmental treaty established in 1971 by Unesco, which came into force in 1975.
"The making of a Ramsar site puts into consideration a number of factors and Kapsoi cliff, located just a few kilometres from the lake, is what boosts the birdlife in Lake Baringo," Komen said.
Titus Chepkangor, a bird enthusiast and guide, said the cliff plays a critical role in conservation of the birds, some which are endangered.
"This cliff hosts hundreds of birds and since 1994, we have documented over 370 species including three species of owls, other nocturnal birds and migrant and resident birds," he added.
The spot, he says, often receives international birders including those from France and England.
"We have a jewel here and international bird enthusiasts often visit this place to watch the birds. Most of the bird documentaries featured in East Africa also centre around those found here and it is a critical spot that requires urgent conservation. Over the years, quarrying activities are coming up, which might not be good for conservation," Mr Chepkangor said.
"Making the site an official bird sanctuary will transform the tourism industry here and also give locals opportunities to tap into as well as conserve one of the few pockets of rich birdlife," he added.
The proposal to have the bird sanctuary at Kapsoi also adds to growing tourism industry in Baringo that has since been eyeing migratory birds.
Tugumoi Flyway, an area standing at 8,000 feet from the beginning of Kerio Valley, Tugen Hills and the Elgeyo Marakwet Escarpment, has since been marked as a scenic spot and bird watchers paradise.
Tugumoi ridge is famous for the annual migration of birds from Europe to Africa at the onset of winter.