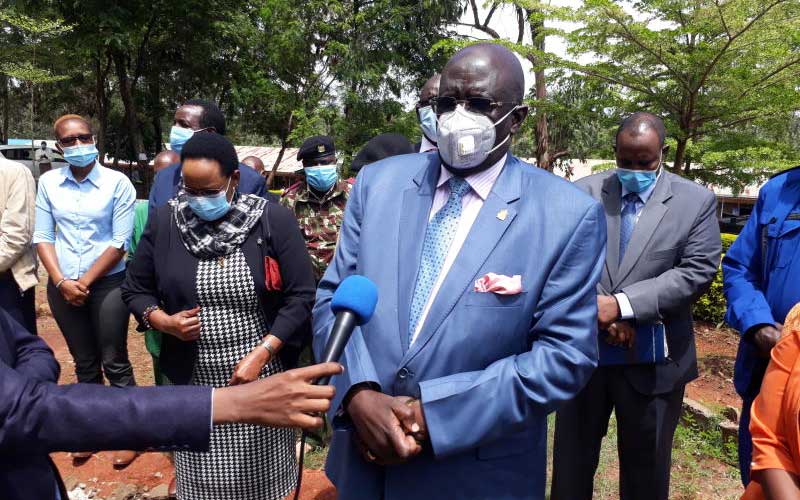 [email protected]
Nearly 10 million learners out of school due to restrictions meant to curb the spread of coronavirus have been advised to resume radio, television and online lessons run by the government ahead of reopening of schools in January. This came even as Education Cabinet Secretary George Magoha assured learners will not lose their academic year. Magoha said the timetable for the rest of learners, Grade 1-3, Standard Five to Seven and Form One to Three – who are not presently in school, will be reviewed to ensure that no child loses a full academic year that would delay transition.
READ ALSO: Video of unbothered Magoha during #Jerusalemachallenge goes viral
Magoha made the announcement at Maragua Ridge Secondary School during an inspection of delivery of desks and chairs to learning institutions in Murang'a and Kirinyaga counties. Ministry sources told The Standard that a rigorous academic plan will be rolled out in January that may see the two school terms covered by end of May. This means that by June, all learners will have started a new academic year that would run to the end of December.
The effect of this is that all the candidates will have covered all the lost schoolwork for this year and also completed the 2021 work, hence salvaging the imminent loss of an academic year. This means the present Standard Seven and Form Three learners, who were expected to sit national examinations next year, will still sit the tests hence guarantee transition. "We shall re-arrange the timetable in a way that will ensure learners don't lose a full academic year after a long break due to outbreak of Covid-19," Magoha said.
READ ALSO: Magoha asks principals not to send learners home over fees
He said the examination timetable for the candidates – Standard Eight and Form Four ­– will remain intact, with only slight changes.
According to the old school schedule, candidates are expected to sit national examinations next year. Candidates are expected to sit KCPE exams starting March 22, 2021 with KCSE starting on March 25. Marking of the exams had been spread between April 19 and May 7.
Yesterday, Magoha asked Grade 1-3, Standard Five to Seven and Form One to Three learners to get ready to resume learning on January 3. On the radio, TV and online lessons, Magoha said the Kenya Institute of Curriculum Development will make available content for all the classes in the electronic and online platforms.
Related Topics