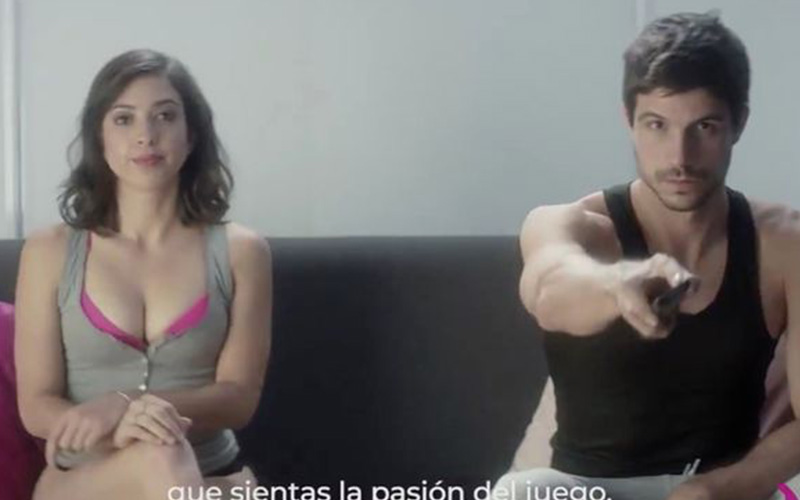 A lingerie company has launched an unusual product they believe will encourage women to get into the football spirit.
Mexican underwear retailer Vicky Form have created a pair of knickers that vibrate when footballers score a goal during the World Cup.
Their latest creation, called Siente el Juego, was unveiled ahead of the World Cup kick-off on Thursday in a racy advert.
The video begins by informing viewers that "every year four million couples separate because of football".
It then cuts to a man and a woman, discussing the problems football causes in their relationship.
The woman describes her partner as "sick" because he turns on the TV and then no one else exists.
She continues: "What's wrong with him? Because of football?"
A narrator then informs them that Vicky Form have found a solution to get both of them equally excited about the match.
She says: "We have created the first pair of knickers that let you feel the passion of the game.
"The knickers are linked to a robot that interprets the action and transforms it into vibrations in real time. The robot makes the knickers move."
The clip then shows the couple watching a football match, while the woman is wearing a pair of the knickers.
As the match becomes more intense, the woman becomes more and more stimulated - until a foul causes the vibrating to abruptly stop.
She jumps up and begins shouting at the television: "Penalty! Blind referee, that's a penalty!"
Her partner is overjoyed that she's taking an interest, and affectionately takes her hand while they watch, moving closer towards her on the sofa.
The risqué TV spot has been met with outrage on social media, with many blasting it as "sexist".
Twitter user Citlalli Aranda said: "How sexist!!! Terrible idea. What a stupid idea to have done this!"
Regina Guerrero wrote: "We women also like sports. Not gender stereotypes."
Similarly Jacqueline Hernandez said she was fed up of people cataloguing what things are meant for men and women in the 21st century.
While @gLOzs said they thought the advert was "degrading and pathetic" and proved the company didn't know their market.
@KarolinaRoojas added: "Lousy campaign. A 'brand for women' that instead of empowering them offends them."
Not everyone was completely against the product though.
One person described the knickers as an "innovation".
Related Topics