Of political campaigns inside churches and 'death of God'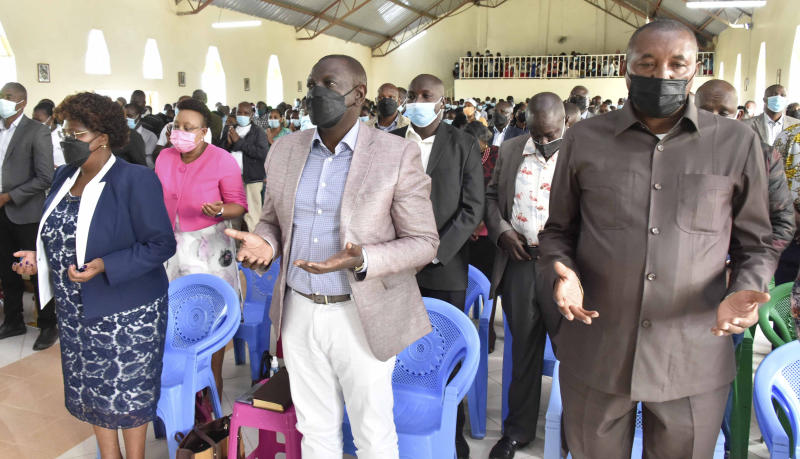 God is dead! This controversial non-theological statement was made in a context not too different from ours here in Kenya. Completely misunderstood for metaphorically declaring that God is dead, German Philosopher Friedrick Nietzsche, was concerned with the way people had moved away from the moral authority that comes with faith in God.
Explained figuratively through a madman who lights a lantern in the morning and runs to the market to announce the "death of God" Nietszche succinctly captures his realisation of how the Kingdom of God is so different from the direction his society was moving. He says thus:
"God is dead … do we not hear anything yet of the noise of the grave diggers who are burying God? …Do we not smell anything yet of God's decomposing? Gods too, decompose. …How shall we comfort ourselves, the murderers of all murderers?"
During the enlightenment period, Europe experienced the rise of nationalism and State separation from the church. The push was to undermine the authority of the Church.
Besides, in the late 19th century technology advancement had profound effect in improving the economy of Europe – Western Europe in particular. People amused themselves more and more with the new development opportunities so much, so that they slowly began to drop their everyday life as Christians, which was a dominant religion in Europe at the time.
Nietzsche, an existentialist, argued that the presence of God in people's lives meant that a system of moral values existed. People would use their conscience in doing what God expected of them. Other existentialists such as Sartre, also argued that people needed to take personal responsibility for their actions hence the "death of God."
The continued "unconscious unchurching" of the faithful to the extent of turning churches into political campaign grounds would vindicate Nietzsche's "death of God." It is not just political campaigns in churches that should concern us but also our own conscience.
We cannot hide our intentions from God. Any place of worship, worthy the name, has specific characteristics. It is dedicated for prayer. It is the space where those who celebrate the throwing away of the BBI case, those who mourn the loss of the case, and those who are indifferent to the BBI outcome unite in one spirit of prayer. In the same space, there could be supporters and candidates from different persuasions.
Places of worship cannot be like media stations where political candidates will walk in to sell their propaganda. Worse, a place of worship cannot be the platform from which politicians throw mad at each other.
There is a real risk of turning to what Pope Benedict XVI calls the "dictatorship of relativism" as justification to host political events in sanctuaries. This is sacrilegious.
Politicians are worshippers like all of us. They need a quiet place to pray. They expect to experience the love of God and conversion. They meet their obligations as any other Christians. The church is a place for receiving the Word of God. In fact, many politicians participate actively in their church without appearing in any way to put up a show of their social status. Simple: Tenda wema nenda zako.
We cross the red line when we hide our well-meaning intentions to raise funds from politicians in the guise of attending worship, much as funds are necessary.
Lest we forget, no one can enter the Parliament when it is in session except in extraordinary sessions. The Sergeant-at-Arms will not only throw you out but you will face legal charges. The sheer protection around Parliament and even the county assemblies shows the seriousness with which certain spaces are contemplated.
How can we be so casual with places of worship? Asking that politicians should not use the pulpit to campaign is not too much, is it? Let us tap into our conscience and do the right thing.
Dr Mokua is executive director, Loyola Centre for Media and Communications