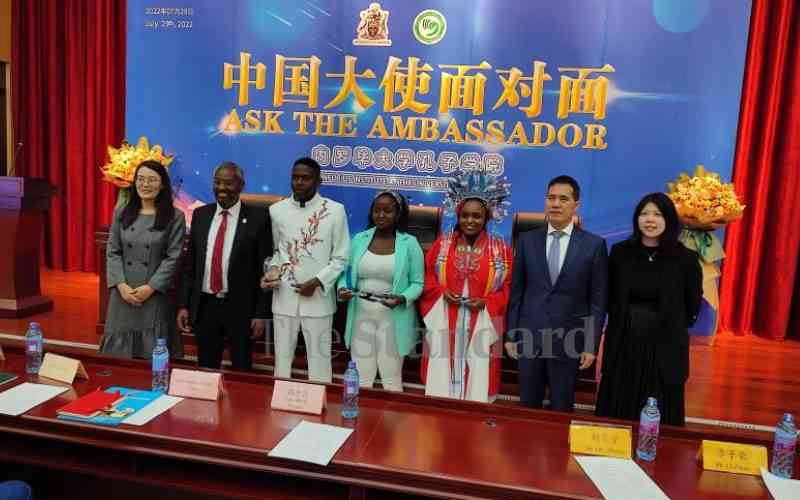 Students in Kenyan universities and high schools have turned to learning Chinese language as an avenue to boost their professional competitiveness in the global job market.
At the University of Nairobi's Confucius Institute, over 500 students are enrolled in different proficiency-level Chinese classes.
The demand for Chinese language is fuelled by the increased job opportunities available to Kenyan youth in the Chinese companies currently operating in the country.
Brian Kaneba, a student at the UoN's Confucius Institute, for instance, says after completing his studies he wants to go to China for a master's degree in Chinese language.
"I want to serve my country by fostering the good relationship between China and Kenya. I also want to be a teacher of the Chinese language," said Mr. Kaneba.
Chinese Ambassador to Kenya Zhou Pingjian said his government had noted an increased interest in the Chinese language by local students and citizens at large. He said the Chinese government will continue to support learning of Chinese language and research activities in local universities to foster the bilateral relationship between Beijing and Nairobi.
"Chinese language ability may open a big door and provide you a sure way to understand China, its foreign policy and predict its future as a just society," said Dr Zhou.
The envoy was speaking when he visited the University of Nairobi on Friday to interact with Chinese language students and faculty members in an event dubbed, 'Ask the Ambassador'; also attended by students from State House Girls and May Hill Girls high schools.
Zhou said China's policy on Africa is based on working with the continent to pursue shared interests.
"We shall stick to the principles of sincerity, practicality and real results. Kenya is a good example of productive outcomes of China's cooperation with developing countries. We can't do what we shouldn't do with Africa, we are very practical," said the envoy.
Beginning 2020, Kenya added Mandarin as one of the foreign languages to be taught at primary and secondary schools.
There are currently four Confucius Institutes in Kenya at the University of Nairobi, as well as Kenyatta, Egerton and Moi universities.
"We have programmes for both UoN students and the public. Anyone interested can just login to the university's website and join our classes," said the institute's Director, Prof Wang Shangxue.
Prof Wang said the institute provides students with networking, job opportunities and internships, especially in Chinese businesses operating in Kenya.
"There is a high demand by local Chinese companies for people who can speak the Chinese language. A lot of companies come to me almost every week to help them get students who can speak good Chinese," she said.
The Confucius Institutes have also served as avenues for young Kenyans to get scholarships to study in China. By 2019, there were over 2,400 Kenyans enrolled in different Chinese universities.
University of Nairobi Vice-Chancellor Stephen Kiama said students from the institution have consistently benefited from the annual Chinese Ambassador's Scholarships.
"Since its establishment (in 2005), the Confucius Institute has enrolled well over 19,000 students. The institute has continued to train talented and excellent Chinese language students," said Prof Kiama.