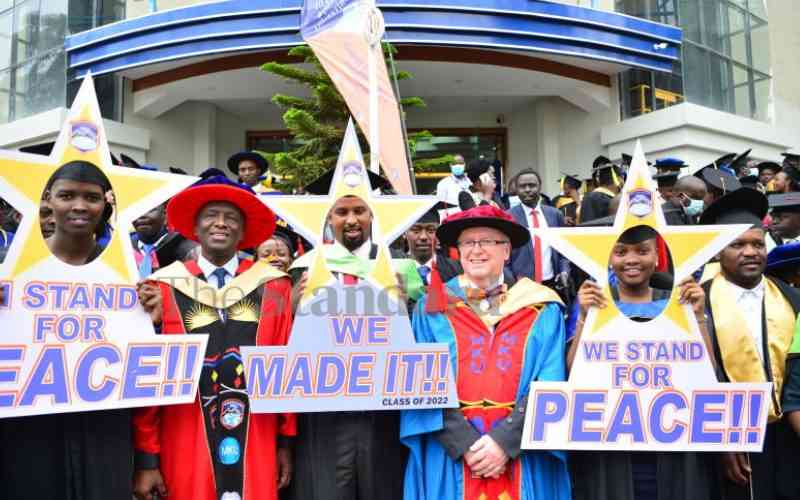 Kenyans have been urged to observe peace before, during and after the elections.
Speaking yesterday during the 21st graduation ceremony at Mount Kenya University (MKU) in Thika, Chancellor Prof John Struthers called on Kenyans to rise above divisive politics and focus on the country's future.
"When we have a look at parts of the world that do not enjoy peace we find it regrettable. I therefore call on Kenyans to give peace a priority in the upcoming general elections above anything else," said Prof Struthers.
Over 6,000 graduands were conferred with certificate, diploma, degree, and postgraduate qualifications, including masters and doctorates in the ceremony.
During the event, the Kenya Medical Practitioners and Dentists council chief executive, Daniel Yumbya, was conferred with a honorary Doctor of Human Letters Degree (Honoris Causa) for his contribution to society in the promotion of education, healthcare delivery and patient safety.
Calls for a peaceful general election dominated the graduation ceremony, whose theme was 'The role of universities in peace building for socio-economic development'.
Prof Struthers asked the graduates to be ambassadors of peace as the country gears up for the polls in two weeks' time, saying businesses, including universities, can only thrive in peaceful environments.
"I call on all Kenyans to be champions of peace and embrace each other before, during and after the elections," he said.
The Chancellor lauded MKU for entering into partnerships that helped the university overcome the ravages of the Covid-19 pandemic and remain on a growth path.
MKU Vice Chancellor, Prof Deogratius Jaganyi, challenged the graduates to volunteer pro bono services to inmates in various prison facilities and as teachers in Wajir county.
MKU Co-founder, Dr Jane Nyutu, said the university has increased scholarships to enable more Kenyans to access higher education.
She urged the graduates to be innovators instead of focusing all their energies on job hunting.
"The world is changing and therefore those who will be dynamic will survive by coming up with innovations," she said.