The Kenyatta University vice-chancellor has been reinstated.
Prof Paul Wainaina is back in the office after he was replaced following a row over the institution's land.
Yesterday, the Employment and Labour Relations Court barred the new university council chairman Crispus Kiamba from suspending the VC.
"Pending the hearing and determination of this application interparties, the court be pleased to issue a temporary order suspending the implementation of the decision contained in the letter dated July 12, 2022, by Prof Crispus Kiamba in toto suspending, terminating and or dismissing the petitioner from the office of the vice-chancellor, rendering his position vacant and or revoking his salary," ruled Justice Jacob Gikeri.
Speaking at the university, Prof Wainaina said the institution is willing to surrender the land to the World Health Organisation (WHO) if the right acquisition procedure is followed.
"We are not opposed to the construction of the centre, but can we get our land, then we can decide how much will be given to WHO? Even if we were to cede the land, there is a process that should be followed."
But he ruled out surrendering the land, saying the university requires every inch of the 410 acres needed by WHO, the proposed Africa Centre for Disease Control, the Kenyatta University Teaching Referral and Research Hospital (KUTRRH) and the Lands ministry.
According to the VC, the land has been set aside for the school of business, recreational centre and a hostel.
In the case before the court, the VC blames Head of Public Service Joseph Kinyua for his woes.
"The first respondent (Kinyua) wrote to the applicant herein unilaterally ordering the surrender of the said parcel of land. The applicant has since been placed under immense pressure to honour the said illegal directives that are outside his mandate and terms of employment," said his lawyer Manwa Hosea.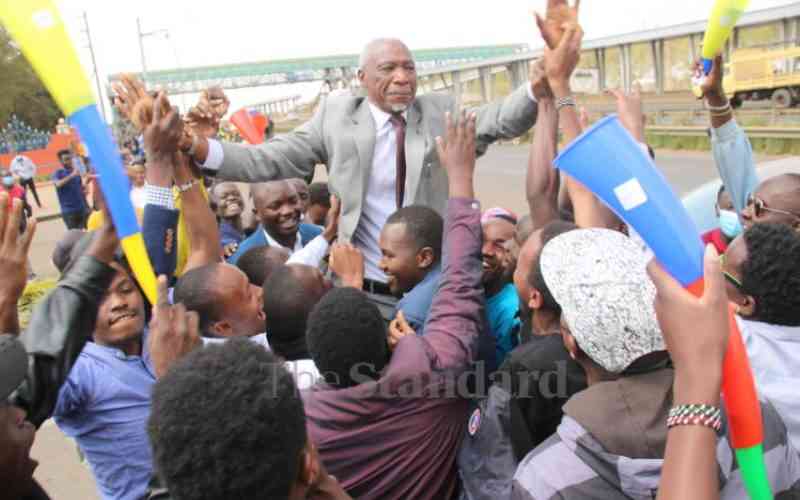 Wainaina urged the court to suspend any further disciplinary proceedings against him.
At the centre of the battle is ownership of KUTRRH, which Prof Wainaina claimed to have been taken away from the university contrary to the initial plan.
"The hospital was constructed specifically for the university. It was not supposed to be a referral hospital like other national hospitals, but a training and research hospital ran by us, but it was made a corporation," claimed the VC.
As a result, he said they have not placed medical students at the hospital in the past three years.
According to the VC, the university has about 720 acres of land. Further, Prof Wainaina claimed there are influential people behind the push to allocate 30.2 acres of the institution's Kamae land to squatters.
"The Kamae land is occupied by illegal people whom we know and some of them are in the government. About 140 acres have trespassed even after we won a case against the squatters in a 19-year court battle. We have already planned for the land but we are being asked to surrender the land," he said.