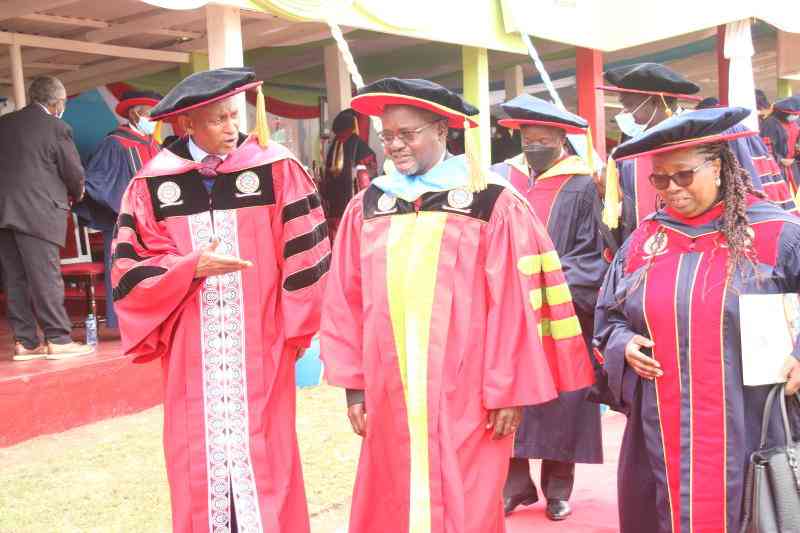 Universities have been challenged to align their programmes with the requirements of the Competency-Based Curriculum (CBC).
University education and research Principal Secretary Simon Nabukwesi asked institutions of higher learning to align their curriculum with the demands of CBC.
"The CBC curriculum seeks to realign our education with the growing demands of digital-based solutions to our everyday engagements," Nabkwesi said.
"Therefore, as the government rolls out CBC there is an urgent need for our universities to be ready to churn out graduates with competent skills that can be applied across the world."
Nabkwesi was speaking during the 38th Jomo Kenyatta University of Agriculture and Technology (JKUAT) graduation ceremony at the institution's main campus in Juja.
JKUAT Vice-chancellor Victoria Ngumi applauded the graduates who excelled in various faculties representing the institution both nationally and internationally.
She said the graduates were well prepared to face the dynamic labour market. "We are in the electioneering period and I urge you to stay away from political violence uphold peace and embrace each other whichever our political affiliations," she added.
The PS however said JKUAT has been instrumental in improving the digital health care services in collaboration with county governments.
The theme of this year's graduation was 'Upscaling Digital Transformation in Training, Research, Innovation and Entrepreneurship for Development'
Nabkwesi urged universities to put in measures to review their curricula to be in line with CBC demands.
This he said will ensure they are adequately prepared to receive CBC students who will graduate from Senior Secondary schools.
Nabkwesi who lauded JKUAT's contribution during the outbreak of Covid-19, said that the efforts of the universities to enhance research, knowledge and learning have been hampered by inadequate financing.
He encouraged universities to continue developing innovative approaches to leverage resources.
"By embracing innovations, our universities can be a powerful engine for change and transformation of our country, especially in this digital era," Nabkwesi said, adding that there is a need to appreciate that government resources are constrained.
He added that despite financial constraints, the priority should be on ensuring that academic standards are not compromised.
The CS also said the financial difficulties being experienced by the universities have been exacerbated by increased admissions.
Mahboub Maalim, the chair of JKUAT Council said the university has continued to make sustained efforts towards mobilising resources to supplement government capitation.