Multilingualism gives speakers an upper edge in the 21st century world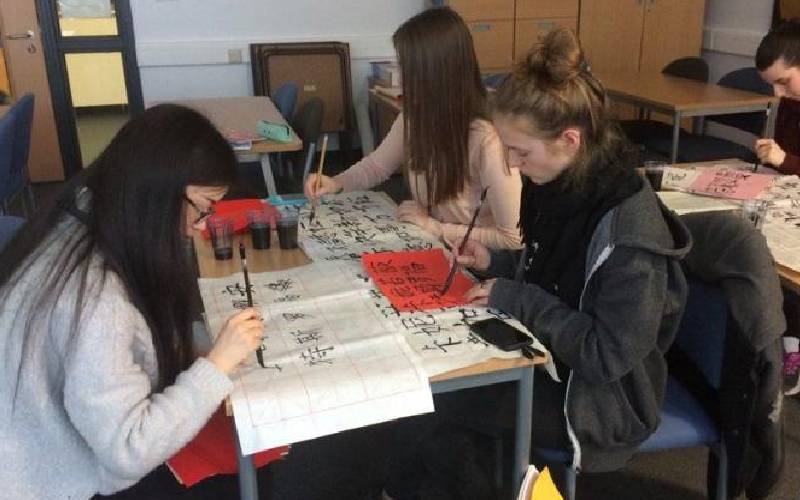 Multilingualism the ability of societies, institutions, groups and individuals to engage, on a regular basis, with more than one language in their day-to-day lives. It is a language term that moves from monolingualism (knowing one language) beyond bilingualism (knowing two languages) into the realm of knowing many, or multiple, languages. In our current globalised, interconnected world, multilingualism is essential for effective communication, understanding of other cultures, and the development of global citizenship values.
Multilingualism is advantageous in the modern world as it increases networking skills and as we open up to new cultures, we begin to appreciate others' opinions and actions. As a result, multilingual people are better equipped to see the world from different perspectives, therefore enhancing their ability to communicate in today's global economy.
Multilingualism generally develops cross linguistic communication strategies like code switching and code mixing. When people switch from one language used at homes to the other outside the home environment, then code switching occurs. This is witnessed in countries like India where switching is witnessed between English, Hindu/Urdu, Bengali and Tamil. Generally, where bilingualism or multilingualism exists, speakers normally tend to use these languages alternately as commonly witnessed in Belgium, Switzerland and China.
This increased number of speakers is probably attributed to the regionalism and internationalism principles that are now embraced by many countries especially in the field of trade and commerce, innovation and also the technological advancements. These principles call for the speakers to be proficient in the working languages to effectuate communication.
Speaking and understanding more than one language can open a world of opportunities. Multilingual individuals can experience some of these pluses first-hand. Not only are they able to communicate with that language-speaking community, they can translate for others, and can be offered multiple job opportunities locally and abroad, thanks to this in-demand skill. It can also give learners a wider perspective on the world and its various cultures.
While these are all wonderful perks, there are even more benefits to being multilingual that experts are still scratching the surface on. In a study published in January 2021 in the journal 'Scientific Reports' of 127 adults, for example, two cognitive benefits for early bilinguals (those who learned two languages as children) were identified. The first is their ability to notice visual changes at a faster rate than those who picked up a second language later in life. The other revealed early bilinguals have more control over their ability to shift their attention from one image to another—which may stem from practicing "shifting" quickly between two languages.
Being multilingual is good for a child's brain development. They are better at planning, problem solving, concentration, and multitasking. These cognitive advantages can be seen quite early. Infants immersed in a dual-language environment have demonstrated their advanced executive functioning as young as 7 months old when compared to monolingual peers, according to a study published in 2009 in Proceedings of the National Academy of Sciences of the United States of America.
Academic Advantage
Bilingual children may also have an advantage in school, including literacy. Studies have shown that when a child learns a second/third language, they show accelerated progress when learning to read compared with monolingual peers. Compared to those without an additional language, bilingual children have improved reading, writing, and math skills, and they generally score higher on standardised tests. Research has shown students who studied a foreign language for a longer period of time tend to do better on the Standard Assessment Tests. Multilingual kids also have a stronger foundation for picking up more languages down the line. This can give them a greater edge when they embark on their professional careers as more and more industries are seeking out candidates who speak multiple languages.
Nurture Curiosity, Cultural Sensitivity, Empathy, and Tolerance
Children who are raised with at least two languages have been found to have greater social understanding. Studies on young multilingual children have found these kids tend to better understand others' perspectives, thoughts, desires, and intentions in comparison to monolingual children. Part of this strength has to do with a more robust language system that can more readily detect certain features of communication such as prosody, the rhythm of speech, and tone of voice.
Boosts Brain Function
Research shows that learning a second language boosts problem-solving, critical-thinking, and listening skills, in addition to improving memory, concentration, and the ability to multitask. Children proficient in other languages also show signs of enhanced creativity and mental flexibility.
Multilingualism opens doors for quicker and easy communication. To remove the notion of 'fixity of reference', entrenching multilingualism in education will of course enable one to avoid restrictions in communication, thus enabling him to move to another stage of communication. Multilingualism practices enhance intellectual flexibility and creativity. Recent studies have indicated that children who grow up in a supportive environment speaking more than one language from an early age are more perceptive and intellectually flexible than those who speak one language.
Children with parents constantly speaking different languages grow up being equally fluent and comfortable with the two home languages and can even learn a third and fourth language. Students who are exposed to many languages will tend to be intellectually flexible. Thus, many children who are fluent in more than one language are superior lateral thinkers, have a greater social adaptability, their thinking and reasoning skills are better, and their cognitive abilities are also greater. A case in point is that children who speak at least two languages do better in school than those who speak one language as depicted by various studies.
Multilingualism provides an insight into the understanding of different cultures and experiences hence a multilingual becomes multicultural in nature. Since languages don't operate in a vacuum, culture and society play a key role in its existence. Thus, language relies on society, culture and mind. In this regard, multilingualism enhances an automatic understanding and appreciation of cultural values of the societies that are contained in the concerned languages. The experiences gained from learning different languages automatically tend to change the attitudes, skills, beliefs of the people, society and create an expansion of world view. All these attributes are formally taught in classroom and informally in the daily communication outside classroom. For example, when we study Kiswahili language in the Kenyan context, we are forced to study its origin, the Swahili people and also their cultural and traditional values thus changing the readers' perceptions.
Multilingualism provides a competitive edge in today's job market. Besides the academic and professional credentials, employers also look for fluency in the desired languages as an added advantage. Therefore, being a multilingual is a plus to any job seeker in this millennium. This can only be realised if multilingualism is entrenched in the learning curriculum. A clear survey by the American Council on Education (ACE) realised that it is somewhat important to speak another language so as to compete successfully in the global economy. In this regard, development of many language skills therefore helps in economic adjustments. For example, in Israel and Netherlands, knowledge of either Hebrew or Dutch respectively tends to limit his or her educational and employment opportunities.
Multilingualism is also a form of human capital. This is because skills in multilingualism are created at a cost (time of the person, teachers and parents in enhancing the language skills, purchasing inputs and other school supplies). Language skills are productive especially in the individual's role as a consumer and in the role as a producer. Those deficient in language skills find it very costly. It is therefore beneficial to have many languages entrenched in an education system in order to get a solid and an all-round human capital. Multilingualism helps in national unity especially if people learn national languages besides their indigenous languages and lingua franca. In the process, the people concerned will automatically embrace the value of togetherness. Politicians and other leaders can use multilingualism by promoting a national language so as to work as viable roadmap in national unity and development.
Don't Hesitate: Go for Two… or Three
Contrary to popular belief, young children are not confused by the introduction of multiple languages at the same time. Not only do they naturally navigate multilingual environments, but acquiring a second language early in life primes the brain to learn multiple other languages, opening a world of opportunities for later on.
Multilingual teaching practices are activities that teachers can implement to increase their students' awareness and appreciation of language diversity and encourage them to use their knowledge of other languages and language learning experiences when learning a new language. By implementing such activities, teachers motivate students by helping them realize that they are not complete beginners and that they already have a toolset that they can use to learn new languages more effectively. Multilingual Teaching Practices (MTPs) have also been shown to boost students' literacy engagement and pragmatic knowledge, as well as overall language performance. Examples of MTPs include trans-languaging, awakening to languages activities, drawing cross linguistic comparisons, translation, multilingual storytelling, and language diaries.
Translanguaging is a process in which multilingual teachers and students engage in complex, multiple discursive practices, including translation, to communicate in and navigate multilingual classrooms. Translanguaging can be used purposefully and systematically to cross language boundaries and enhance and sustain students' linguistic skills and multilingual competence. Furthermore, such purposeful and strategic use of translanguaging boosts students' ability to analyse and contrast different language systems and scaffolds their learning, translanguaging, in addition to scaffolding instruction, also forms "part of the discursive regimes that students in the 21st century must perform" in that it not only reflects how multilingual individuals interact in their daily lives but also how students, when allowed to develop their multilingual competence through translanguaging, can boost their subject knowledge in each of their languages and operate more effectively when using just one or multiple languages.
Awakening to languages activities, meanwhile, involve immersing students in a rich linguistic environment that boosts their sociocultural competence and pragmatic and syntactic knowledge. Teachers require a high level of metalinguistic knowledge and language ability to implement MTPs effectively since many such practices involve teachers drawing attention to language structure. Studies also indicate that teaching practices vary from language to language when teachers teach more than one language. For example, Ezgi, the teacher of English, French, and German in the study by Aslan (2015), reported feeling confident about her cultural knowledge when teaching French, although she admitted that her ability to teach other language aspects like grammar was weak. This limited her ability to provide her students with useful feedback during French lessons. When teaching German, she was more confident in her ability to teach grammar and used metalinguistic terms frequently during lessons.
Multilingual graduates
Multilingual graduates are at an advantage because they have the capacity to work in international organisations and are suited to take up opportunities to work in different environments and with different people. It is definitely an asset for a graduate to speak different languages. It is no secret that it is becoming harder to find jobs. The ability to speak multiple languages boosts the CV and therefore such a skill enables one to be better placed for job opportunities.