How classmates' rivalry led to high scores in KCSE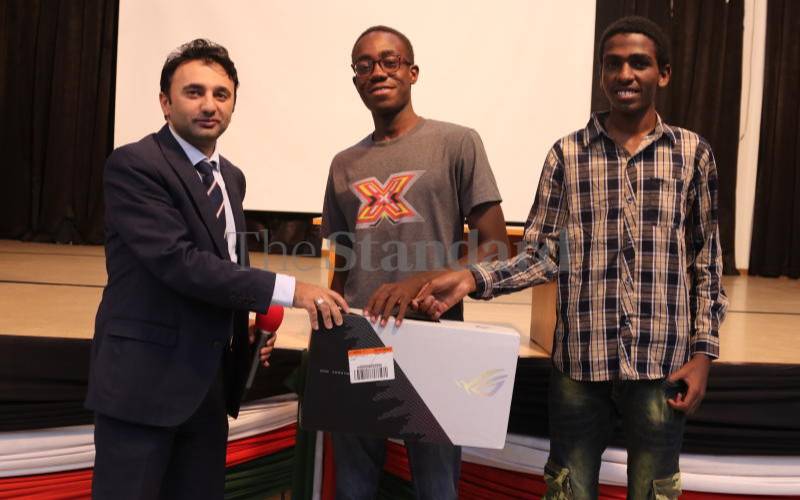 When Education Cabinet Secretary George Magoha read the list of the top 15 best-performing students in the 2021 Kenya Certificate of Secondary Education (KCSE) examinations, two boys in positions five and nine were from the same school, Light Academy Nairobi.
A follow up on the story revealed that 17-year-old Ramadhan Musa and 18-year-old Daniel Mshindi Ouma, both of whom scored A, had been long term academic rivals.
Their teachers said they had battled for the top position since they joined the school in 2018.
"They both had an insatiable appetite to learn and were ready to break ceiling to post high marks," Emrah Sanin, the school principal said.
She said that it wasn't long before teachers realised that it would be a two-horse race between the two as they were among the most consistent performers in their class.
But there was no way of telling who would carry the day as generally, competition at their school is very stiff.
Sanin said that sometimes, the two students, among other top performers would wander off course but noted that the school program is designed to alert the teachers of any dangers like such occurring.
In an interview with The Standard, Ramadhan said: "I had set my target on A of 85 marks but apparently my desire to beat Daniel Mshindi Ouma propelled me to get 87.1 which is even better."
Ramadhan says that he wishes to pursue neurology so that he can contribute to alleviating brain, spinal cord and nerve complications which he says are rampant in society today.
He admits that were it not for the school programme, he would not be able to capitalise and take advantage of his rivalry with Mshindi to win alongside his main competitor.
"I am actually happier that we both emerged triumphant in the long run, he was a worthy opponent without whom I would have never surpassed my dreams," he said.
As for Mshindi, he said: "I had all along planned on getting my A of 85 which would have been sufficient to floor Ramadhan but things worked out even better than I had planned," he said.
Mshindi, who aspires to be a mechatronics engineer, says in the back of his mind, he knew Ramadhan would beat him if he lost focus even for a minute and he, therefore, worked very hard to stay ahead.
The two students are as different as chalk and cheese. Mshindi is easygoing, social and fun-loving while Ramadhan is critical and strict.