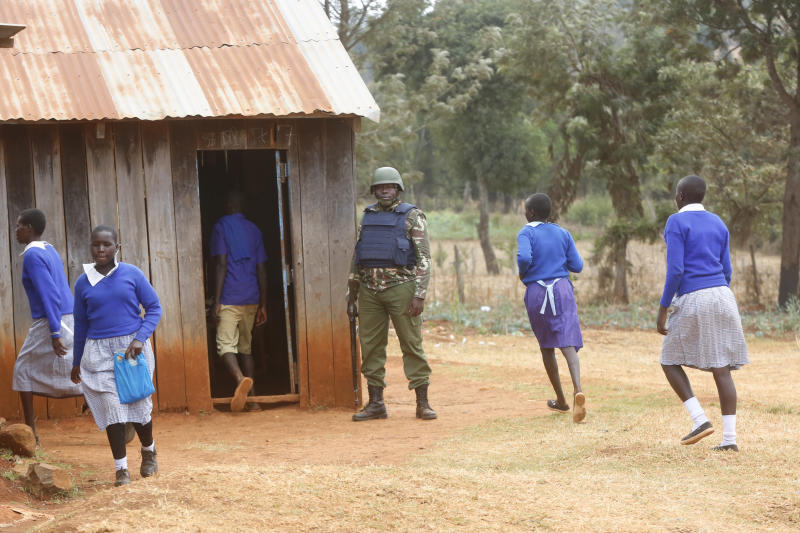 Sounds of gunshots rented the air three weeks ago as pupils in Mochongoi in Baringo South Constituency sat their Kenya Certificate of Primary Education (KCPE) examinations.
As the villagers fled their homes for safety, the 2021 KCPE candidates were writing their papers in a tense environment, under tight security.
Outside the two exam centres at Karnee Primary School that hosted candidates from Kapkechir and Koitilil schools, hawk-eyed security personnel patrolled the compound to ensure the safety of learners amidst rising cases of bandit attacks, sometimes in broad daylight.
Occasionally, KCPE candidates were interrupted by sounds of gunshots either from the security personnel or the bandits raiding nearby villages. At least seven villagers had been killed in an attack just before the exams.
Learning in various schools had been paralysed due to insecurity. Some learners had to be taken to examination centres in police vehicles.
Arabal and Kapindasum primary schools candidates did the examinations at Chemorongion Primary. Mochongoi High School hosted pupils from Sinoni and Kasiela schools.
But even after sitting the tests under such circumstances, on March 28, when Education Cabinet Secretary Prof George Magoha announced the results, some of the candidates posted impressive results.
A teacher who supervised the administration of the examinations told The Standard the results were beyond their expectations.
The teacher said the pupils did the English paper standing, and within a record 40 minutes. Bartuin Kangongo, who sat the papers at Karnee Primary School, scored 375. Purity Jematian got 306 marks, Vincent Kipkemoi got 299, while Mishael Jelelgo scored 282.
Kapindasum Primary School pupils for the last two months before sitting for the examination were being hosted at Chemorongion Primary due to insecurity.
Despite sitting the examinations away from home, the pupils posted exemplary results. The school got a mean score of 317.03.
Mr Elijah Kiptoo, headteacher of Kapindasum primary, said of the 30 candidates, the top students had 365 marks. Five candidates got at least 350 marks; 18 had between 300 and 349 marks, while six got between 250 and 299 marks. The least got 243 marks. In 2020, the school got a mean of 289.
During the examination period, 12 General Service Unit officers manned the school each day. To access the school teachers have to be escorted by GSU officers.
In 2015 the school was closed indefinitely. It reopened in January 2019, then got a mean of 320.
Contacted, most of the teachers and learners said they were yet to get their results, citing poor network coverage. The Standard established that most headteachers had travelled over 40km from Mochongoi to Marigat for cyber services to get the results.
Kemboi Limo said he would not have scored the 370 marks were it not for his parents who relocated him. Kemboi, a former pupil of Kapng'etio Primary in Bartabwa, moved to Sesia Primary following cases of insecurity.
Sharon Lekae of Lorupil Primary in Arabal scored 370 marks. The security situation, she said, did not hinder her from achieving. She hopes to go to Alliance Girls and eventually be a journalist. Her greatest wish is for sanity to be achieved within Baringo South.
Joan Naseyo, 15, a candidate at Latacha Primary, scored 385. She said the results were hard-earned as they trekked long distances in search of water.
She said sometimes she would be forced to study under trees.