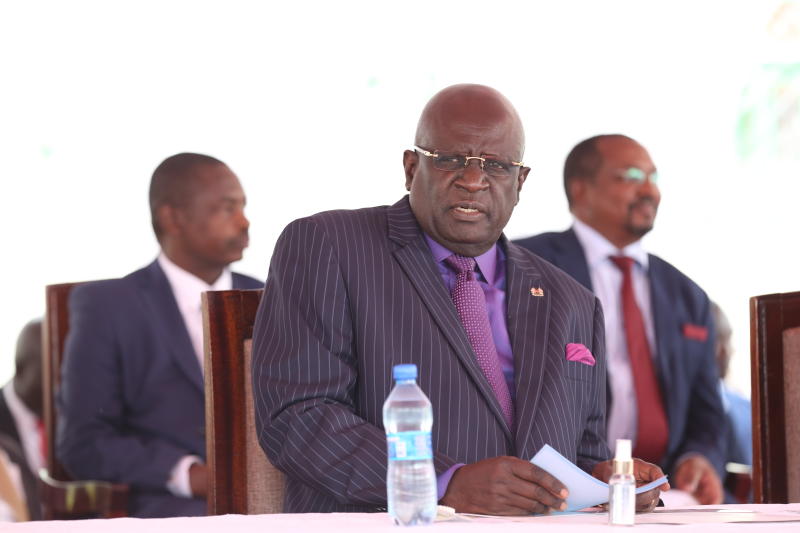 Ministry of Education staff are in a spot over allegations some of them pilfer public resources.
Since assuming office at Jogoo House, Education Cabinet Secretary George Magoha has complained about staff he says orchestrate underhanded deals.
He complains about procurement of textbooks, accuracy of National Education Management Information System (Nemis) and exaggerated unit costing of desks and classrooms.
"There is still a small cartel within my ministry and nobody should be surprised the way I do things. I was in Kenya National Examination Council (Knec) and I made things work.
"I have come here to protect the rights of parents and children. Any time I cannot do that, I have no business being in this ministry," Prof Magoha said in November 2020.
Questions are now being asked about the invisible hands that Prof Magoha claim are pilfering resources at the ministry.
Prof Magoha accuses them of either inflating costs of items, giving fake data on students and schools or giving wrong information about the sector.
The latest is the claim that someone at his office attempted to inflate cost of constructing classrooms under the project aimed at enhancing transition of learners to junior secondary schools.
While releasing the 2021 KCPE results on Monday, Prof Magoha accused some Education ministry officials of conspiring to inflate unit cost of classrooms by nearly half a million shillings.
He said the ministry had already constructed 6,497 classrooms, at a cost of Sh5.123 billion, to accommodate the CBC pioneer class.
"Each of these classrooms cost Sh788,000. So we must start asking ourselves where the extra Sh426,000 has been going to. Most of the classrooms before these were constructed at Sh1.26 million each," said Prof Magoha.
"If you are saying the same classes cost Sh788,000, where are you taking the rest of the money?"
On November 14, 2020, Prof Magoha raised similar concerns during the procurement of desks for schools. He said he had identified lapses within the ministry where public funds have been misappropriated.
"A key example is in the primary school sector where due diligence identified an inflation of numbers of learners from 8.47 million to nine million. The shortfall of 529,997 learners has led to the saving of Sh752,594,740 annually," he said.
The CS also accused some of his staff of planning to pilfer part of the Sh1.9 billion Government Stimulus Programme for the delivery of desks in schools.
Evaluating learners
"When I did due diligence of establishing the market prices of the desks, I realised that the unit cost at the ministry had been inflated by Sh1,700," said Prof Magoha. Addressing secondary school heads in June, 2019, the CS said he does not understand the Nemis and could not trust anyone with the details.
"For the next two to three weeks, I will camp at Nemis to understand it because I don't believe anybody and I don't believe what they are telling me."
Appearing before the National Assembly Education Committee in February, Fatuma Chege, the PS State Department for Implementation of Curriculum Reforms, poked holes into the Nemis saying 'it has issues.'
"I found issues being raised about Nemis when I joined the ministry. But we need a new data base for our function of monitoring and evaluating learners across the entire education system," said Ms Chege.
The PS said Nemis only aligns to primary and secondary education and does not take care of pre-primary, tertiary and university education.
Yet, the system that was launched in 2017, was billed as the ultimate one stop shop for data on all leaners.
Prof Magoha has on many occasions questioned students ands schools' data at the ministry with regards to textbooks distribution.