Proposals to get rid of boarding schools, bring back cane stir debate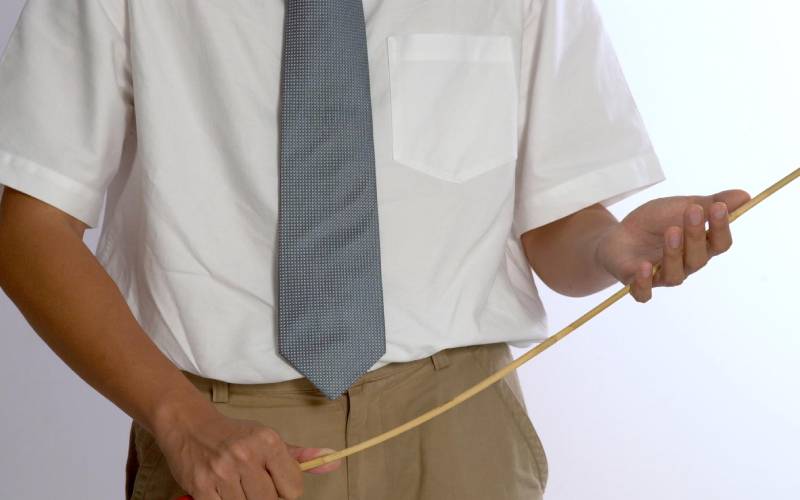 Reintroduction of the cane and abolition of boarding schools are among proposals the government is considering to tame indiscipline among students.
But these recommendations have been opposed by some education stakeholders, who are calling for a national dialogue to discuss issues affecting public schools.
Speaking on Monday the Egetonto Primary School in Kisii, the Education Cabinet Secretary George Magoha and his Interior counterpart Fred Matiang'i said caning of errant students could be the answer to a recent spate of incidents in schools countrywide, which have seen some institutions suffer arson attacks.
But the change can only be introduced with the amendment of the law that banned it.
Some parents have cautiously welcomed the cane, saying only trained teachers should be allowed to administer the punishment.
The National Parents Association Chairman Nicholas Maiyo said teachers have abused the cane before, leading to injuries.
"We have said before that like in prisons, not everyone can administer the cane. We want a trained person to do it because teachers can be careless at times and may cause harm," said Maiyo.
He also suggested that parents be allowed to cane their children in case they cause trouble in school.
"Call the parent to school. Let the mistake be pointed out and the parent be allowed to cane the child. This is because parents are careful in administering the punishment," said Maiyo.
Parents have also welcomed the reintroduction of approved schools.
"We have no problem with their reintroduction because, in any case, it will only target errant students," he said.
Lost societal values
But Paul Wanjohi, the national organising secretary for the Alternative Provision of Basic Education and Training Association, said caning would not be a solution.
"It will not be effective in the long term because hurting children does not work well in changing behaviour. Caning does not change a child's underlying attitudes and values," said Wanjohi.
He said caning may also hurt physically, including suffering permanent deafness, adding that it could also result to brain damage or death.
Moses Ayier, a high school teacher, said bringing back the cane is like treating symptoms of a dead horse.
"Shall we buy a stronger whip, appoint a committee to study the dead horse, change the rider or increase the funding for training the dead horse?" said Ayier, noting that a robust conversation was needed to reclaim lost societal values.
"We cannot change behaviour by constructing more prisons but by constructing more schools with the human capacity to handle the expectations and complexities of the dynamic generations."
Dr Matiang'i also noted that there must be a national conversation on parenting and disciplining of children, a proposal that has been echoed by Mr Kahi Indimuli, the Secondary School Heads Association chairman.
"We need to bring all stakeholders on board to talk about funding of schools, discipline, infrastructure, boarding as drugs as well substance abuse," said Indimuli.
Dr Emanuel Manyasa, the executive director of Usawa, faulted Education ministry officials for not tackling issues affecting schools.
"They are failing to do simple things such as fixing schools management crisis and proposing to do the difficult ones such as reintroducing the cane."
Value of education
He said there has never been proof that caning improves discipline.
"These fire incidents have continued because of sophisticated and effective communication channels that enable students to engage among themselves,' noted Manyasa.
He also dismissed the idea of scrapping boarding schools.
"Most of the big schools are concentrated in the same region. If you make them day schools, does it mean children from other areas will never attend these schools?"
Manyasa said the value proposition of education to the child must be established.
"Those days, even if you punished the child, they knew it was for a course because education was useful. Today if you dare children with suspension or expulsion, they enjoy it because they do not want to be in school anyway," he said.
But Faith Nafula, a counselling psychologist, said scraping of boarding schools may work because the children will be closer to their parents.
"But it will succeed if the home is also safe and peaceful. Parents will have to endeavour to provide a safe environment of love, basic needs, care and guidance for their children," she said.