Kakamega High School parents, students turned away over Sh21.6m fine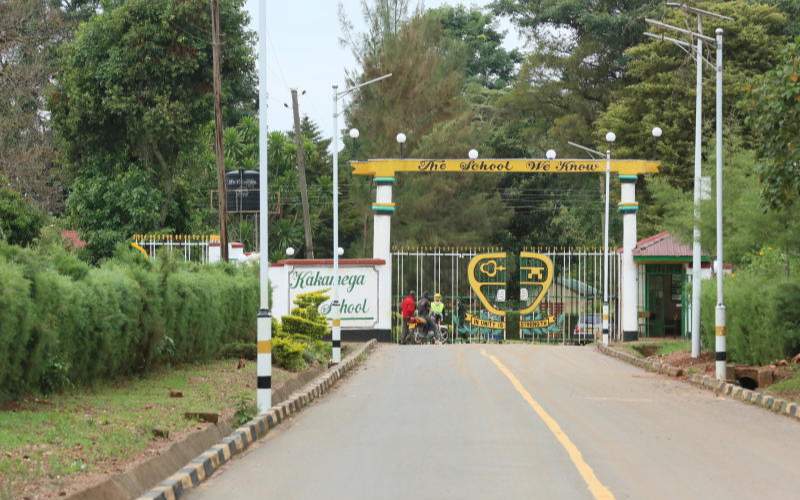 Kakamega High School parents who could not afford the Sh9,800 penalty to reconstruct the burnt dormitory were turned away yesterday.
The school management had earlier warned that students who would not have paid the penalty would not be allowed back in school.
The school, with a population of 2,265 students, was closed indefinitely following a fire incident on November 6.
Yesterday, Form Four parents who accompanied their children started arriving at the school gate as early as 7am.
They were told to produce bank receipts confirming they had cleared the requisite amount before being allowed to enter the main gate.
There was a heavy presence of police officers around the gate to stop parents from forcing their way into the school.
Only parents who produced the bank slips were allowed in with their children.
But those who could not raise the money accused the school administration of not taking their pleas seriously.
"We are not against paying the money because our children are responsible for what happened, but the notice was too short, and we were not consulted. We request for more time," said a parent who requested anonymity.
A parent who arrived with a notification from a Sacco indicating the money was to be out in one week was told to go back with her child. She wondered why the school administration was "demanding a lot of money". "I travelled from Trans Nzoia, and I have explained my situation to them, but they will hear none of it," said the parent.
Another parent said he decided to pay the fine but was not happy with how the school management was handling the issue.
"I am a parents' representative. I came with Sh3,000 and was told the money was not enough. I had to go back and look for the balance before my child was allowed in." He wondered why the parents association was not involved in assessing the damages and ascertaining the real cause of the fire.
The penalty from all the students will total Sh21.6 million.
School Principal Gerald Orina said the penalty was not too much and way above the damages as claimed by some parents.
"The Sh9,800 was arrived at basing on the report released by public works officers from the Ministry of Transport, Infrastructure, Housing and Urban Planning after assessment," said Orina.
The presence of the police also did not go down well with a majority of the parents who accused the institution of intimidating them.
"They have refused to take half the amount required. I have asked for permission to see the principal, but the police are chasing us away. We deserve some respect as parents," said a parent.
Kakamega Central OCPD David Kabena said they had received intelligence reports that parents had planned to stage demonstrations at the school.