Egerton University workers on strike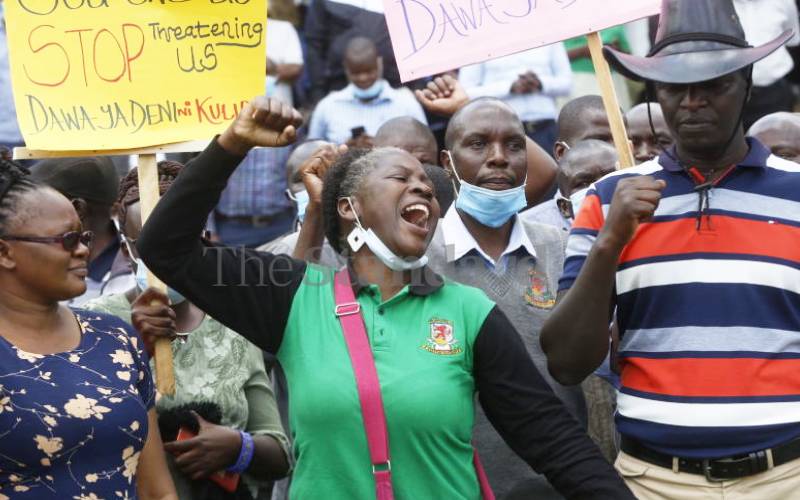 Egerton University lecturers have officially downed their tools following the expiry of their seven-day strike notice.
The workers who have joined the industrial action are teaching staff under their University Academic Staff Union (UASU) while other staff under KUSU and KUDHEIHA are on a go slow.
The workers are demanding implementation of the 2017-21 CBA for all university workers in the country and a 2020 return to work formula which they have accused the university management of ignoring.
They are also demanding the remittance of statutory and third-party deductions made on their salaries to the relevant agencies.
The strike comes at a time the students are undertaking normal and special exams which have since been halted.
On November 8, the workers under their respective labour unions converged at the university's graduation square outside the administration block in protest over what they termed as highhandedness by the university's management.
Kenya University Staff Union Branch chairperson Kipchumba Ruto said they will continue with their protest until their grievances are addressed.
Uasu chapter chair Prof Mwaniki Ngari questioned why the university had failed to honour a nationally agreed collective bargaining agreement (CBA).
"Whatever we are demanding for is not unique to Egerton. It is what is provided for under the 2017-2021 CBA which was registered in court in January for all public universities," said Prof Mwaniki.
He added that despite agreeing on a return to work formula on the 40 per cent pay cut imposed at the height of the Covid-19 pandemic last year, the university had not honoured the agreement.
At the same time, KUSU branch treasurer Kennedy Mangale said it was unfair for the university to expect them to continue working yet they were not being properly compensated.
The workers accused the management of declining to release their full pay, statutory and third party deductions as expected despite receiving the funds from the national government.
Speaking to The Standard, Egerton University Vice-Chancellor Prof Isaac Kibwage denied claims that the management had declined to cooperate with the workers.
"The staff are demanding money that the university doesn't have. It is a CBA that was signed nationally and the government has not given sufficient capitation to cater for it," said Kibwage.
Further, the VC said they would enter talks with the unions to resolve the stalemate as soon as possible.