Vice chancellors push for State bailout to stem varsities' financial mess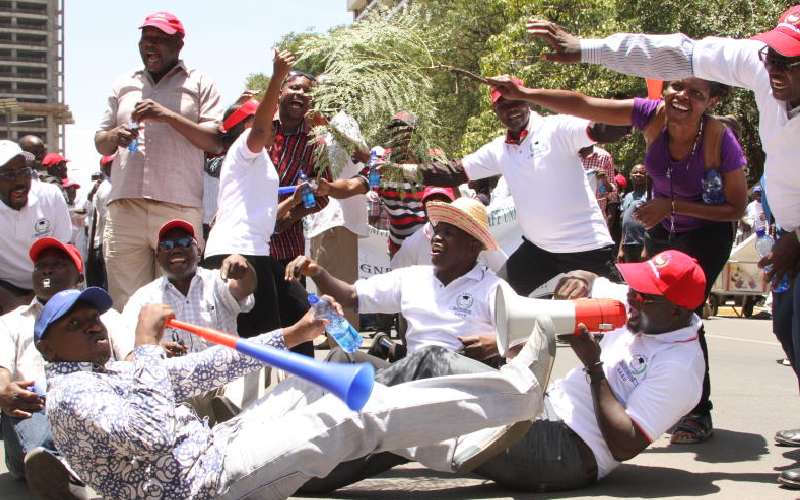 The fight between public and private universities over billions allocated to government-sponsored students has exposed the deep-rooted financial mess in Kenya's institutions of higher learning.
Faced with a Sh54 billion funding gap, sinking under the weight of a Sh40 billion debt and unable to meet statutory obligations, the universities are in a muddle.
The concern is also growing that incomplete projects in public universities, which by last year stood at Sh52.8 billion, will attract penalties and interests on delayed payments.
Compounding the crisis is the declining number of self-sponsored students and the shrinking internally generated income­ – also known as Appropriations in Aid (AIA) – which has pushed the institutions into the red.
The AIA refers to the income universities collect in the course of their operations and are allowed to use or apply.
The income-generating activities vary from one university to another. However, the common AIA among all universities is the fees paid by all students (government and private-sponsored). Other sources of AIA are enterprises run by the universities.
This money forms a crucial part of capital used to supplement government funding to plug deficits.
Official data from the Ministry of Education reveals a trend of declining AIA, signalling hard times for universities since 2017.
In the 2016/2017 financial year, for example, the approved budget was Sh14.1 billion and universities collected Sh14 billion leaving a small deficit of Sh163 million.
However, this started to nosedive in 2017/2018 when with an approved budget of Sh36.1 billion, universities collected Sh28.9 billion leaving a deficit of Sh7.2 billion.
The figure went up in 2018/2019 when universities had a gap of Sh8.1 billion having only generated Sh36.2 billion against an approved budget of Sh44.4 billion.
And during 2019/2020, the deficit stood at Sh12.7 billion as universities only collected Sh31.5 billion against approved budget of Sh44.2 billion.
The updated data of 2020/2021 situation is not clear, however, approved budget stood at Sh22.2 billion just like in the previous financial year.
A report prepared by University Education and Research Principal Secretary Simon Nabukwesi says: "The declining trend in AIA is attributed to low enrolment in module II students. The current student tuition fees stand at Sh16,000 per year which is constant compared to increasing cost of living over the years."
Nabukwesi added low funding levels to universities has resulted in accumulation of pending bills equivalent to Sh36.7 billion "… which comprise statutory deductions, capital development expenditure, debts on quality assurance, placement by Kenya Universities and Colleges Placement Service (KUCCPS), wages and salaries arising from Collective Bargaining Agreements (CBAs)."
The Sunday Standard also established that universities are also sinking under a huge monthly wage bill of Sh4.5 billion thanks to bloated workforce.
A staff audit conducted by universities managers and unions in 2017 revealed that public institutions had extra staff data by 2,513. The institutions had declared a workforce of 30,312 but after the audit, the figure came down to 27,798.
Universities data remains a topic discussed in hushed tones. However, interviews with VCs reveals that the number of excess non-academic staff could be higher as most of them were employed through different approaches.
The VCs explain that there are universities that were previously technical colleges and had ministry staff seconded there and they were absorbed as university staff, affecting wage bill.
Samuel Kiiru, the National Treasury director of National Planning, told MPs last year that the issue of teaching and non-teaching staff in public universities is a weighty matter.
"Some of these universities were colleges and when they converted to universities they took on board huge number of staff who are now not suitable for a university," Kiiru said.
Other VCs also confessed that some institutions hired more staff than they can sustain, pushing them into perpetual financial crisis.
It is now emerging that most universities are facing major challenges for failing to cut costs, which includes offloading some staff, to enable them to balance their budgets as their internally generated funds also dropped.
Ministry insiders say universities' operational costs are too high on personal emoluments as there exists a high number of support staff against the crucial academic staff.
The National Treasury last year approved mass layoffs, saying universities have a bloated workforce, some with old skills that are no longer needed.
The greatest fear, however, is that universities would require even more money to retrench staff.
Egerton University, for instance, requested for Sh1.5 billion for retrenchment.
"Some universities have bloated administrative staff and re-organising human resources at these universities will require allocation for downsizing," Julius Muia, National Treasury Principal Secretary, said during a meeting with MPs.
Other universities, The Sunday Standard established, have also made requests to the National Treasury to downsize. Little progress has been registered on this front.
Ambitious expansion programmes by some universities and the ravages of the Covid-19 pandemic have also exacerbated the crisis in the universities crippling their operations.
Above all, the low level of funding by the national government through the Differentiated Unit Cost (DUC), which presently stands at 55 per cent instead of 80 per cent has been a major dent on universities' finances.
University Education and Research is mainly financed through government grants to universities, AIA, Research, Science, Technology and Innovation (RST&I) and student financing.
Government grants, which is the main source of funding, comprises of recurrent and capital funding.
In the 2021/2022 financial year, universities required Sh149 billion but were only allocated Sh95 billion (inclusive of Sh4.3 billion infrastructure funds).
On capital grants (funds for the development of infrastructure), the report by the ministry reveals that since 2016, there existed annual variance between approved budgets and actual disbursements.
On recurrent expenditure, trends show that the universities' budget over the years (FY 2017/18-FY 2020/21) has been affected significantly by the CBAs signed during the period.
Recurrent funding to universities is based on the DUC.
The report by PS Nabukwesi reveals that as a result of the funding gaps, most of the universities are currently insolvent as they cannot meet statutory obligations such as Kenya Revenue Authority (KRA) Pay As You Earn (PAYE) and pension deductions.
Moi University admitted last month that the deductions have accrued to more than Sh5 billion. Dr Humphrey Njuguna, a development council chairman, attributed this to the closure of satellite campuses and the scrapping of certain courses two years ago.
Egerton University also admitted to a Sh5 billion debt by last year. The situation is the same at Kenyatta University which owes KRA and suppliers more than Sh5.6 billion.
In addition to this, the university is running on a deficit of Sh1.3 billion. The situation at Kenyatta University is so dire that KRA froze its accounts over Sh2 billion unpaid taxes.
Interviews with VCs of public universities paints a picture of managers who are fast losing hope as attempts to increase fees have also been rejected by stakeholders.
In a meeting with National Assembly Education Committee in December last year, the VCs through their Committee Chairperson Prof Geoffrey Muluvi proposed setting up a special fund to bail them out.
The VCs also pleaded that all their debts be written off to cushion the institutions.
"It is public knowledge that universities need serious bailout. Our requests to have this done has never been implemented even after the National Treasury asked the ministry to draft a Cabinet memo," said a VC in one of the top universities.
VCs, who spoke to The Sunday Standard, argued that with low State funding, inability to hike fees and poor collections of internally generated funds, they are looking for any little money to balance their books and to keep universities afloat.
An attempt to increase fees has so far met stiff resistance and the matter also moved to court.
VCs want the present Sh16,000 fees paid by parents to be tripled to plug their huge financial gaps, which are also threatening to water down the quality of education.
The quest to get any additional money to keep them afloat, they said, precipitated the recent outburst on the placement of students to private universities.
The latest effort by the management of public universities is that KUCCPS stops placing students in private universities, arguing that they have adequate capacity to absorb all learners.
Underlying this drive is the scramble for the Sh9 billion that private universities have received since 2016 when the first batch of government-sponsored students were placed in private universities.
Public universities reason that the billions sent to support 86,000 students in private universities for the last five years should have been channelled to their bank accounts to bail them from the deep crisis.
Private universities, however, argue that the crisis in public institutions cannot be sorted out with the students' money they receive, arguing that solid solutions must be crafted to alleviate their predicament.
"The Sh9 billion being talked about is a drop in the ocean compared to the huge funding gap that public universities are managing. In any case, this was not a one-off sum, but money spread across five years," said Prof Mumo Kisau, the chair of Kenya Association of Private Universities (Kapu).
This open spat has exposed high level of desperation and the financial depth public universities have sunk, igniting fresh debate on long-running talk on higher education reforms.
VCs and management staff, who spoke with us, said several meetings have been held by relevant stakeholders to craft solutions, most of which have not been implemented.