Roadmap to address financial crisis in public universities yet to be implemented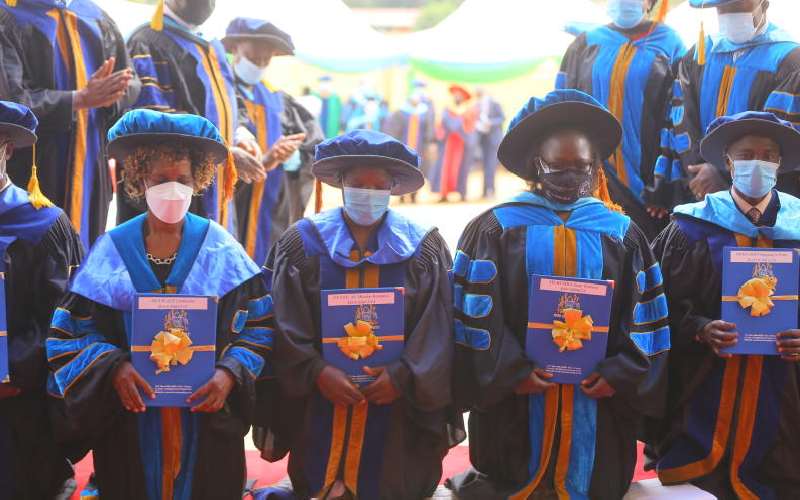 Piqued by the unending financial crisis in public universities, top Ministry of Education and National Treasury officials, vice-chancellors and MPs met early this year to find a way of clearing the mess.
With more public universities registering debts amounting to billions of shillings, the officials retreated to Mombasa to draw solid action plans that they said will cure the perennial funding gaps.
Government officials in the crucial meeting were PSs Simon Nabukwesi of University Education and Research, Julius Muia of National Treasury and VCs led by their chair Prof Geoffrey Muluvi.
Also present were chief executives Geoffrey Monari of Universities Fund and Mercy Wahome of Kenya Universities and Colleges Central Placement Service (KUCCPS).
And after a three-day meeting with National Assembly Committee on Education, the officials drafted a 14-point action plan they described as the game-changer in addressing universities' financial challenges that have led to debts, stalled projects, grumbling over workers' salary deals and an uncertain future of higher education.
Broadly, the meeting crafted solutions to address declining government funding to university education and research, implementation of the Differentiated Unit Cost (DUC), pending bills, disposal of idle assets, managing the bloated workforce and how to handle the Collective Bargaining Agreements (CBAs).
Timelines of execution
Also addressed were the issues on the rapid expansion of universities, which has led to the thin spread of resources, inadequate student financing from the Higher Education Loans Board (HELB) and tackling weak governance structures and accountability.
All these proposed points had timelines of execution and identify persons responsible for each action.
However, to date, the plan largely remains on paper, raising questions over the government's commitment to addressing the mess in universities.
The only reform that has since started is the review of the DUC to address existing funding gaps.
According to the roadmap, by April this year, the review of the DUC should have started and part of this was to ensure equity in funding to public and private universities.
This process was to be done by Universities Fund and overseen by National Treasury, the Education ministry and MPs.
The Universities Fund has rolled out this task and the DUC reforms process is now at the stakeholder engagement stage.
Progressive funding of Sh1.6 billion owed to the universities underfunded in DUC in 2018/19 and release of another Sh4.2 billion, being outstanding funds for students in private universities arising from gaps in DUC implementation was also to be disbursed.
Slight progress has been made with some Sh700 million disbursed to private universities.
And to address the squabbles between universities and workers' unions on the implementation of CBAs, the plan proposed releasing of Sh2.2 billion to cover the period 2017/2021.
The money is being released to universities on a monthly basis.
However, this money formed part of an audit query raised by workers' unions.
And that sums up the status of implementation for the roadmap.
What is shocking is that the rest of the activities lined up to be done by June this year, to liberate universities from the financial crisis, are still on paper.
By June this year, universities were expected to have undertaken major staff cuts to manage their wage bills.
The report says that human resource departments ought to have conducted staff audits and rolled out the right-sizing in a staggered manner.
Within the same time, universities ought to have developed and implemented policies on staff rationalisation.
This process should have been overseen by the Education Ministry, National Treasury and Commission for University Education (CUE), universities and State Corporations Advisory Committee (SCAC).
To address declining government funding, the officials resolved that resources be re-allocated within the sector to match the growth.
And by June, National Treasury, the Education ministry and University Fund should have overseen the establishment of resource mobilisation strategies including developing policy to guide universities on borrowing and financing models for assets.
During the same time, The National Treasury, Ministry and University Fund should have overseen the introduction of a performance-based DUC funding model.
Developing a policy to guide universities on borrowing whenever there is a need for Cabinet consideration should also have been done by June.
On students' fees, the officials proposed that during this financial year, a review be undertaken after consultations with all the stakeholders.
This critical process was to be overseen by the Education Ministry, universities and MPs.
Overall, by April this year, The National Treasury, universities, the Education ministry and semi-autonomous government agencies should have overseen the setting up of a multi-sectoral technical team to guide holistic reforms in universities.
To address pending bills in universities, the roadmap said that the preparation of a Cabinet Memo paper to waive statutory payments to Kenya Revenue Authority (KRA) Pay As You Earn (PAYE) should have been done by June.
This process should have been overseen by the Office of the Auditor General, National Treasury, Education ministry and the universities.
And during the same period of time, conditional grants should have been provided to support universities to clear outstanding debts such as a pension, Sacco contributions, NHIF and other service providers.
The roadmap also proposed that by June this year, a framework should have been put in place for the development of idle assets /resourcing and mobilisation to provide services and income through public-private partnerships.
Universities, the Education ministry and National Treasury were also to oversee the development of a framework for disposal of idle assets.
To address weak governance in universities, revisiting the appointment of vice-chancellors, DVCs of universities and principals and DPs of constituent colleges should have been undertaken.