Gideon Moi assures Kabarak students of safety after night dormitory fire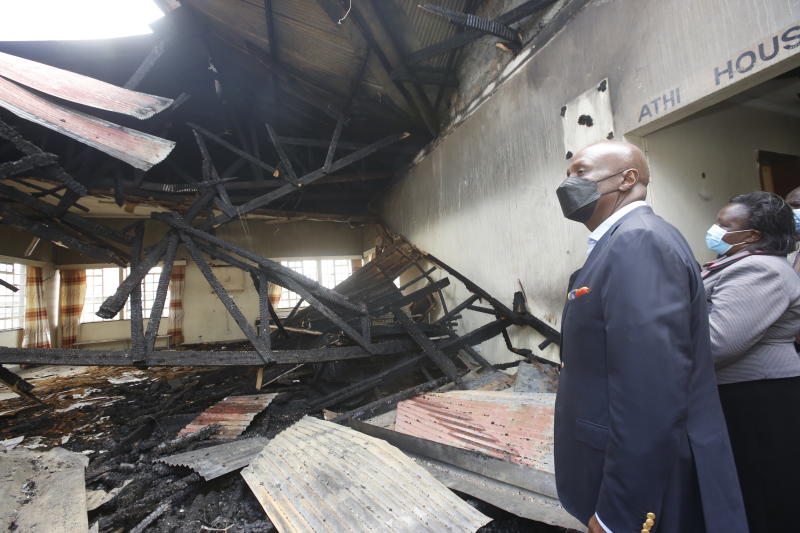 Learning continued as usual at Moi High School, Kabarak yesterday after a fire incident that destroyed the boys' dormitory on Wednesday evening.
The school's board of directors led by Baringo Senator Gideon Moi assessed the damages caused by the fire and assured the students that all shall be well.
Addressing the students after inspecting the burnt facility, Gideon told them not to worry about the incident but focus on their studies as the management addressed the situation. He said the board and the school management's top-most priority was the students and they would go out of their way to ensure everything was in order.
Gideon encouraged them to concentrate on their studies, saying they should not be distracted by the incident.
"Mine is to encourage and assure you that your welfare is at the top-most of all that we think of, do and strive for. So please go back to normal duties and affairs and conduct your studies. I wish you all the best," Gideon said.
No student was hurt in the incident.
A statement by Principal Mrs Elishebah Cheruiyot indicated that the extent of the damage on the dormitory was minimal.
At the time of the incident learners as per the statement were in class for evening remedial lessons. She assured all the parents that learners were safe and continuing with their studies.
The principal said the students showed a high level of maturity and accommodated one another after the incident.
"Thank you boys for showing high-level maturity. I really appreciate that you went to bed when you were very calm and woke up well for your studies," she said.
She said the school staff and some members of the board were cooperative and coordinated from the time the fire started to the time it was put off and organized for students to settle
Laikipia Senator John Kinyua urged the students not to be distracted.
"Stay focused, do not let down the institution and being a parent here I am here to encourage you. I am happy to see you unshaken," he said. Earlier Rongai MP Gideon Moi also visited the school to check on the damage caused and had a word with the management.