Medicine, engineering among courses geared for priority funding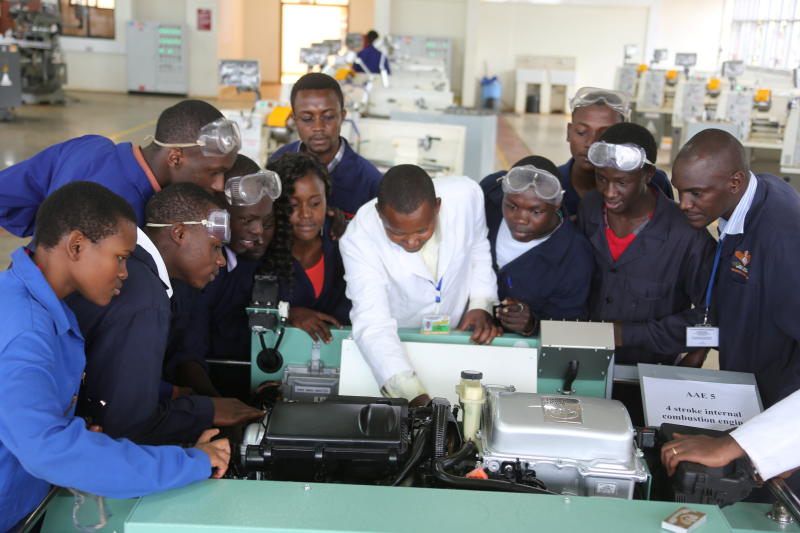 According to a draft Universities Funding Framework, 20 per cent of the allocated budget will go to priority courses, which will be based on the Big 4 Agenda and the broader Vision 2030.
Medicine (pre-clinical and clinical), dentistry (pre-clinical and clinical), veterinary medicine (pre-clinical and clinical) and pharmacy (preclinical and clinical) are some of the courses that will receive government funding under the proposed priority basis.
Architectural Studies (Architecture Part 1 and Professional Part II) and Engineering (Surveying) have also been listed among courses that will be funded.
Also listed is the Built Environment and Design courses- Construction, Real Estate, Urban and Regional Planning, Landscape Architecture, Design and Computing.
The other category of subject areas that are listed as national priority include Agriculture, Health Sciences, Food Sciences, Natural Resource Management and the Natural Environment, Agriculture, Food Science and Technology.
Medical Laboratory Science and Technology, Animal Science, Nursing, Clinical Medicine (BSC.), Radiography, Agribusiness Management and Sport Science also national priority areas.
Others are Food and Nutrition, Medical Psychology, Physical therapy, Public Health, Environmental Health, Community Health and Development, Wildlife Science and Management and Agribusiness Management.
UFB is also mandated to advise the Cabinet Secretary in charge of education on matters of University Education funding and related policy issues.
The development is part of the reforms fronted pushed by vice chancellors and the Universities Fund that would see universities only receive State-sponsored students in niche courses.
Vice Chancellors Committee chairperson Geoffrey Muluvi last year that the proposals were floated by university managers due to a drop in funding over the years.
"The resources cannot reach all students and funding should be based on available resources," said Prof Muluvi.
In a report titled Reforms on the University Sector and Research, VCs argued that funding should not necessarily be extended to every student that the university wishes to admit on the basis of attaining the minimum entry grade.
"Students who qualify with C+ and above but have not been qualified for government support to pursue degree programmes should then be free to either join TVET programmes, where they would be sponsored by government, or join universities as privately sponsored students, whether as Module II or in private universities," the VCs said in the report.
The push has however faced opposition with some institution managers saying the priority approach is contentious as all courses are important in their own right.
Universities Fund, however, argues that the rapid expansion of the number of universities has exerted more financial pressure on the National Government thereby reducing individual allocation to universities.
"This has led to universities shifting their focus away from their centres of excellence but towards low-cost programmes which are not necessarily relevant to the economy," reads the UFB framework.
Commission for University Education (CUE) has advised universities to align their courses with the strategic sectors that address national development priorities.
CUE Chief Executive Officer Mwenda Ntarangwi said universities can identify priority programmes by looking at key directions taken by the nation, including Vision 2030, which is geared towards making Kenya a middle-income country.
Vision 2030 has three key pillars — economic, social, and political — that universities can fulfil through specific programmes, research and community service, according to the proposals.
Ntarangwi also advised universities to look at the UN's sustainable development goal number four on accessible, relevant and equitable education.
He said the Big Four agenda that zeroed in on manufacturing, affordable and universal health care, food security and nutrition, and affordable housing must also inform the kind of courses universities mount.
This means that courses that would be funded under the social pillar include health, education, environment, water and sanitation, population, housing and urbanisation, gender, youth, sports, arts and culture.
Tourism, agriculture, manufacturing, trade, business process outsourcing, financial services, oil and other mineral explorations, public service delivery, governance and the rule of law, security, peacebuilding and conflict management are other priority sectors.
Infrastructure, information and communication technology, science, technology and innovation, and energy complete the shortlist of strategic sectors under the Vision 2030 pillars.
The aim is to encourage the advancement of national priorities for higher education and national goals for social and economic development.