School gives adults, street kids second chance at education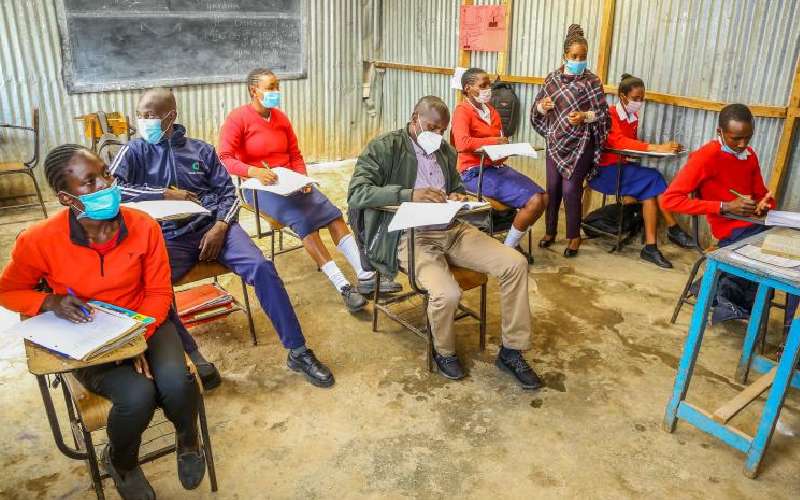 Dennis Kanini,19, had all but given up on ever completing his education journey.
When his father sought to marry a second wife in 2017 against his mother's wish, she took off to her parental home in Ukambani where they put up with his grandmother.
As fate would have it, his mother later developed ulcers as a result of the stress resulting from the separation with her husband and eventually died living him under the care of the old woman.
''Grandmother struggled to pay for my school fees for some few months but it became hard. I was chased from school due to lack of fees and became idle. One day, I decided to sneak from the village to Machakos town after being sent with Sh50 to buy milk. I used the money for fare,'' recalls Kanini.
''I stayed for two days with street families who were drunkards and bhang smokers. I was tempted to use glue and alcohol. While there, I heard of Nairobi and made plans to come to Muthurwa,'' he says.
He survived by begging in the streets. However, in 2018, when a good Samaritan by the name Njoroge, who was driving by, stopped and after a discussion, volunteered to help him. That is how he ended up at Global Hope Rescue and Rehabilitation Centre in Ngong. He later enrolled him at Township Primary School.
When he sat for his Kenya Certificate of Primary Education (KCPE) exams, he scored 251 marks and was admitted to Ngong Open Learning Secondary School where he is now in Form Three.
''When I came here, my dream started. I wake up to write script because am an actor. The drugs we used to take affected me and even today, I am not supposed to sit on the sun for long. Recently, we did exams and I scored a C- and am confident of doing better in the next exams,'' Kanini told this writer during the interview.
The school offers a second chance to those who dropped out of the system due to various challenges.
''Here, we have all kinds of students from former street boys, dropouts, adult students to refugees.,'' the school's director Charles Kingori told The Saturday Standard.
The school, King'ori says, started in 2009 and has the same curriculum like other regular schools, although its approach is different. It allows students to learn in civilian clothes.
School fees are also affordable at Sh8,000 per term and it also provides textbooks thanks to our donors like Safaricom.
King'ori said he borrowed the idea from Namibia where he worked as a teacher for more than 10 years.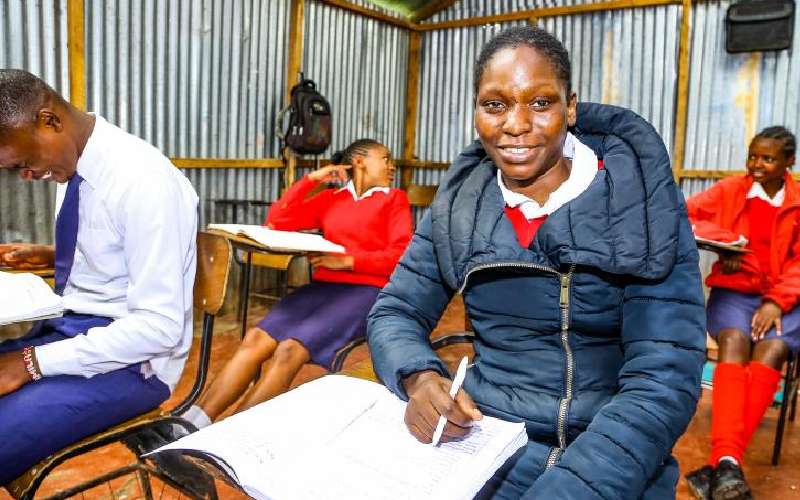 ''While there, I saw high dropout of students during colonial rule and when they got independence, they lacked a trained workforce and thus introduced open learning. When I came back to Kenya in 2007, I saw the idea of establishing the same because of the many students that miss Form One slots every year,'' he said.
Ann Isabu Murunga, 23, dropped out on school while in Form Two about five years ago because her mother could not afford some necessities. She is also in Form Three.
''Thanks to this school, which I joined in.., it has given me a second chance to achieve my dream of becoming a news anchor or lawyer,'' says Anne, who is a child of one parent, a mother.
She also learning computer thanks to Safaricom, which donated 10 computers to the school.
Peter Nzivo, 31, did his KCPE exams in 2003 and garnered 270 marks but could not join Form One because his parents were poor.
"In 2006, I started staying with my aunt in Ngong. However, I was not comfortable since I felt there was something I was missing - education,'' said Nzivo.
In 2008, he sat down with her aunt's husband and told him he wanted to go to school.
It was in second term and he agreed to the idea. He told him he would try to get a school that will accept him considering he had been out of school for five years. Luckily, he came across Ngong Open Learning and that is where he went to school from 2010.
''I did my Form Four exams through challenges especially at Form Two. My uncle was transferred to Kisumu, thus staying alone and facing school fees issues but thank God the school director understood me and allowed me to study. I also came across a scholarship opportunity during my Form Two to Four. I and got a B- of 58 points,'' says Nzivo.
In 2015, he got a salesman job and using his savings, he enrolled at Kenyatta University in 2016 for distance learning. With help of few bursaries, he graduated in 2019 with a Bachelors of Arts degree.
Patrick Muriithi, 38, a father of two, is the eldest at the school. He is in Form One. A laundry attendant at Karen Hospital, he dropped in primary school in 1999 and came to Nairobi to look for a job.
''I am eager to start where I left. I work at night and come to school during the day,'' says Muriithi, adding learning will help him know English and be able to communicate well at work and maybe get a promotion.