Bright needy boys seek help to join Form One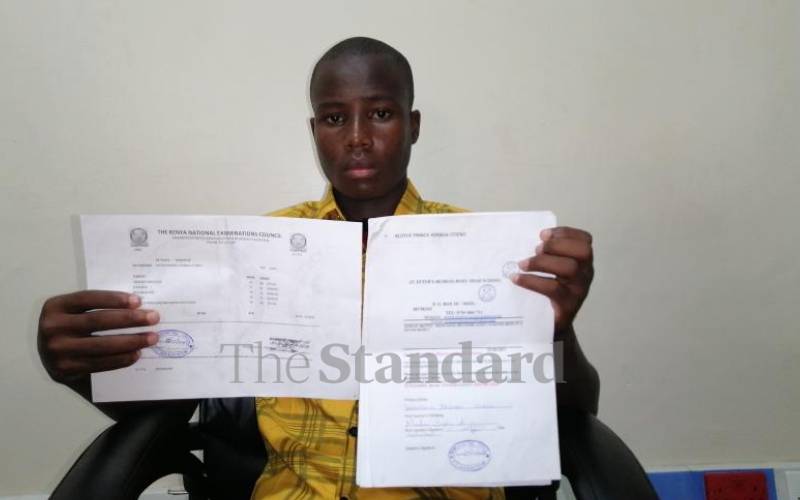 Three boys from Kisumu and Kakamega counties are appealing for support from well-wishers to join Form One.
Aloyce Ayanga, 16, scored 379 marks in last year's KCPE and emerged the top student out of 102 pupils at Wandiege Primary School in Nyamasaria in Kisumu.
Ayanga, who aspires to become a neurosurgeon, says his family is poor, thus unable to raise his school fees to join St Peters Mumias High School in Kakamega County.
"I have filled bursaries and scholarship forms in Kisumu East Ward and Nyando constituency with no luck," Ayanga said.
"With no job, my mother is struggling to take care of my five siblings," he said during an interview at the Standard Group Offices in Kisumu on Wednesday.
Currently leaving with a guardian, Ayanga said he is almost giving up on his education having not bought any of the required items to report to join Form One, including school uniforms. "I have not even bought materials required for reporting," Ayanga added. His mother, Millicent Akinyi is a single parent earning her living out of washing clothes and peasant farming in Nyando.
Ayanga's father, Abraham, who was the sole breadwinner for the family, died three years ago.
Alex Opere, a teacher who has been living with Ayanga for three years now, called upon well-wishers to support the bright boy.
Opere met Ayanga while he was in Standard Six. He moved in with him in Kisumu where he enrolled him at Wandiege and met his education costs.
However, with hard economic times and financial constraints brought about by the coronavirus pandemic, Opere has been struggling financially.
"I am setting up a pay bill number for Ayanga. He is a disciplined and hardworking boy who is eager to study. I appeal to Kenyans to help this young boy," said Opere. Ayanga needs Sh20,393 to pay the required Term One fees and another Sh12,000 for learning and boarding materials plus uniforms.
Ayanga's total fees for the year is Sh40,535. In Kakamega, as thousands of Form One students were trickling to their respective schools this week, two students from Butere in Kakamega County stood out.
Adrian Omucheyi and Kevin Wamukhula were scheduled to join Mabole Boys' Secondary School in Butere as borders but are currently forced to trek 14 kilometers daily from home to school and back.
The thirst for education exhibited by the two was evident when, after missing to join the schools they were selected for by the Ministry of Education, they decided to join a local school in their area.
Omucheyi, 14 was called to join St Peter's Mumias Boys' High school while Wamukhula also 14 was to join Dagoretti High school in Nairobi County. Due to lack of school fees, shopping and bus fare, the two approached a local clergy for help.
Their plight was brought out by Reverend Wellington Kataka of Shibembe Anglican Church of Kenya (ACK).
As fate would have it, the clergyman, while on his evangelical mission, met the two in the village and inquired about their education.
"Reverend Kataka came and asked us if we were joining high school, we said no," said Wamukhula.
The reverend would proceed to Mabole School to request the principal to admit the two boys. Both boys live with their old grandmothers in Shibembe village.
Wamukhula scored 369 from Masaba Primary School while Omucheyi scored 377 from Emanyika Primary School.
Through several teachers and the Reverend, the boys were able to get one pair of uniforms each and a few books. The school principal Benson Ogenda is appealing for well-wishers who can help pay school fees for the two to enable them settle in the school.