Kabarak gets approval to offer TVET courses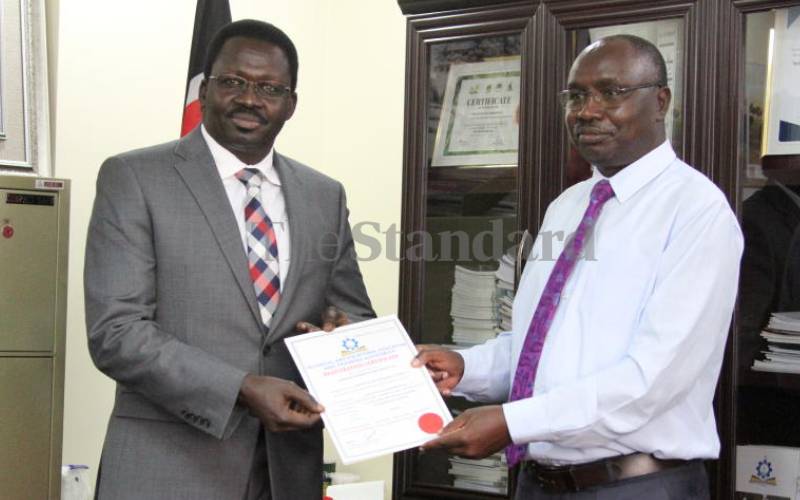 Kabarak University has been given the green light to establish an institute to offer technical courses.
Yesterday, the university received the approval letter by the Technical and Vocational Education and Training Authority (TVETA) after establishing the institution has met the requirements for the programme.
"We are proud to hand over TVET certificate to the Kabarak University TVET institute with 23 programmes to be examined by different bodies, including the Kenya National Examination Council (Knec) and Kasneb to support provision of access to tertiary education," said Dr Kipkurui Langat, TVETA chief executive, when he issued the certificate in his office.
"Our team went to assess the institute and we found that they had adequate facilities, including the human resources, to provide these programmes"
The university Vice-Chancellor Henry Kiplagat said he was elated that the institution had received the accreditation, promising the institution would strive to offer the best.
"As Kabarak University TVET institute, we will provide quality training in the 23 programmes and add others so that we can provide more Kenyans access to quality tertiary level programmes" said the VC.
He underlined the importance of technical training in economic development. "We will ensure that we will have the highest standard in terms of training and we will also recruit additional human capital to beef up training," added Kiplagat.
The university was handed a copy of the Kenya Journal of TVET, which publishes research papers. Langat urged the institution to contribute to future publications.