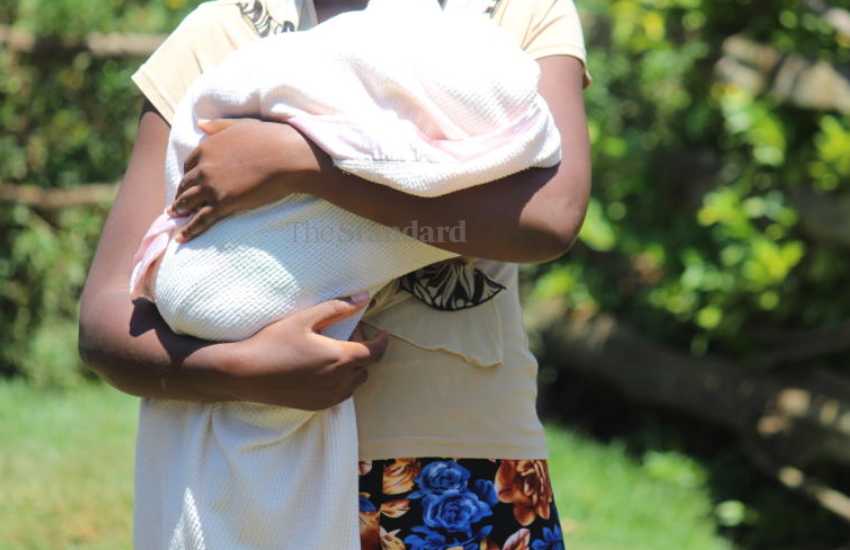 At least 160,000 girls got married during the period schools were closed following the outbreak of coronavirus and did not report back when learning resumed in January.
Those affected were aged between 15-19, according to the Presidential Policy and Strategy Unit study titled Impact of Covid-19 on Adolescents.
The survey was conducted between June 2020 and February 2021.
Under the current education arrangement, most girls in this age bracket are in upper primary and in secondary schools.
The study also shows another 100,000 girls were plunged into motherhood after they were impregnated during the nine months schools were closed. Most of the girls have just given birth.
Boys did not fare well either, as 125,000 of them did not report back to school after reopening early this year. Most of them cited a lack of school fees.
Overall, 250,000 girls did not report back after schools reopened.
Ruth Kagia, the Deputy Chief of Staff in the Executive Office of the President said finer details of the report would be released next week.
"When schools were shut last year, the rate of teenage pregnancies went up. Other teenagers fell into drugs and substance abuse. They also had access to some information through phones and other gadgets that were not regulated," said Kagia.
She said the situation was dire and must be managed, noting that opening schools provide safe and protected space for children.
"We now need to manage that space to ensure young people are not exposed to these threats," said Kagia.
The report confirms the worries of the government over the rise in cases of teenage pregnancies, early marriages, child labour and school dropouts as a result of a prolonged closure of schools.
Lessons learnt
In its report, Kenya Basic Education Sector Covid-19 Emergency response plan dated April 19, 2020, the government predicted that if the schools' closure was prolonged any further, adolescent girls were twice likely to be out of school.
The report predicted that this group of learners faced greater barriers to education and vulnerabilities such as domestic or gender-based violence when not in school.
"Schooling provides an essential learning environment and when schools close, children and youth are deprived of opportunities for growth and development," reads the report.
Kagia said lessons learnt will be used to mitigate future impacts of pandemics.
"We have taken lessons learnt to ensure disruption on learning is less such that technology will be stronger and better organised," said Kagia.
She was speaking during a media roundtable on the Global Partnership for Education (GPE) and Kenya's role as co-host of the Global Partnership for Education 2021-2025.
The high-level 'Global Education Summit: Refinancing GPE 2021-2025', will be co-hosted by President Uhuru Kenyatta and UK Prime Minister Boris Johnson in London on July 28-29.
Education Cabinet Secretary George Magoha presided over the meeting and launched the country's statement of commitment to education financing. The campaign aims to raise at least Sh500 billion to fund education in GPE beneficiary countries over the next five years.
Principal Secretaries Jwan Julius (Basic Education), Julius Muia (National Treasury) and Esther Koimett (Broadcasting and Telecommunications) were also present as was Teachers Service Commission Chief Executive Nancy Macharia.
Uhuru said in May plans were underway to ensure all girls attend and complete school and also pledged that his government would ensure future pandemics do not disrupt learning.
"We are keen to bridge the digital divide to improve access to education for all children by making internet and digital tools available," Uhuru said.
He said the plan will help mitigate the effects of learning losses occasioned by pandemics such as Covid-19.
The findings of the report follow another survey by the United Nations Children's Fund (Unicef), which revealed that four out of every 10 girls in upper primary or secondary schools are likely to get pregnant.
The report, Situation of Girls' Education in Kenya (2018), found that the affected girls start childbearing in their early teens of between 14-16 years.
The Unicef study also linked girls' poor academic outcomes to early sexual exposure, with the situation particularly dire among pastoralist communities, where the girls are at higher risk of getting married off.
During the same year of the Unicef study, Ministry of Education officials' roundtable meetings across the country revealed cases of drug abuse, teenage pregnancies and gambling among school children.
Magoha then directed field officers to work with officials at the Ministry of Interior and parents to fight this menace.
The CS also ordered the arrest of those pushing children into the vices and directed that teachers and learners must justify reasons to miss school.