Agony of 1,000 Masinde Muliro University students as graduation delayed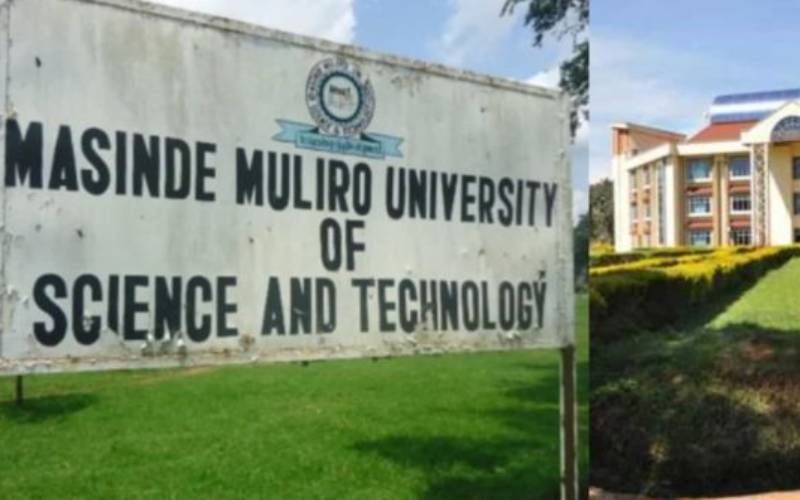 More than 1,000 students who have completed their studies at Masinde Muliro University of Science and Technology (MMUST) will have to wait longer to graduate.
The Kakamega-based institution has been forced to postpone its 16th graduation ceremony due to lack of a university council.
A university council is the organ mandated to oversee graduations and the ceremony cannot be held in its absence. A university cannot stage a graduation ceremony without the council otherwise, all certificates issued during that event will be invalid.
MMUST's graduation ceremony had been scheduled for Friday next week.
An internal memo by acting Academic Registrar Thomas Sakwa said: "During the Special Senate sitting held on June 2,2021, it was resolved that the 16th graduation ceremony initially scheduled to take place on June 11 be postponed due to unavoidable circumstances."
Prof Sakwa, in his memo to the graduands, further stated preparations for the graduation ceremony will however go on and invited students who are yet to clear with the university to do so, so they can put included in the list of those to graduate.
The graduation was thrown into disarray after Employment and Labour Court Judge Stephen Radido revoked the appointment of Jane Musangi as the chairperson of the university council.
The court also cancelled appointments of Stephen Mutoro, Connie Mogaka, Joshua Onyango and Gad Kiragu as council members. They'd all been appointed by Education CS George Magoha on March 20 last year.
"A declaration is hereby issued that the decision by the Education CS to gazette and consequently appoint Dr Musangi and the other council members contravened the national values and principles as envisaged under articles 10 and 232 of the Constitution and is therefore null and void," Justice Radido's ruling on April 7 read in part.
The decision of the court now leaves Dr Ahmed Diriye as the only council member. His appointment had been done earlier and was not among those the court revoked.
Universities Academic Staff Union (UASU) Masinde Muliro chairman Jairus Odawa termed the court ruling a big blow to the university as its students have been forced to wait longer to graduate.
"We have been working hard to ensure students finish their courses on time so they can graduate in June. However, it is now clear that our efforts are in vain as there is no university council to oversee the process," said Dr Odawa.
Workers are also worried their promotions will not be effected in the absence of a substantive university council.
"These endless court cases have affected the growth of MMUST. They are demotivating the hardworking staff and students. We are also worried because interviews for promotions have been disrupted once again," said Odawa.
Uasu had earlier protested against the ruling and made a formal complaint to the Judicial Service Commission (JSC), among other things, seeking a review of the judgement that suspended the new university council. The union claimed the ruling was not made in good faith.
"There has been persistent interference with the management of MMUST, through court injunctions, since 2017 and this has brought instability to the university. Even worse is the fact that some of these cases are filed by persons who have no stake in the academic programmes of this university," read part of the letter to JSC.
Masinde Muliro has been without a substantive VC since December 1, 2018 after the exit of the late Prof Fredrick Otieno.
Since then, the institution has had three acting VCs. The current one is Prof Solomon Shibairo, formerly the Deputy Vice Chancellor in charge of Academics and Students Affairs at Kibabii University.
Shibairo, a professor of horticulture, took over from Prof Asenath Sigot who held the position for nine months. She succeeded Prof Joseph Bosire in July last year. Bosire had held the position for seven months.
In February, Education ministry, through the Public Service Commission (PSC), declared top leadership positions at the university vacant. However, the process of filling them hit rock bottom after a series of court cases.
The vacant positions are VC and the deputy VCs in charge of Finance and Administration, Academic and Students Affairs as well as Planning, Research and Innovation.
In one of the cases that hit the university, Kenya Universities Staff Union (Kusu) moved to the Employment and Labour Relations Court in Kisumu and obtained orders barring PSC from recruiting the VC and deputy VCs.
Kusu, in its application, argued starting recruitment of the VC and his three deputies afresh was a waste of public resources given it had already been done.
The university has also been without the three deputy vice chancellors since October 2018.
Prof Judith Achoka is the current acting DVC in charge of Planning, Research and Innovation. She replaced Prof Charles Mutai who held the position in an acting capacity for 20 months. Mutai took over from Prof Egara Kabaji whose term ended in January 23, 2019.
Prof Mutai is the current acting DVC for Finance and Administration. He took over from Dr Patrick Ojera in August last year. Ojera had held the position, also in acting capacity, since June 2018 after taking over from Prof Joseph Rotich who was promoted to become the VC of Laikipia University.
Prof Peter Odera is the acting DVC in charge of Academics and Students Affairs. He took over from Dr Eng Bernadette Sabuni who had held the position since October 2018.