Kapsabet, Kenya High and Mang'u top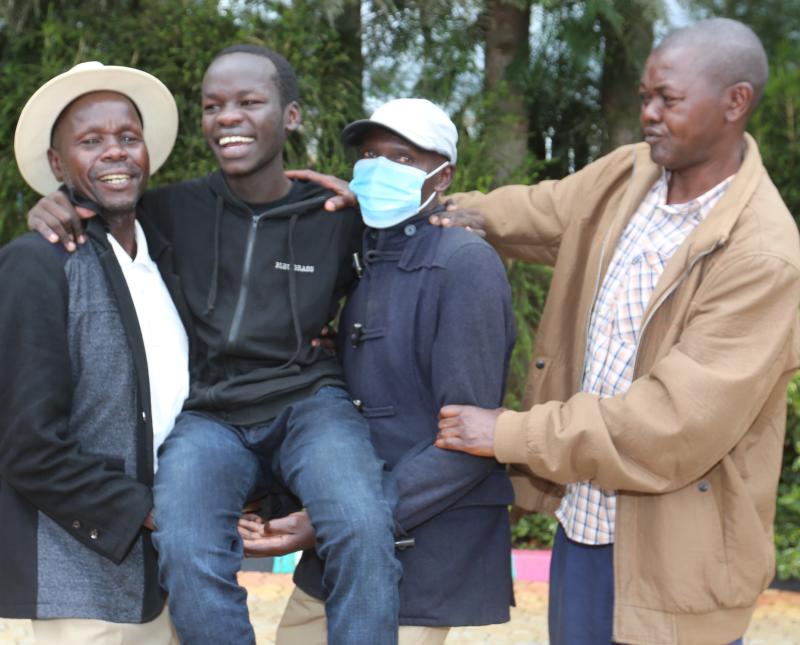 Kapsabet Boys bounced back to its winning ways and posted the highest mean grade in the Kenya Certificate of Secondary Education (KCSE).
At the same time, Alliance High School produced the highest number of As (77).
Analysis by The Standard shows that with a mean score of 10.51, Kapsabet Boys emerged top in the just-released examination results.
The school produced an impressive 65 A, 133 A– and 99 B+, putting it ahead of the pack.
Kenya High School emerged second overall, posting a mean score of 10.30. The school produced 53 A, 102 A– and 75 B+ to record second best results in the released national examinations.
Kenya High School also produced six of the 15 top candidates nationally, with Sharon Chepngeno Terer scoring 87.173, Mbugua Esther Wachuchu with 87.113 points, Chepkorir Patience scoring 87.04 and Lesley Loise Wanjiku managing 86.999.
The other two were Jelimo Debrah with 86.947 and Buluma Daizy Nerema scoring 86.93 points to emerge among the top candidates nationally.
Mangu High School emerged third with a mean score of 10.28. The school produced 42 A, 134 A- and 106 B+ to make a strong come back in the national examinations.
Alliance High School which produced the highest number of A ranked fourth nationally. It also managed to register 128 A- and 85 B.
The school also had two students among the top 15 best performers nationally.
Moriasi Bob Ongare scored 87.139 as Kipkoech Mark Kogo managed 87.106.
Light Academy is the only private school that appeared in the top five category, posting a mean score of 10.05. The school managed 25 A, 36 A- and 30 B+ to close the top five schools with overall best results nationally.
The school did not have a candidate among the top 15 category but was listed among the most improved schools.
Education Cabinet Secretary George Magoha listed the school together with Kaaga Girls, Kisasi Secondary School, Oriwo Boys, St Josephs Rapogi, Moi Gesusu high school and Saye Mixed secondary school, St Edward Nyabioto, Chuka Boys, Bushra High and Mahiga Girls. Magoha said these schools admitted candidates with lower KCPE mean scores, but did a commendable job at improving their overall mean performance to inspiring levels.
Overall, in Nyanza region, Maranda High School produced the overall, best results with a mean score of 9.8. It was followed by Asumbi Girls with a mean score of 9.6, Maseno School with 9.5 as Riokindo boys High School in Kisii got 9.3 and Kanga High School had 9.05.
In the Rift Valley region, Kabsabet Boys, St Joseph's Girls Kitale, Moi Girls High School Eldoret, Kabarak High School, Kapenguria Boys High and St Patrick's High School Iten dominated.
In Western, Friends School Kamusinga, Butere Girls, Bunyore Girls, Kakamega High School, St Marys Kibabii and Butula Boys dominated.
At the Coast, Sheikh Khalifa, Kenyatta Boys High School, Light Academy, Memon Academy, Matuga Girls and Qubaa Muslim dominated.
Other schools that posted excellent results to rank among the top schools are St Josephs Kitale with a mean score of 9.95 and Muranga High School with a mean score of 9.86.
Muranga High School also produced the best student, Simiyu Robin Wanjala who scored 87.334 points to emerge top candidate nationally.
St Brigids Girls Kiminini also posted a mean score of 9.85 to emerge among the top schools in the examinations.
Pangani girls with 9.84, Maranda Boys with 9.80, Strathmore school with 9.78 and Friends school Kamusinga also posted good results to make a comeback to top performers nationally. Asumbi Girls with 9.60, Moi High school Kabarak with 9.459, Anester boys High School in Nakuru with 9.58, Chemelil Sugar Academy with 9.55 also made it to the top list.
Kisima Secondary School and Maseno School tied with mean score of 9.50, followed closely by Baricho High School with 9.48, Starehe boys at 9.43 and Kagumo High with 9.41.
Other schools that posted good grades are Nairobi School, Moi Tea Girls, Riokondo boys high school, Kiage Tumainini High school, Lugulu girls, Bishop Gatimu Ngandu, St Joseph Chepterit High School, Agoro Sare High School and Orero Boys.
Wasonga Allan of Agoro Sare High school scored 87.173 points to tie at position two nationally.
Magoha said some of the schools that produced top performers are Machakos Girls, Makueni Boys, Chianda High, Aquinas High, Moi Girls Nairobi.