KCPE flops to KCSE stars, CS Magoha recognises most improved students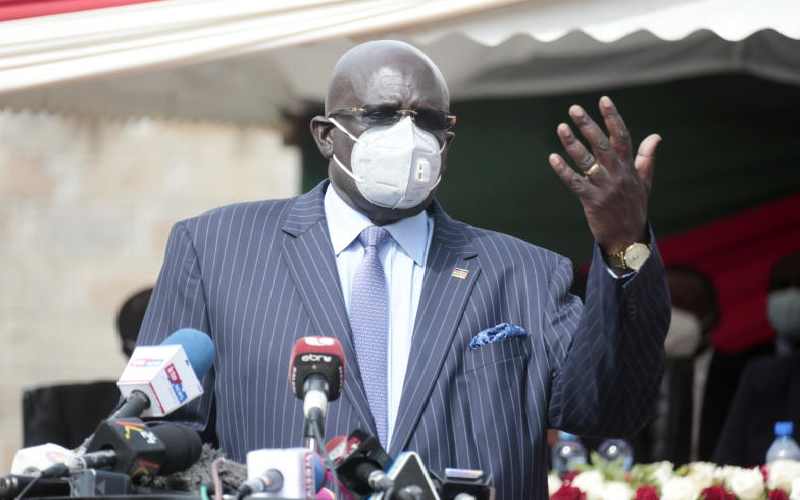 As top students celebrated their just-released 2020 Kenya Certificate of Secondary Education (KCSE) exam results, Education Cabinet Secretary George Magoha recognised the most improved lot.
Speaking at Mitihani House while announcing the results on Monday, May 10, the CS unveiled a list of the students who scored below 200 in their KCPE examinations, only to get university grades in the KCSE exams.
Magoha said the students had proved to the country that with a friendly environment, even the so-called KCPE flops can improve and get better grades at Form Four.
The most improved students who had scored below 200 in their KCPE examinations but had scored good grades in the KCSE automatically qualify them for university.
He said the ministry's move to disclose a list of candidates who had performed better in the 2019 KCSE despite poor results in KCPE motivated the students.
"The move to recognise KCPE flops who had done better now appears to have motivated even more candidates who scored lowly at the KCPE four years ago to even do better in the 2020 KCSE," he said.
Magoha said the performance of the students had dismantled the myth that one had to attend well-known national schools to qualify for the university as the improved students were in the county or extra county secondary schools.
"They had scored below 200 and they are now going to university from the county schools," he said.
The CS said the improvement is a clear indication that the government's 100 per cent transition is a game-changer
Students in the category
Cheruiyot Bett Dennis from Kimargis Secondary School who had 190 in KCPE top the least after scoring B, Maluti Tom from St Teresa Secondary School who scored 199 in KCPE but obtained B- in KCSE, Kipees Charity from Olderkesi Secondary School had 151 in KCPE but scored C+ in KCSE, Sadeya Sempeyo Hslavin from Oldekesi Secondary School who scored 168 in KCPE to a B- in KCSE.
Other students in this category include Kamar Abdullahi from Habaswein Mixed Day Secondary School who scored 163 marks in KCPE but passed in 2020 KCSE with a B, Ruweitha Abdikadir Hassan from Hon Khalif Girls who scored 193 in KCPE but got a B-, Siololo Parmaari Joseph of Olderkesi Secondary School had 186 marks in KCPE but got a B in KCSE, Abdullahi Daud Maalim from Ademasajida Mixed Day Secondary Schools who had 137 marks in KCPE but had C+.
Musharaf Kerow Adan from Mandera Secondary School had 140 marks in KCPE but managed a C+ and Hassan Abdullahi Osman from Wayam Secondary School who had 168 marks in KCPE but scored a B-.
The CS released the results just two weeks after the 741,161 candidates finished their papers on April 21, 2021.
Simiyu Robinson Wanjala from Murang'a High School emerged as the top student with an A (Plain) of 87.33 points