How boys are undergoing the rite of passage in Nairobi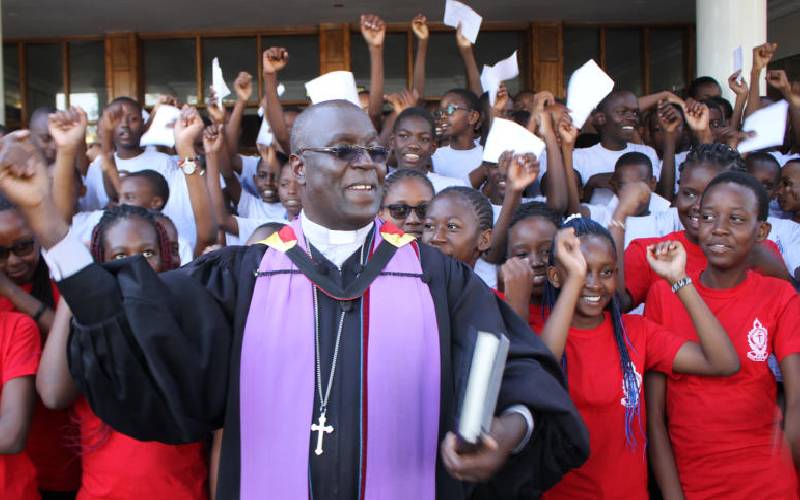 When Janet Ngotah's son was born, she wanted him circumcised immediately after birth. However, she kept postponing the procedure and, soon, he was aged 10.
"When he turned 10 last year, his father and I agreed to take him to a rite of passage programme. However, the pandemic happened and so we had to wait a little longer. When schools closed in March, we decided to grab the opportunity," she says.
For generations, boys on the cusp of adolescence have been taken to the bush to undergo circumcision.
Most communities still employ the bush model as a rite of passage to transition boys into men.
Job Watene, a psychologist, says today, with many families having moved to urban areas, parents are finding new ways to go about this age-old ritual.
For most parents in the city, the best available option is to take their sons through a procedure done by a doctor. However, with the cases of Covid-19 soaring, many feel hospitals are a no-go zone.
"Since last year March, hospitals were seen as high-danger areas and parents were afraid to take their sons for the cut. Many parents found themselves looking for alternatives," says Dalphine Gitonga, the Chief Executive Officer of Reindeer Resort, a hotel in Ting'ang'a, Kiambu.
The resort had advertised, on their Facebook page, a group package where parents could enroll their boys for initiation. For Sh35,000 the boys would have access to a doctor, who would perform the circumcision procedure, full board accommodation for 10 days, and a mentorship programme through video conferencing.
"Janet's son is in our first-ever cohort. This is the first time we are holding such a programme. It came about because we had identified a growing need – especially in the last one year," says Gitonga, who is the brains behind the programme.
Each cohort, he says, consists of 12 boys. They are taken through the cut first, which is followed by mentorship by professionals.
"They learn what is expected of them in the society. By the time they leave, they have a better understanding of what it means to become a man, as they continue to grow," Gitonga says.
Organised rites of passage programmes outside the traditional setting have existed for some time. Most evangelical churches in Kenya have instituted the annual rite of passage activities.
One such programme, Rites Of Passage Experiences (ROPES), has been linked with the Presbyterian Church of East Africa (PCEA) and Christ Is The Answer Ministries (CITAM).
Reverend Ken Kimiywe of CITAM says the rite of passage programmes are aimed at instilling knowledge and skills to young men transitioning through adolescence into teenage and into young adulthood.
"We often do it when the child has cleared primary school and is moving into high school. This is usually the time adolescence is kicking in. Going through the rite of passage within the Christian context is important, especially for parents who subscribe to the faith. The traditional type, where boys are taken to the bush, is often accompanied by practices and rituals that are anti-Christian. I am a proponent of the church-linked rites of passage," he adds.
According to Rev Kimiywe, the rite of passage programmes are aimed at preparing the children for their future lives in society.
The boys learn self-awareness, responsibility, how to make decisions, how to be men of good repute in society, and general skills of being independent.
The lessons taught, Kimiywe says, are important in the mental growth of the boy. The act of circumcision is symbolic of the transition from boyhood.
"The cut is symbolic; but mostly because most of our communities traditionally perform circumcision," he adds.
Richard Gatheru of PCEA Juja is one of the organisers and mentors for the rite of passage programme that is conducted annually at the church.
He says the boys are taught about identity, decision-making, cultural values and beliefs, spiritual growth, stress management, sexuality, and drug addiction, among other topics.
According to Gatheru, churches are offering the rite of passage programmes because, with the traditional option, parents have no control over the lessons that are taught to the initiates.
"The boys are taught negative and toxic masculinity. They are told things like 'men don't cry'. They learn that a man is supposed to keep their own troubles to themselves," he says.
Jane says she hopes her son will become responsible; exercise caution; differentiate between right and wrong, make wise decisions, and look after himself as he becomes a teenager.
"Children today are exposed to all manner of things on the internet. I hope that after this he will have a good understanding of who he is and what is expected of him," says Jane.
Kimiywe says rites of passage programmes are important for boys and girls.
"For girls, of course, it is the lessons taught to them, to prepare them for what is to come, that is important. They don't undergo any cuts. Girls, too, need to understand who they are and what is expected of them as they become young adults," he says.