Africa International University dismisses claims of not having foreign students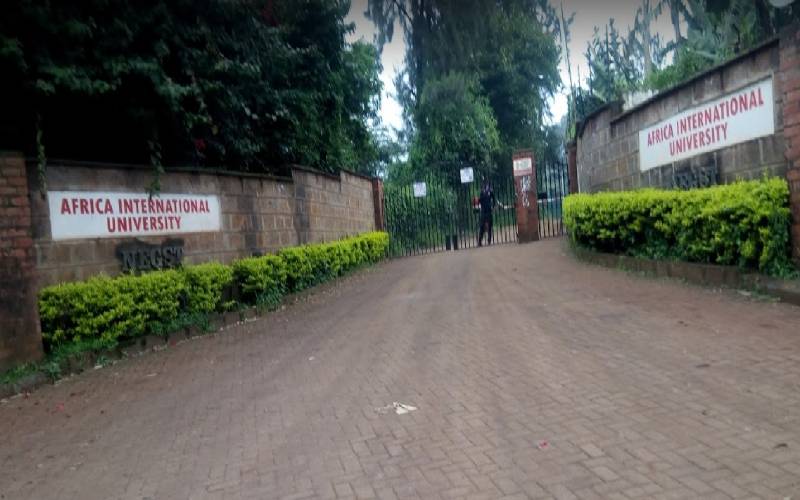 Africa International University (AIU) has dismissed claims that it does not have students from foreign countries.
While refuting the claims that it is among institutions of higher learning without international students, the university on Tuesday said it has 144 international students from 32 countries.
A statement sent by Mary Kiprotich, the Senior Assistant Public Relations Officer the institution said some of the countries represented include Burundi, Tanzania, South Sudan, Liberia, Ethiopia, Nigeria, Uganda, Zambia, Britain, USA, Congo, Rwanda, Malawi, Botswana, Zimbabwe, Togo, Bulgeria and Korea Republic.
AIU is a Private Chartered Christian University located in Karen along Dagoretti road.
The University was established in 1983 as Nairobi Evangelical Graduate School of Theology (NEGST) and got chartered in 2011.
The university was responding to the findings of CPS International report released last week that listed them among those without representation from foreign countries.
CPS Research International is a market and social research company registered in Kenya that has cut a niche for specialized research in Africa.
But the university said it has over the years remained true to its vision not just of producing high quality students but also raising Christ-centered leaders in Africa, educated to transform God's people and the world.
"The university hopes to train more Christ centered leaders for the church in Africa and beyond to actively and positively participate to impact the world," read part of the statement.
The survey was conducted between January and February 2021 targeting international university students and university administrators in the 71 universities across the country.
The survey aimed at evaluating the state of international students in Kenya and the related aspects and rating their satisfaction on various parameters.
According to the report, there are some 6,202 foreign students across the 71 Kenyan universities, most of whom come from East and Central African countries, with majority coming from Uganda at 19.9 per cent.
It is followed by South Sudan at 19.2 per cent, Tanzania at 18.8 per cent and Somalia at 18 per cent.
Other students come from Burundi, DRC, Rwanda, Malawi and Zimbabwe.
The report indicates that most of these students got to know about Kenyan universities through the media.
Difficult in getting and extending visa tops the list of various challenges these students face while studying in country.
The two stands at 40.2 per cent followed by high living costs at 16.6 per cent and reduced scholarship offers at 11.7 per cent.
Others are poor accommodation facilities (9.5 per cent), language barrier (5.5 per cent), limited freedom of movement (5.1 per cent), lack of support from host University (3.3 per cent), discrimination (2.5 per cent), erratic climatic conditions (1.1 per cent) and others (4.5 per cent).