How to keep schools open and save the academic calendar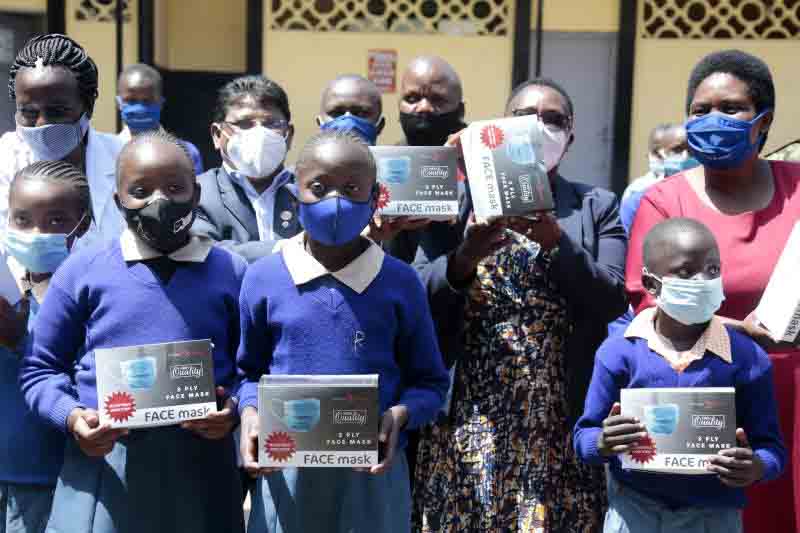 Schools are staring at another crisis of prolonged closures if the new Covid-19 containment measures are not fully enforced.
With fluctuating positivity rates, increasing community infections and carelessness among Kenyans, parents, and teachers unions are concerned schools may not open on May 10 as scheduled.
Last month, President Uhuru Kenyatta suspended all physical teaching only exempting candidates sitting examinations.
The Ministry of Education is banking on vaccination of teachers to boost chances of reopening of schools.
Basic Education PS Jwan Julius said they will consult the Ministry of Health on the way forward at the right time. "In the next two weeks, we shall be consulting widely on this matter. Based on lessons we have learnt so far, we hope to restart lessons as scheduled," said Jwan.
The PS, however, advised teachers listed for the vaccination to turn out in large numbers for the jab, as research shows children are not much affected by virus infections.
"Teachers who will not have been vaccinated will be exposing themselves. But we have also noted that parents feel their children are safer in schools and these are encouraging points for reopening," Jwan said yesterday.
Education stakeholders are calling for strict enforcement of the containment measures to safeguard the school calendar from further loses.
Parents, teachers and unions are pushing for enhanced caution to prevent a repeat of last year's 10-month closure that grounded the education sector.
Education stakeholders unanimously agree that enforcing the lockdown measures must be strictly adhered to if infections are to go down for safe opening of schools.
"This is the only way we can guarantee opening of schools in May and avert crisis as was witnessed last year," said Kenya National Parents Association chairman Nicholas Maiyo.
Maiyo said no parent wants to see more cases of early pregnancies, forced marriages, child labour or sexual exploitation that will be occasioned by another round of prolonged schools closure.
Last year, cases of gender-based violence, FGM and drug peddling were noted among many school going children.
When schools opened, many parents were unable to pay school fees after they lost jobs and sources of livelihood.
"We fully support the government and request tightening of the containment efforts further to bring infections down," said Maiyo.
According to the revised school calendar, all learners ­– except those in Grade Four – are expected back in school on May 10, for third term.
All Grade Four and Form One students (Standard Eight graduates) will join schools in July when 2021 academic calendar starts in term one.
Half-term break will run between June 3-7, followed by a one-week holiday break between July 17-25.
This will give way to the new 2021 school calendar whose Term One will start on July 26 for all learners and also when Form One students are excepted to join secondary schools.
But all these plans may be a waste of time if infections are not brought down, with just four weeks to go.
Maiyo said reducing community infections must be done through enhanced surveillance. He said the Government must also reactivate the Nyumba Kumi initiative to help enforce the measures.
"We see cases where some parents and community members behave badly, putting many at the risk of infection. Some revellers are allowed into clubs before curfew and locked in and let out at 4am when curfew is lifted and this is dangerous," said Maiyo.
He said political activities, church functions, weddings and other family celebrations must be and reduced.
"It is a small price we have to pay as we look at the future of children and their safety," said Maiyo.
Kenya National Union of Teachers (Knut) and the Kenya Union of post Primary Education Teachers (Kuppet) officials said vaccination of teachers must be rolled out to inspire their confidence.
"Vaccination of teachers identified in the first phase must continue. They should be encouraged to take the jab. This is the only way to assure teachers ahead of reopening of schools," said Kuppet secretary general Akello Misori.
Teachers Service Commission (TSC) said some 110,000 teachers who are 50 years and above are qualified for the vaccination in the first round presently underway.
TSC chief executive Nancy Macharia said of these, 92,850 teach in public schools. Within this group, 15,000 are 58 years and above. Another 16,500 teachers under the high risk category teach in private and international schools.
There are 330,671 teachers in public schools and 158,000 in private institutions.
Macharia said the commission is making plans to have all teachers vaccinated. "We shall continue collaborating with the Ministry of Health to ensure all teachers receive the jab," said the TSC boss.
Dr Macharia termed teachers a vulnerable group as they come into contact with learners who do not show symptoms even when they are sick.
Knut Secretary General Wilson Sossion said teachers and the support staff must be considered as a priority groups during vaccinations.
"Inoculating teachers can greatly help restore confidence in schools as safe and functional places for learning. There must also be strict adherence to Covid-19 protocols," said Sossion.
Private Schools Association CEO Peter Ndoro expressed concern over failure to adhere to containment measures.
"If Kenyans do not observe these curbs, we can be sure schools will not open. It is our expectation that these conditions are observed for the sake of children," said Ndoro.
He noted that hundreds of private schools bore the brunt of prolonged closure and cautioned it would be regretful if there will be another round of job losses due to carelessness. Parents are also partnering with county governments to roll out a career and guidance programme to keep children busy while at home.
Maiyo said the plan is to have children fully engaged to prevent them from taking part in activities that may give way to bad behaviour. "We talked to Mutahi Kahiga, who chairs the Council of Governors' Education Committee, on this plan and the lessons will be done online when children will be sensitised on career options."
School heads challenged parents to ensure children stay at home and called on the Government to avail capitation money in time.
"Washing hands, social distancing and wearing of masks need to be enforced by parents who also ought to be role models by observing the same," said Kahi Indimuli, the Kenya Secondary School Heads Association chairman.
Indimuli cautioned that schools have closed at a time when the positivity rate of Covid-19 infections is high. "Parents must ensure children observe containment measures put in place. The safety of children must be a priority," said Indimuli.
Jwan said schools have already received Sh7.5b, being half of the money expected this term with the balance expected by the end of this month.