Struggles of teenage mothers sitting form four exam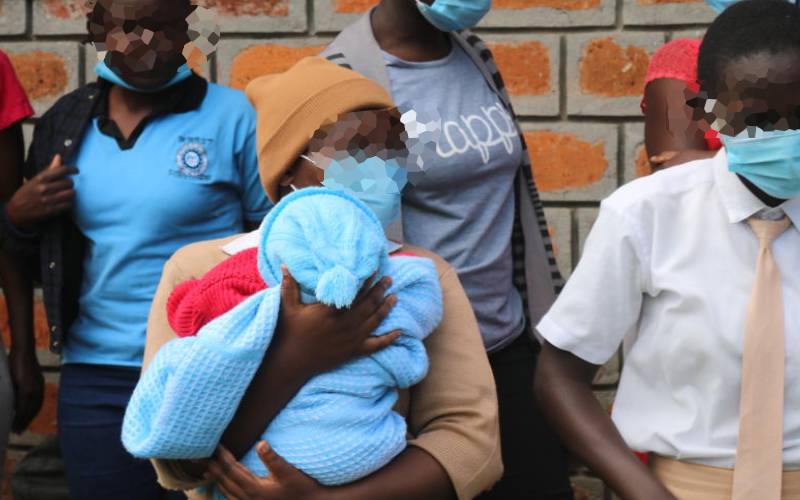 The bell rings continuously for about 30 seconds to signal the end of English Paper Two at Ebwambwa Secondary School in Kakamega County.
To majority of the candidates, the ringing of the bell means taking a breather, but for Joan*, it is time to breastfeed her three-month-old baby.
Joan is one of the young mothers sitting Kenya Certificate of Secondary Education (KCSE) examinations. Education Cabinet Secretary George Magoha had earlier issued a directive that all candidates, including pregnant and those breastfeeding, take the exam.
This is unlike in the past, where pregnant candidates would not be allowed to sit the examinations within the schools.
Joan, seemingly disturbed, literally runs towards the gate and hops on a motorcycle, The Standard team on her tow.
She alights at Micron Academic and Career Support Centre located at Mulunyu, barely a kilometer away from her examination centre.
Joan emerges later from a dormitory at the facility cuddling her baby and walks towards the breastfeeding room, where she is joined by 10 younger mothers with their babies.
They have ample time to hold their bundles of joy and relax as they prepare to revise for tomorrow's paper.
"I got pregnant in March last year when schools were closed due to the Covid-19 pandemic. I was always alone at home and my boyfriend (student at a neighbouring school) would spend the day at our place. But when I told him I was two months pregnant, he went quiet and was transferred to another school far away," says Joan.
Joan, who was raised by a single mother, says she was rejected at home but found solace at the institution from the time she was five months pregnant till she delivered in late December last year.
"When I came here, I felt at home since I found other girls who were pregnant and were to sit for this year's KCSE exams, unlike at home where my family perceived me as an outcast," says Joan.
After breastfeeding, she returns the baby to a caregiver-cum-teacher, Edina Lusia, and then heads to the class where other candidates are revising Chemistry Paper Three practical.
Another young mother, Mercy*, is sitting the KCSE examinations at Handidi Secondary School. She, too, was impregnated by her classmate during the Covid-19 period, and gave birth in January.
"It's a tricky affair for me here. I'm revising for the next paper but my baby is crying, seeking my attention. The caregiver has to bring him to me so that he can breastfeed and thereafter let me continue with revision," says Mercy.
"We have been revising for the exams with the help of volunteer teachers from Masinde Muliro University of Science and Technology (MMUST). They have prepared us well for the exams and my dream of becoming a nurse is still alive. If I were at home, it would be impossible since I faced stigma".
Besides the 11 candidates who are breastfeeding, there are another 10 candidates yet to deliver their babies. They are also sitting the national examinations at various schools and return to the centre.
The pregnant teen mothers have found school away from school, a place where they can continue with education knowing they are near their babies.
During the Kenya Certificate of Primary Education (KCPE) week, three candidates sat for the exams from the centre. One of them was breastfeeding.
Micron Academic and Career Support Centre, which is managed by Ronald Michieka, a lecturer at MMUST, ensures the candidates get food, free accommodation and academic support.
"We provide uninterrupted learning and psychosocial support, guiding and counseling to the pregnant girls during their pre-natal break in their education. Those with babies leave their children under the care of centre nannies as they continue with their studies," says Mr Michieka.
Similar centres are at Nakuru, Nyamira, Kitale and Kakuma Refugee Camp.
"At the centre, there are 53 teenage mothers from primary and secondary school. The youngest is a Class Six teenage mother aged 14, and the oldest is 22-years-old," said Michieka. However, this is just a tip of the iceberg. The number of school-going girls who got pregnant during the Covid-19 period is triple those who got pregnant in 2019 during a similar period.
Unlike in the past, where guardians, parents and teachers-trusted relatives and boda boda riders were the main sexual predators, the trend is changing. From the victims' testimonies, their fellow students were responsible for the pregnancies.
Most of the girls were either staying with their grandparents, stepmothers, single mothers and guardians, and majority of these cases have been reported in slums, town centres and in sugarcane growing areas.
Data obtained from the Ministry of Education portal from 26 counties in Western, Rift Valley and Eastern regions shows that during the lockdown period occasioned by Covid-19, over 17,000 girls in both primary and secondary schools got pregnant.
During this period, 5,211 pupils from various primary schools were impregnated; 2,780 of those reported to school when they reopened but 2,431 did not.
Some 6,564 secondary students were impregnated, but reported back to school.