All set for KCSE, KCPE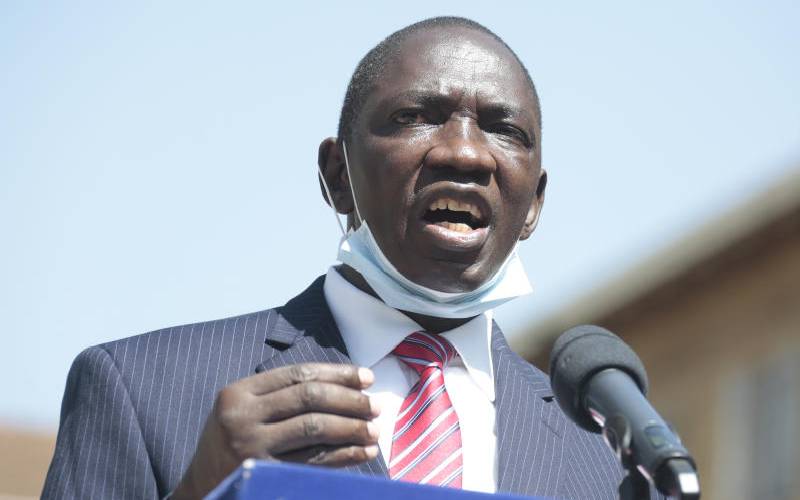 More than one million candidates are set to sit the national primary and secondary examinations.
Speaking in Nairobi yesterday, government spokesperson Cyrus Oguna (pictured) said preparations were complete to ensure the examinations are seamless, including in areas hit by insecurity and flooding.
Col (Rtd) Oguna said the Kenya Certificate of Secondary Examination (KCSE) started on March 8 and will end on April 21 with the Kenya Certificate of Primary Examination (KCPE) set to begin on March 22 to 24.
"Practicals already started and on paper exams will start in a few days. The government has put all necessary measures in place including places hit by insecurity and floods," said Oguna.
In Baringo where schools were submerged by the swelling Lake Baringo, Oguna said exam registration for affected candidates was done in the neighbouring public schools.
"There has been a concern in regard to areas hit by insecurity like Kapedo and Merti and facilities submerged, but examinations will be conducted across the country," he said.
"No student will be denied the chance to do the examination due to insecurity. Examination centres have been set up even in the areas that had issues," he added.
"We are talking about an examination when we're still in the middle of Covid-19 pandemic. Despite the disruptions caused by the pandemic we can talk of being ready to conduct an examination when it looked like a lost academic year for the students," said the spokesperson.
Oguna noted that an examination command centre has been established for quick response to incidents that may arise from schools in far-flung areas.
Out of the total 1,934,706 candidates 752,981 will sit KCSE and 1,181,725 KCPE.
About 28,437 examination centres have been established for KCSE candidates while 10,437 have been set up for Class Eight candidates.
This year's candidate population is an increase from 699,745 and 1,083,456 learners who sat 2019 KCSE and KCPE, respectively.