Teachers told to stop relying on academic timetables alone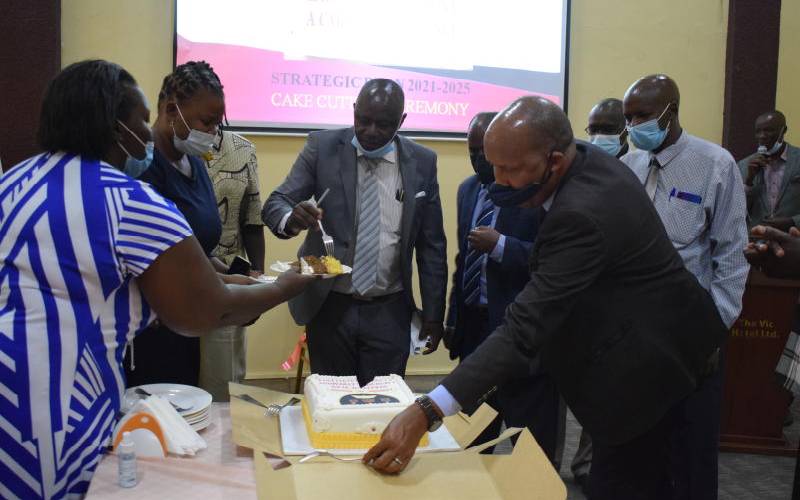 Teachers have been told to avoid restricting their efforts on the academic timetables alone in an effort to achieve excellent performance in schools.
Homa Bay County Director of Education Fredrick Kiiru and his TSC counterpart Solomon Leseewa want teachers in the county to go an extra mile in their efforts to achieve sterling academic results.
Speaking when they were hosted by Agoro Sare principal James Momanyi during the launch of the school strategic plan for 2021-25, Leseewa said teachers should not only go to class because the timetable indicates so.
He argued that personal commitment and drive in teaching are what bear desirable academic results.
"Personal drive and commitment in teaching are the key to success in academics. Teachers who mainly go to class because of the timetable cannot make it since they need to make extra efforts," Leseewa said.
Kiiru said time had come for school management to plan properly in order to make academic achievements.
He hailed the strategic plan, saying it will enhance good academic performance in the school.
"Failure to plan means planning to fail. This strategic plan gives direction on what teachers and students should do to meet the sole objective which is good academic performance," Kiiru said.
He told Agoro Sare management to put more effort in implementing the newly developed strategic plan.
"This plan will transform the lives of students but only if it is implemented properly. Let the school now put more focus on its implementation," Kiiru added.
Momanyi said they want to improve academic performance by a positive deviation of at least two in order to achieve a mean score of 10 by 2025.
"This strategic plan will enhance creativity and innovation in implementation of curriculum in my school. I believe it will transform the future face of my school," Momanyi said.
The leaders spoke at a Kisumu hotel where the launch took place.
Leaders present included Rachuonyo South Deputy County Commissioner David Kiprop and area Sub-county director of Education Aloise Mwita.