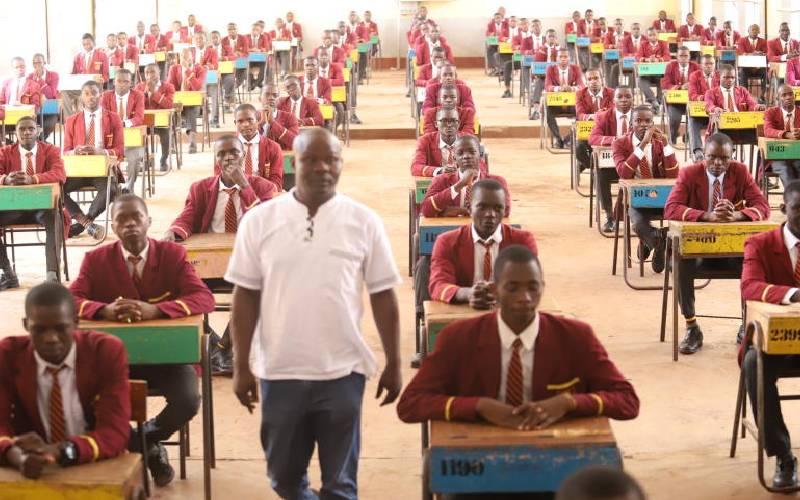 With only a few weeks to go, preparations for this year's primary and secondary school-leaving examinations are hanging in the balance as the State is yet to release capitation balances.
According to school heads, who are the managers of examination centres, there are serious concerns over preparations for 1.9 million candidates who will sit Kenya Certificate of Primary Education (KCPE) and Kenya Certificate of Secondary Education (KCSE) exams that are expected to begin in four weeks' time.
The school managers said the delayed release of the capitation balance by the government is hampering the purchase of chemicals for practical subjects and apparatus for science subjects.
Practical examinations
Read More
Kenya Secondary School Heads Association National Chairman Kahi Indimuli said thousands of Form Four candidates may not sit the three key science practical examinations if cash does not hit school accounts in time.
"As we speak, schools do not have money. The government promised to release the final tranche of 25 per cent by the end of February," said Indimuli.
He said preparations for Biology, Physics and Chemistry papers may not be adequate if the government fails to release capitation money in time.
"We may not be able to buy the examination council-prescribed specimen once they send us the lists," said Indimuli.
Some 1,088,986 candidates will sit KCPE exams, while another 699,745 will sit KCSE test papers.
The exams were moved from the traditional October/November period to March/April after lengthy school closures to mitigate the spread of Covid-19.
The revised national examinations timetable shows KCPE candidates will sit their papers starting March 22, just two days after the end of their third term.
The three-day exams will end on March 24, a day before the start of KCSE exams that will last three weeks and three days.
Indimuli said some schools do not even have critical apparatus that should be used during examinations, "while some schools may need the money to make small repairs in the laboratories ahead of the examinations".
Primary school heads also said they needed the balance cleared to facilitate smooth preparation for the examinations.
The Ministry of Education released Sh14.6 billion to fund secondary schools and another Sh4.6 billion for primary institutions when schools opened.
The school heads protested the release of the Sh19.2 billion to schools, accusing the government of withholding huge sums of money that could plunge schools into further crises.
The ministry, however, said the money released was only 25 per cent of the total amount of money that should be sent to schools during the first term.
The government's financing model of free education is spread in a 50:30:20 ratio.
This means that half the money is sent during the first term, 30 per cent in the second term and the balance released in third term.
Operational expenses
Indimuli said schools are expecting another 25 per cent this week.
"But we are not seeing any signs that the money will be sent and we are now raising a red flag that this will impact on national examinations," he said.
Each primary school child receives Sh1,420 in capitation per year, while those in free day secondary schools are allocated Sh22,244.
According to the disbursement details, Sh3,397.55 was sent to each secondary school child to cater for operational expenses.
Of this amount, Sh2,000 was to cater for schools' maintenance and improvement.
Broken down, secondary schools received Sh345 allocated per child towards tuition to cater for the purchase of learning materials and preparation for national examinations.
Another Sh1,395.55 was sent to schools per child to foot water, electricity and other utility bills.
The Education ministry said the maintenance and improvement allocation for this year is Sh5,000, and noted that Sh2,000 had been paid in January.
The rest of the funds, the ministry said, would be paid out in subsequent disbursements.
Indimuli yesterday said some school heads are unable to pay laboratory technicians and other critical workers who facilitate smooth preparations for examinations.
He added that some teachers employed under boards of management have not been paid.
"We need these teachers to get salaries because we need them to prepare candidates for the coming examination," said Indimuli.