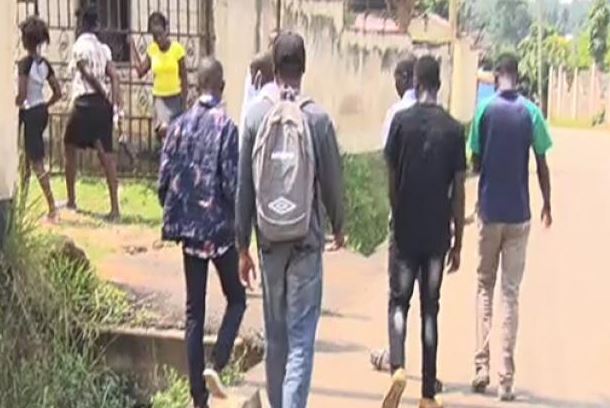 The Taveta Sub-county Covid-19 surveillance committee team will allow Tanzanian students to study in the county's schools.
Deputy County Commissioner Joseph Maina confirmed yesterday that 175 learners would join private primary and secondary schools, respectively.
"We have cleared a total of 150 pupils and 25 secondary school students to continue with their learning in Kenya. Those cleared met all the relevant health protocols," said Mr Maina.
The administrator said the students returned after schools were reopened by government, nine months after they were shut in March last year to mitigate spread of the coronavirus disease.
Maina said while schools were closed in Kenya, learning in Tanzania went on uninterrupted. He added that dozens of foreign students studying in the county joined schools in the neighbouring country after failing to meet the required health protocols.
"We had many day and boarding Tanzanian students learning in the country. But some came back while others did not. We had set a condition for parents that for students to be cleared to study in the region, they must all be admitted in local boarding schools to avert rapid spread of the viral disease.
"There are parents who agreed to adhere to the health protocols while others did not," the administrator told Government Spokesman Cyrus Oguna during a consultative meeting held at the Taveta-Holili border this week.
Maina told Col (rtd) Oguna the border was still closed, except for passage of essential services.
Earlier, County Commissioner Roda Onyancha told Oguna security personnel from Kenya and Tanzania had intensified cross-border patrols.
She noted that undesignated routes at the porous borders remained a major challenge "as they not only compromise security but might also cause rapid spread of the deadly disease."
"Unscrupulous traders have been using boda boda operators to perpetrate illegal businesses to and from the country. We will not relent in our efforts to maintain law and order at the border," said Ms Onyancha.
Maina said they recently arrested 50 Tanzanians for failing to use designated routes and flouting Covid-19 rules. The suspects, he said, were found guilty by court and each fined Sh50,000 or serve six months in jail in default.
The administrator said the arrests and subsequent arraignment of the foreigners did not go down well with their counterparts in Tanzania.
"Restriction of movement of persons is currently in place at the border, except for essential services. Anyone found using undesignated routes and encouraging illicit trade along the border will face the full force of the law," he warned.
The two nations have had frosty relations over Covid-19 testing. The tension escalated in May last year after Tanzania rejected Kenyan truck drivers.