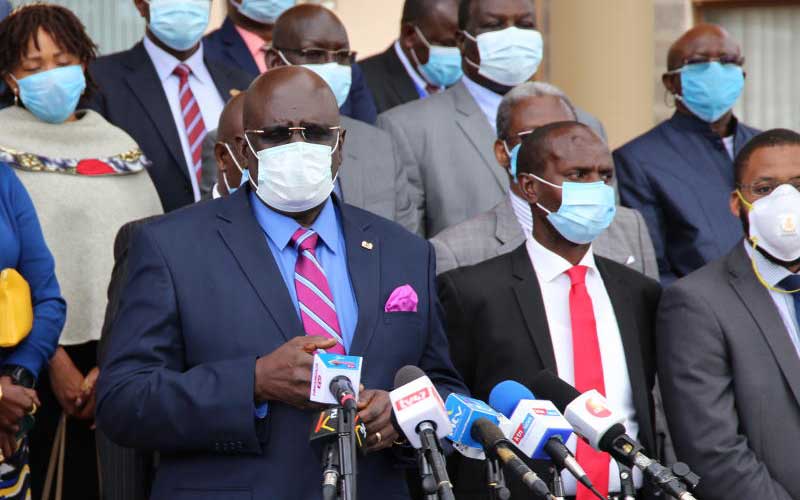 Learners at home have to wait longer to know their fate in regard to the phased reopening of schools.

Speaking while inspecting the Mukuru Primary School in Nairobi, Education Cabinet Secretary George Magoha said that deliberations are still ongoing to determine the way forward on reponening schools for the learners still languishing at home.

"In terms of opening schools for all the others, there is a consultation at every level of government and as you are aware on November 4 we are going to engage the Excellency the President, with the governors and other stakeholders," said the CS.

Mogaha explained that after the meeting between the president and governors, the ministry will organise another meeting with education stakeholders so that a proper decision is made.

"It shall be a very well informed decision that might have consequences but then everybody will be responsible for those consequences," said Magoha.

The CS has also taken a firm stand that schools are not going to be closed again due to the surge of cases in the past one month.

"We have decided as government for now, that those students who are in school should continue to be in school because life must continue as long as you obey the protocols given."

Magoha explained that children in school are safer than those outside school given an example of students in Mukuru primary who were all masked at the time of his inspection.

While explaining how a senior procurement officer at the Kenya National Examination Council succumbed to the virus; Mogoha has asked Kenyans to take the pandemic seriously and cease reckless behaviour that will put many at risk.

"Covid is actually real and let us hope that we change our culture of impunity against ourselves."

Even though the CS has guaranteed that children are safer at school, reports from school heads last week revealed that students have rebelled against masks and only wear them when a teachers are around.

"These learners now think that after two weeks in school without any infections they are now good to go and can overlook some guidelines," said Kenya Secondary School Heads Association (Kessha) Chairman Kahi Indimuli.

He said teachers are now facing more challenging times in enforcing the social distancing rules among learners in schools.

"Most learners are not wearing face masks, they do not care so much about proper use and hygiene of the masks and they also do not wash hands as frequently as it were before and this is the new challenge in schools," said Indimuli.