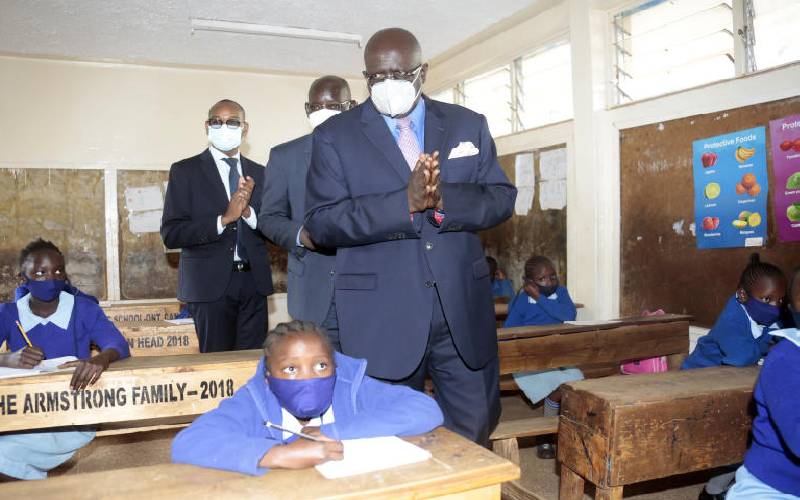 No hugs. No licking of masks. No touching of classmates. No huddling too close while playing.
These were some of the rules that teachers of Grade Four pupils at Moi Avenue Primary School in Nairobi tried to enforce on the first day of reopening of school after the long break.
It had been seven months of the pupils not seeing their classmates, and teachers had to contain their bubbling energy by reminding them that moving too close to one another could put the whole school at risk.
"We have to protect ourselves and protect everyone around us. Covid-19 is real," said teacher Grace Ojako to the Grade Four pupils whose eyes were fixed on the blackboard where she had scribbled statistics and facts of the global impact of the virus.
Read More
The first lesson was dedicated to teaching the pupils how to conduct themselves as they resume studies amidst the global pandemic. The biggest challenge was ensuring social distancing at the playground during break time and ensuring the playful children kept their masks on.
"This is new for all of us. We are still struggling to see how to make it work and we are trying our best," said Ruth Chirchir, head teacher of the school.
When the bell announcing break tolled, teachers took positions at the many hand-washing points scattered across the compound to ensure the pupils washed their hands. Some of the pupils frowned, insisting that they had already washed their hands when getting into class.
"Remember what we learnt in class. You have to keep washing your hands when getting into class and when leaving class," teacher Ojako shouted to the group.
Since they could not engage in group games, most of them opted to sit isolated in the field and eat their snacks.
"It is going to be a long time before they get used to this kind of school life," said one of the Class Eight teachers as she monitored how they sat during break.
The turnout for most schools, especially for Grade Four pupils, was low. Head teachers attributed it to fear by parents that the younger children might not adhere to Covid-19 containment rules.
Lack of school fees was also said to be one of the hindrances to most learners reporting to school.
Education Cabinet Secretary George Magoha, however, warned head teachers against sending learners who have not cleared school fees home.
"For boarding schools, may I plead with principals to ensure that no child is sent home on account of school fees," said Prof Magoha, as he monitored the reopening of schools in Nairobi County at Olympics Primary School.
He added that his ministry was monitoring the phased reopening of schools and in two weeks, all the other pupils might be recalled.
"We should be bold enough to continue to observe them for one or two weeks before we decide as to whether we can risk having larger numbers," said Magoha.
Pre-existing conditions
He said schools will have to come up with biodata to include pupils with pre-existing conditions such as asthma.
He also said no pupil should be discriminated upon for not attending online classes while they were home.
"All children will resume syllabus from where they left in March when schools closed," he said.
There was also fear that the long break could have exposed teenagers to pregnancy, and the CS said all pregnant students should be allowed to resume studies.
At Jamhuri Boys High School, the students started streaming in by 6am.
Head teacher Fred Awuor said out of the 183 Form Four candidates, 105 had arrived by 11am.
Their first day was marked with guidance and counselling teachers going to classes to talk to the students.
"Some of the students are not in the right mind frame for academic studies yet. We have to talk to them about how the virus affected them," said Catherine Sijenyi, head of Form Fours at Jamhuri Secondary.