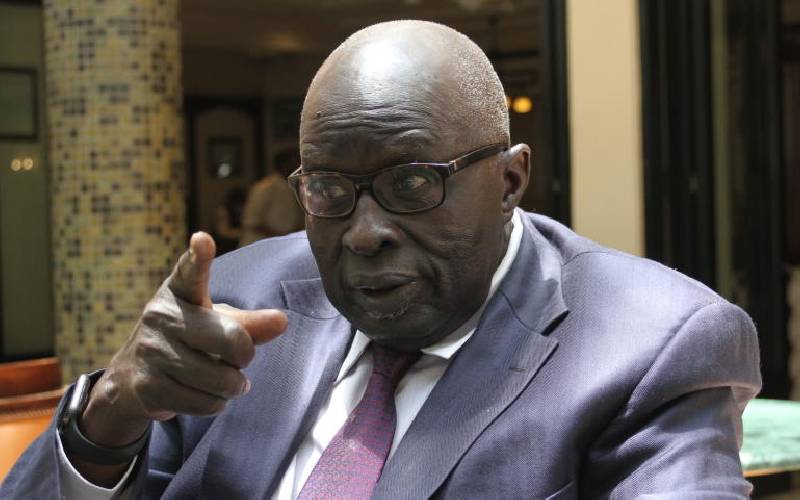 During the graduation ceremony at Mount Kenya University last week, one student stood out – a 79-year-old Member of Parliament for South Sudan.
Dr Aldo Aldo Ajou Deng Akuey, who graduated with a Doctor of Philosophy in History, served as MP in Sudan before independence and is currently a Member of the National Legislature (Council of States).
As South Sudan struggles through the throes of civil war and instability, with most academic institutions in shambles, the citizens dispersed all over the world, initially as political refugees seeking asylum, but more recently to seek education.
Deng was first elected to Sudan's Constituent Assembly in 1967 through Sudan African National Union party.
He served in parliaments of Sudan and South Sudan after its independence in 2011, becoming Deputy Speaker of Parliament in 1975 to 1978 and in 1990 to 1993.
Deng served as a Government Commissioner of Greater Bahr Al Ghazal Region from 1978 to 1986 and as Government Deputy Prime Minister and Minister of Irrigation, Transport, and Communication and Agriculture of Sudan from 1986 to 1989.
With the benefit of age, experience in politics and leadership and knowledge of the African liberation movements – having been a member of the South Sudan Liberation Movement — Deng's literary works are worth reading.
In a paper presented at a peace conference in 2018, Deng says: "The Sudan People's Liberation Movement government has not created a conducive environment for political stability in South Sudan."
He argued that the political and economic crisis has seen the intervention of neighbouring countries in the internal affairs of South Sudan to pursue their national interests or within the context of regional bodies such as Igad to achieve the same.
Deng said from the outset, the independence of South Sudan was necessitated by the USA-led war against global terrorism that is more pronounced at the Horn of Africa and in the context of Sudan's civil war.
He explained that the natural resources in South Sudan have attracted state and non-state actors with global and regional actors directly or indirectly involved in re-configuring the security matrix with diverse outcomes.
Deng regretted that wildlife trafficking, gold mining, logging, ivory poaching and illegal charcoal production as well as commercial bush meat poaching have created war economics and resource conflicts within the region and beyond.
"Political crisis in South Sudan, especially the most recent one that triggered civil war in 2013, and persisted to date, has received very little scholarly attention, especially its regional security implications," he said.
The paper, which sought to analyse the ramifications of the ongoing civil war to East Africa, examines the emerging security threats to the region. In particular, armed groups, humanitarian crisis, natural resources and refugees' crisis were emerging security threats in East Africa.
In his thesis, titled "Evolution of the Sudan People's Liberation Movement (SPLM), 1983-2016," Deng submits: "Historically, resistance and liberation movements have been a major defining feature of political conflicts in post-colonial Africa. However, most of them have failed in the process of reaching political settlements and actively engaged in post-independence governance."
Having lived through the struggle for independence of South Sudan, the post-independence civil war that has only recently been silenced through a peace deal in February, Deng, in his works, argues about the failure of the liberation movements across the continent — which succeeded in the struggle, but have failed in governance and in empowering the citizenry to improve livelihoods — was a cross-cutting phenomenon that was not limited to his motherland.
"Kenyan universities have a solid foundation and when I came here, I wanted an institution that is peaceful and which would enable me achieve my goals. I first went to a public university but I was told my graduation may be delayed because of student strikes. That is how I settled for MKU," he said.
"At my age, many asked me why I was pursuing a PhD. Having had enough public lessons and also participated in the struggles throughout my entire life, I wanted to cap it up with solid research that would constitute a body knowledge beneficial to other countries," he added.