No, thanks: BoM tutors find greener pastures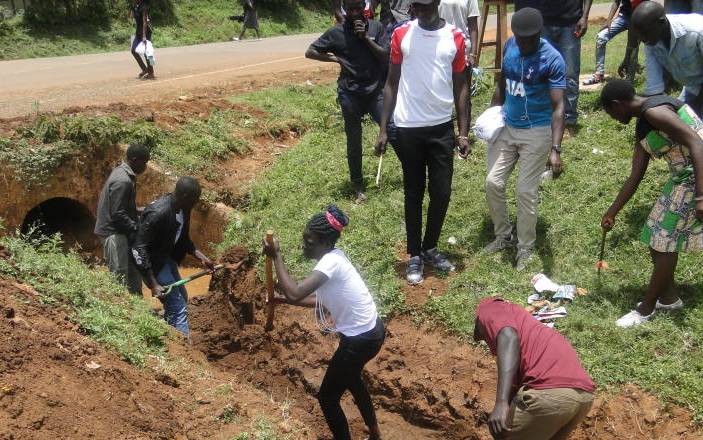 Until March, Paul Oluoch was a teacher employed by the Board of Management and solely depended on the little stipend he received at the end of every month.
But when schools were closed to curb the spread of Covid-19, Oluoch and other teachers like him lost their income.
"Life became very difficult and I could not pay my rent because our earnings depended on fees paid by the students," says Oluoch.
But thanks to the National Hygiene Programme (NHP) dubbed Kazi Mtaani, he got a lifeline that put some money in his pocket.
With the reopening of schools slated for Monday, Oluoch is now in a dilemma over whether to drop the chalk and continue with the programme or go back to class.
"From the wages, I've managed to invest in farming and I'm now torn between continuing with teaching or going to my farm when the programme ends," he says.
Yesterday, George Ochieng, a teacher at a private school in Kisumu, who is also part of the Kazi Mtaani team, said he was still not sure whether he would report back to school.
Ochieng said that despite working diligently, the pay was low.
"The closure of schools was an eye-opener.
"I used to be paid Sh8,000 per month but I have been making more from doing odd jobs besides the Kazi Mtaani initiative," said Ochieng.
Many teachers have been struggling to make ends meet after schools stopped paying them.
They have been pleading with the government to cluster them as vulnerable groups to enable them to receive funds meant for vulnerable families.
About a month ago, representatives of 500 teachers in primary and secondary schools expressed the frustrations their members have been going through.
Eunice Achieng, a BoM teacher who has now secured a job with a local supermarket, said she is not likely to resume her job at a secondary school in Nyahera, Kisumu County.
"It is difficult to go back to school because of the treatment we received when schools were closed due to Covid-19," said Achieng.
Another teacher at Maseno School, who did not want to be named, said his chances of going back to school are limited.
He says he started helping his brother operate a gas cylinder supply business, which he says has been his source of livelihood for the past three months.
"It is not easy being a BoM teacher. It also takes several years before the Teachers Service Commission employs us. The business has been doing well," said the teacher.
For Mark Mabeya, a teacher at Silver Hills Academy in Naivasha, going back to school is a far-fetched dream.
Mabeya has ventured into agri-business and is not looking back.
"This is the period I realised I gave too much to better the school's performance. I have a family but the salary stopped as soon as the schools closed. That's when I realised I have to channel my efforts elsewhere to feed my family," Mabeya said.
Kenya Private Schools Association Nakuru County Chairperson John Waweru said only a few teachers in private schools will get their jobs back for now, and normalcy may only return when schools fully re-open.
"As of now, we cannot really tell if some teachers will not want to report back until schools are fully re-opened. It is, however, a good start and other teachers will be re-absorbed with time," Waweru said.
[Isaiah Gwengi, Harold Odhiambo and Caroline Chebet]