Neglected schools not ready to admit learners: principals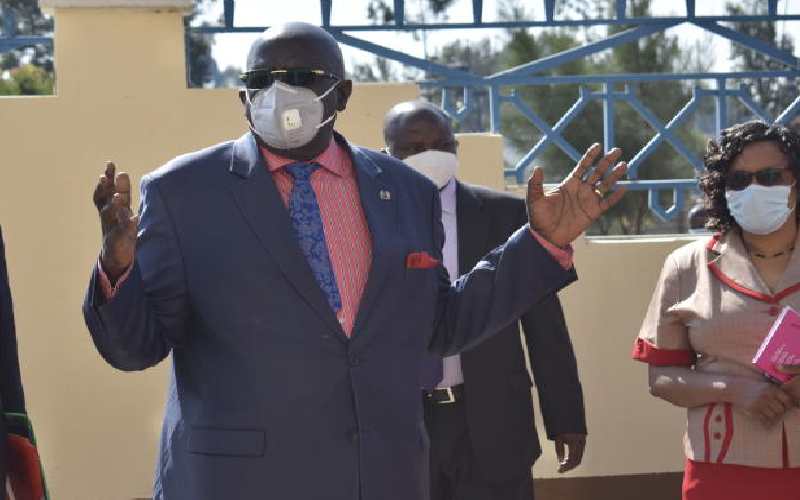 Primary and secondary schools have been neglected in the ongoing Covid-19 reopening plans, with Sh15.4 billion yet to be released to the institutions to improve infrastructure and pay workers' salaries.
The Standard has established that whereas Education Cabinet Secretary George Magoha has led top ministry staff to inspect the level of preparedness in universities and middle-level colleges across the country, little is happening in the other institutions.
It has also emerged that despite a court order stopping the planned roll-out of community-based learning, the Teachers Service Commission (TSC) has continued with staff training and sensitisation.
The TSC has embarked on recruitment of nearly 11,000 teachers to fill vacancies.
During a visit to Meru National Polytechnic last month, Magoha revealed that only three colleges – Rift Valley Institute, Eldoret Polytechnic and Nyeri Polytechnic – have instituted measures to allow for reopening.
"We have inspected many institutions but so far these are the best. They are not completely ready, but I can dare say that they are going to reopen ahead of others," he said.
According to the CS, only Strathmore and Mount Kenya universities have instituted the necessary changes, re-engineered their physical spaces and adopted blended teaching to allow the resumption of learning.
"I am impressed by the level of preparedness I have witnessed, including automatic sanitiser dispensers, provision of tanks for washing of hands, and good classrooms spacing. This is very encouraging," Magoha said.
Unfortunately, not much attention has been paid to the country's approximately 23,000 primary and 8,000 secondary schools.
These institutions cater for the education needs of more than 12 million learners under the guidance of about 340,000 teachers on the TSC's payroll.
Nearly six months after they were closed, the schools are in a sorry state – what with overgrown grass, unkempt fences, peeling paint, broken windows and increasing cases of vandalism.
No efforts are underway yet to erect hand-washing points or expand existing spaces to allow for social distancing when learning resumes.
School heads said they have not received their share of Sh13.3 billion pledged to undertake hygiene and social distancing measures. Another Sh2.2 billion was scheduled to pay salaries for all teachers employed by boards of management.
Speaking in Chavakali yesterday, Kenya Secondary School Heads Association chairman Kahi Indimuli called on the National Treasury to release the money to schools to help principals pay subordinate staff and suppliers, and prepare for eventual re-opening.
Frustration
He said school heads were frustrated that despite making public proclamations on Covid-19 funding, the government had failed to deliver on its promise.
Indimuli also urged parents to be patient, saying it would be impractical to open schools in the current situation.
"Let us wait. We should not push for schools to reopen now because most of them are congested and social distancing would be difficult. The government needs to furnish schools with funds to put up new classrooms and dormitories and employ more teachers," he said.
Susan Gitau, a counselling psychologist, said the neglect was demoralising children and disheartening parents.
"These children are wondering whether they will ever open the school because no one is talking about their schools. This increases their anxiety levels and many lose hope, sense of focus and direction," said Gitau.
She continued: "The first business of the government should be the children who have been told that a whole academic year has been lost. Let us have something happening in basic learning institutions to give children hope that they will go back to school even if it is next year when the curve flattens."
Usawa Agenda Executive Director Emmanuel Manyasa said inspection of schools to comply with Covid-19 protocols should be a Ministry of Health affair.
"That is a health protocol and the Ministry of Health should be in charge, not the Ministry of Education."
Manyasa said the fact that little was happening in schools means the country was waiting for the virus to disappear before learning can resume. He also noted that funds allocated for infrastructure improvement in schools were not enough to have an impact.
"It translates to about Sh55,000 per school. We need to start planning for staggered opening as a strategy to resume learning," said Manyasa.
[Additional reporting by Eric Lungai]