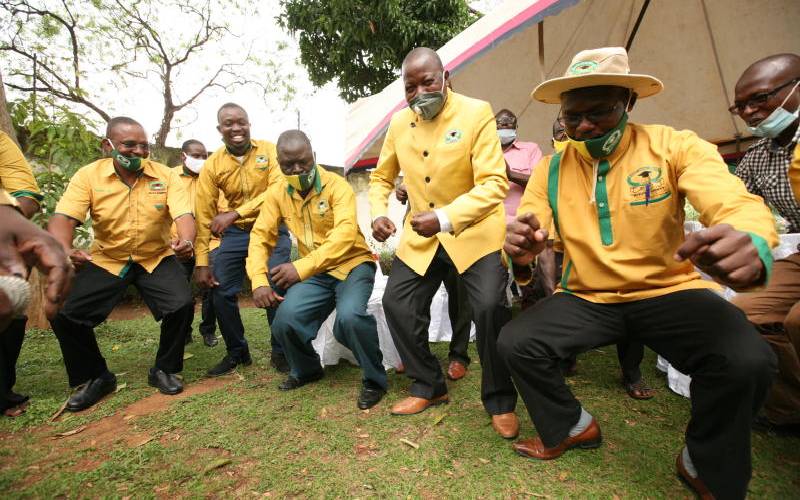 Pressure is mounting on the Kenya Union of Post Primary Education Teachers (Kuppet) to announce a date for elections to vote in new officials.
The election was supposed to be held in March this year, but was suspended after the outbreak of Covid-19.
At the weekend, Kuppet national officials called for patience.
Secretary General Akello Misori said the union has not decided whether to declare regional and national offices vacant to allow members hold fresh elections before the end of the year or wait for the pandemic to ease.
Speaking in Kisumu during the handing over of a 32-seater bus to Kuppet Kisumu branch, Misori assured members that the union was working on a safe mode to conduct an election.
Read More
"As things stand, it is unwise for some members with interest in various branch and national seats to start making campaign posters," said Misori.
Some union members have already produced campaign posters and flyers in readiness for the poll.
Early campaigns
The social media has been awash with campaigns for various regional and national posts even before an official decree from the registrar of trade unions announcing the polls is issued.
Misori and Kuppet Vice Chair Julius Korir described the early campaigns as redundant and prejudicial.
"This habit of replacing leaders on each election is the cause of instability in the union. If you replace all leaders, you start introducing new ones afresh and negotiations afresh," said Misori.
According to Misori, with social gatherings and meetings still banned because of escalating Covid-19 pandemic, it would beat logic for Kuppet to defy health risks and warnings and allow members to start campaigning.
The union called on all its members to be creative and innovative during the pandemic.
"Covid-19 is a wake up call for us to adjust our standards in many areas, including venturing into side hustles and investing in ICT," said Misori.
He assured teachers that the union and the Teachers Service Commission (TSC) will reach a conclusive salary agreement based on the negotiated 2021-25 Collective Bargaining Agreement.
According to Misori, the TSC already has Sh54 billion for salary increments, promotions and hiring more teachers.
He rallied teachers to support the community-based teaching and learning during the pandemic.