Online classes or private tutor? Parents' dilemma as schools remain closed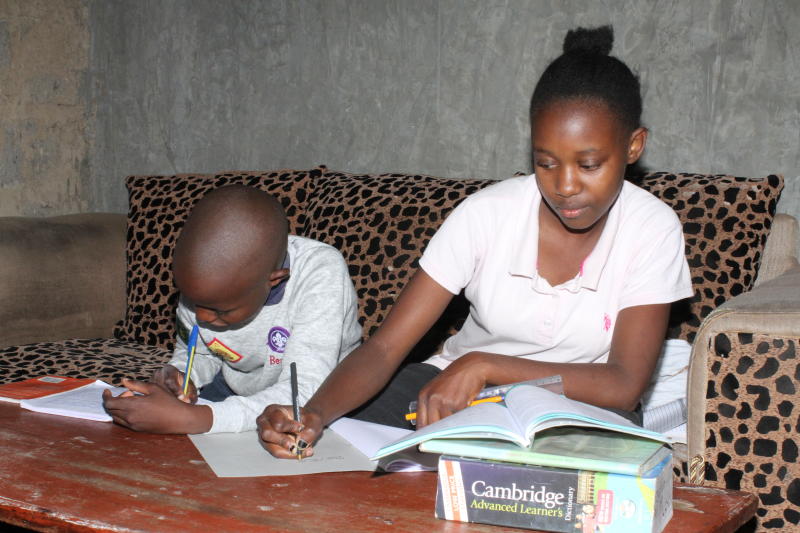 Phanice Marisia is grappling with the thought of whether or not to hire a private tutor for her three schoolchildren.
While the help would be much needed by her sons, the fear of Covid-19 infection outweighs other needs.
They, aged 12, 10 and three years have been attending online classes in the wake of the coronavirus outbreak. But even online, she has to worry about harmful content such as pornography.
"It has been a real struggle to ensure they are getting their education and attending all classes. They share one gadget and sometimes their classes collide, forcing us to prioritise the older child's lesson," says Marisia.
She says the children are easily distracted and often want to watch TV instead of attending their online lessons.
"I am forced to switch off the TV. Having a teacher come over would be great but we have no way of knowing where they have been, posing a risk to infection, which I don't want to expose my family to," she says.
Sufficient online learning
Marisia is not alone in her hesitance to consider private tuition. Susan Kerama, a parent to a 12-year-old, Standard Seven pupil says online classes are sufficient, and with adherence to the timetable, children are fully occupied.
"My son has been attending online classes since May. I feel that he is doing well. He is given tests for which we are issued answers to mark, and his performance is good. The teachers have been well motivated and are highly supportive," says Kerama.
Her son attends classes from 9am to noon, and does his assignments in the afternoon.
Other parents have opted to spend an arm and a leg, fearing that online classes will not achieve their desired results.
James Otieno works as a private tutor for one family, and says the goal of the parents is for their child to proceed with the syllabus as well as revise already covered topics.
"My pupil is an eight-year-old taking up the British Curriculum, in Year 3. She attends a full day's learning from 8am to 3.30pm with breaks in between. I teach her Maths, English, Kiswahili and French," says Otieno.
Otieno says with the private tutoring also come distractions related to learning from home, including the little girl's friends coming over to play during study hours and the TV constantly being a point of contention.
Some parents struggle with the possibility that their children may not be getting the quality of education they need through online classes.
Regina Wandete, a mother of three, worries that with well-to-do parents affording private tutoring and opting for it, hers may be left behind academically.
"I did not have a smart phone and was operating a kabambe at the time the pandemic struck. I didn't have money and struggled for weeks to save up for a smart phone so that my children could begin their online classes. I purchase mobile data, which I find expensive," says Wandete.
She says if she had the means, she would hire a private teacher for her children.
"I am stressed and very concerned that my children may not be at par with those receiving private tuition. I want them to be at the same level with their peers," she says.
National Parents Association Chairman Nicholas Maiyo says inclusivity of all children is the primary goal of community-based learning, which was recently launched by the Ministry of Education.
Nyumba-kumi structures
"The question as to whether some children were being left behind is the main reason we are encouraging learning through nyumba-kumi structure. For those having trouble accessing online learning and learning through TV and radio, private tuition is a good option, and so is community-based learning," says Maiyo.
He says it is every child's constitutional right to receive quality education, and any available means of learning should be sufficient for a child to be at par with his peers.
Kenya Union of Post Primary Education Teachers (Kuppet) Secretary General Akelo Misori says the school calendar for 2020 should be completely disregarded.
"Parents should not pressure their children to cover all the content in their online classes. Come 2021, they will be repeating the syllabus and may be unenthusiastic and bored. Currently, the learning platforms being used are not evenly distributed, says Misori.
That is why the Government is taking a multi-agency approach to engage students. The content that will be taught in community-based learning will be different from the usual curriculum and rather focus on life skills."