State urged to equip teachers with digital skills in the face of new reality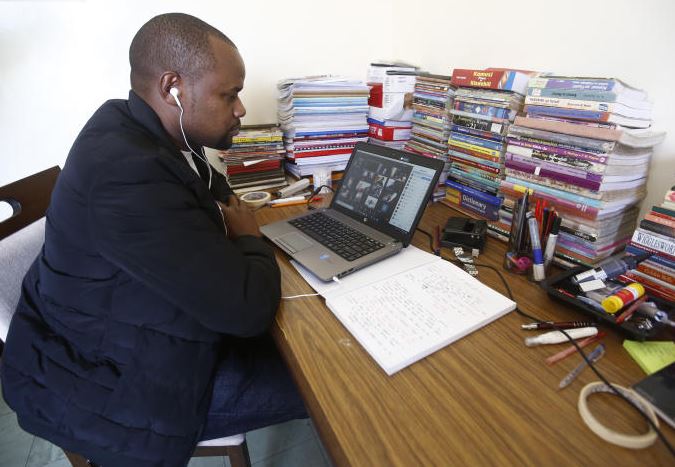 Teachers will have to undergo fresh training to handle what is expected to be a challenging learning environment when schools reopen in January next year.
New subjects will be introduced for trainee teachers still in college, and public health experts invited to prepare staff as the Covid-19 pandemic presents new realities in schools.
It will also be mandatory for teachers to acquire additional skills on the use of technology in delivering lessons in the event of similar worst-case scenarios in future.
Education experts yesterday said the Covid-19 pandemic has shown a glimpse of the risks inherent in traditional learning and suggested that the government must empower teachers to respond to the challenge through rigorous and continuous training.
Kenya Union of Post-Primary Education Teachers (Kuppet) Secretary General Akello Misori said "scientifically proven safety protocols for the control of Covid-19 have changed the conduct of business and social relations in schools and this must guide the management of future pandemics".
"An overhaul in the delivery of the curriculum will be at the core of all this, where teachers must be imbued with the tools to deliver education in emergencies," said Misori.
The union boss said if the education system was to remain relevant, stakeholders must strive to meet the technological, technical and operational requirements for study during and after the Covid-19 outbreak.
"To empower the teacher, all training must include comprehensive information and technology competencies than currently available.
Take a quick survey and help us improve our website!
Take a survey
"Teachers must now be able to use, produce or adapt internet-based learning materials. Those currently in service will need thorough re-tooling through targeted workshops and seminars," said Misori.
Staffing changes
Kenya National Union of Teachers (Knut) Secretary General Wilson Sossion said for the teachers to manage the new roles, there should be changes in training, staffing and their job description.
"It is imperative therefore that the training syllabus be reviewed, capacity building programmes be developed, staffing norms be revised and the teachers' remuneration be reconsidered so as to conform to the expected changes in the sector," said Sossion.
He said Knut shall demand that consultations are done with all stakeholders in the education sector to have the changes addressed in terms of how they will affect teachers' labour rights.
Former Teachers Service Commission chief executive officer Benjamin Sogomo said technology will play a key role in curriculum delivery, adding that new teachers will have to adopt the changes.
"This means that they will have to be retrained both for pre-service and in-service, or through continuous professional development programmes," said Sogomo.
He noted that new subjects in public health may have to be re-introduced in colleges and experts brought in to train teachers.
"This is because teachers will have to be alert on continuous basis to monitor children's behaviour in addition to the curriculum delivery," said Sogomo.
It also emerged that the current curriculum in teacher-training colleges is not adequate to prepare teachers for the 'new normal' hence it must be fine-tuned to enhance knowledge and skills on comprehensive school health and safety.
A Unesco report on teachers' post-Covid 19 support released in April warns that the short- and long-term impact of the current pandemic on teachers' capacity to provide quality teaching and improve learning outcomes will be significant.
The report, titled Supporting teachers and education personnel during times of crisis, calls for putting emphasis on the professional development needs of current and future teachers.
In Kenya, some teachers have opposed the continuous development courses being rolled out by the TSC. Experts now say these programmes will be mandatory under the new teaching realities.
The Unesco report says to mitigate effects of the pandemic, education institutions and teacher organisations must develop and distribute guidance on curriculum, essential subjects, and assessment of learning during crisis.
The report advises governments to invest in high-quality initial (pre-service) teacher education reform, including the development of a strong component on using ICT for pedagogy and preparedness-training for delivery of distance education.
"While schools are closed, ensure principals, teachers, and other education personnel are provided with relevant guidance on the remote provision of key lifesaving messages to students," reads the report.
Primary School Headteachers Association National Chairman Nicholas Gathemia said all teachers will be required to keep abreast of the emerging issues.
"The system shall always declare redundant any teacher who obstinately refuses to adjust. That is why teachers should take a keen interest in acquainting themselves with the current/new normal," said Gathemia.
He noted that Covid-19 had brought changes, including new socialising tactics, hygiene, interpersonal relationships, digital literacy, and research into new teaching approaches, which must be fine-tuned.
Secondary Schools Heads Association national chairman Kahi Indimuli said teachers "must adjust to deliver blended learning that will use technology-mediated methods of teaching".
Zizi Afrique Executive Director John Mugo echoed the plan to adopt blended learning starting January.
"The new teacher should be empowered to use online resources to teach some children, as others use face-to-face to reduce congestion and increase efficiency," said Mugo.
Zizi Afrique is an agency that promotes equity in education and roots for learning for all children.
Mugo said the installation of cameras in some classrooms would facilitate learning for remote students.
"This would necessitate extra capacities for online teaching and learning, including how to assess learning under the new way. Teachers ought to undergo re-tooling between now and December."
Mount Kenya University Dean School of Education Benson Njoroge said when schools open, teachers must be able to offer psycho-social support to learners and colleagues following the nine-month stay at home.
"The issues of social/physical distancing and mandatory hand-washing will also cause stress and teachers must be able to explain this to learners. The learners may not fully understand why there is restricted play and interaction with fellow learners," said Njoroge.
Equity donates Sh85m to nurses
Mwangi said KNUN members, who are currently more than 50,000 across the country, need support to deliver the required services to Kenyans.