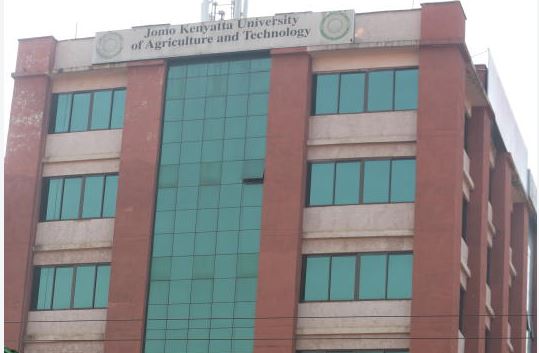 Eldoret was full of hope after Jomo Kenyatta University of Agriculture and Technology (JKUAT) Eldoret campus obtained provisional accreditation in 2016.
But the excitement would be dashed this week, four years later, after the university was shut suddenly, in a move that has now sparked angry reactions from students and a section of the university fraternity.
With 1,585 students, Eldoret campus was one of the fastest-growing JKUAT branches outside the main campus in Juja.
The Commission for University Education (CUE) ordered the closure of the campus at Sirgoi Holdings Plaza in Eldoret town, according to the university management.
But CUE Chief Executive Officer Mwenda Ntarangwi said JKUAT council chose to consolidate Eldoret, Kakamega and Kitale campuses.
Read More
Prof Ntarangwi said Eldoret campus was inspected in September, last year, and a report detailing the areas of attention before accreditation was given.
"Any closure of JKUAT Eldoret campus is purely the decision of the university, and not CUE," the CEO told The Standard yesterday.
He said the conditions, which he did not specify, were easy for the university to address.
Prof Ntarangwi said the commission did not write a letter ordering the closure.
It occupies three floors in the building and had put in place measures towards meeting a set of conditions issued by CUE before securing full accreditation this year.
JKUAT Deputy Vice-Chancellor Academic Affairs Robert Kinyua dropped the bombshell that brought down the campus earlier this week, throwing the entire institution into a spin.
Students were at home and none could believe that the campus they had expected to complete their studies in was closing down. By yesterday, students were not relenting, maintaining that the closure was unfair. At least 50 members of staff and lecturers, employed on temporary basis, are fearing job loses.
A report by the university indicates that CUE officials assessed the Eldoret campus in November last year and later gave a list of conditions that was to be met before a full accreditation.
According to a source at the JKUAT head office, the university was ordered to create a learning environment free of noise. It was supposed to ensure adequate supervision of postgraduate students and confirm availability of clean running water.
The source, who expressed displeasure with the move, said Kakamega campus has also been shut and students directed to transfer to Kitale campus.
Basic logic
"It beats logic for the university to close Eldoret campus, which has 1,585 students and Kakamega, which has about 800 students and then transfer them to Kitale campus, which has 400 students," he said.
He said Eldoret campus was self-sustaining and has never been rocked by financial problems. He claimed the campus directors were not involved in the closure.
"The conditions set by CUE were easy for Eldoret campus to meet but why did the university go-ahead to shut it down?," he asked.
JKUAT Eldoret campus student chairman Reuben Lolem dismissed reasons given.
"We can't believe CUE shut down Eldoret campus because it could not meet the requirements to get full accreditation. There is more than meets the eye," he said.
The student organisation wrote a series of letters after it was rumoured that the campus would be closed. Lolem said they have been asking the university to allow them to complete their studies in Eldoret as it stops new admissions, but their pleas fell on deaf ears.
"JKUAT closed campuses in Rwanda, Burundi and Kisumu and students were given time to complete their studies. We asked for CUE report on the closure, but we were never given," Lolem said.
The students wrote to the university council and CUE, higher education Principal Secretary and the Ombudsman demanding answers on the closure, but they never got any response.
"We wanted the university to do things according to the university policy on closure of campuses, which states clearly that if at any point a campus is closed, students should be given time to finish their studies," Lolem explains.
"Many students studying at the campus are working and living in Eldoret. Transferring them to other campuses will mean the end of their studies."