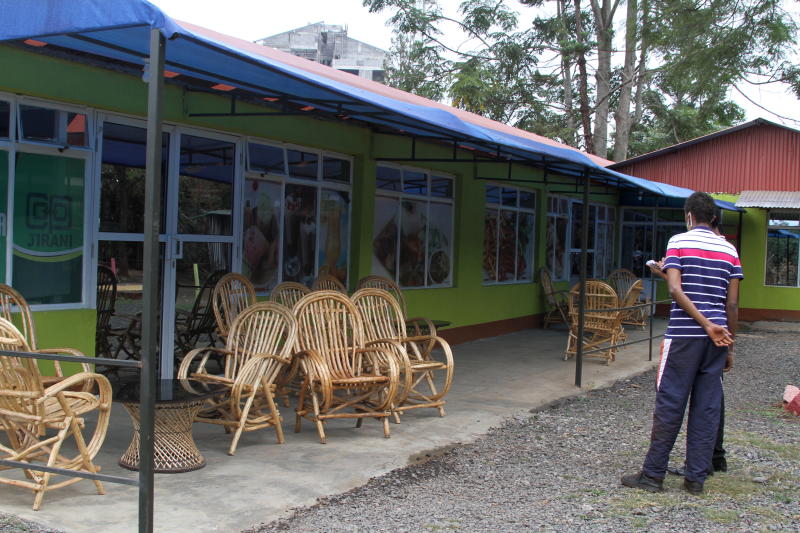 Agnes Kariko glances at her watch for the umpteenth time. It is half past one in the afternoon, and her eatery, located in the heart of the University of Nairobi's Club 36 is still empty. In the kitchen behind, her assistant sits pensively, staring across the establishment that would, on a normal day, be buzzing with university students hunched over their food.
It has been four months of struggle since President Uhuru Kenyatta ordered the closure of institutions of learning in a bid to contain the spread of Covid-19. Club 36, which acts as the university's main campus students' shopping park, is now lifeless, a pale shadow of its vibrant self.
Usually, there are tens of eateries that are always teeming with students, but now benches are piled upon each other in most of them, only the very resilient ones holding on. Now, the traders rush to woo every approaching person to their stall, hoping to make a sale.
"I used to make sales of up to Sh10,000. Now I barely take home Sh1,500 in a day," Kariko says, reminiscing about past days when fortunes were good. She serves a maximum of 10 people a day, down from more than 100.
Club 36 is student-centric, and without them the place looks devoid of life. It is arguably the most famous shopping centre in any of Kenya's universities, with tailors, salonists, movie sellers and even shopkeepers pitching tent here to serve hundreds of students every day.
Read More
John Waita, who vends sausages, eggs and chapati at Club 36, says at some point, they had to close completely when after announcement of the first Covid-19 case in the country, panicky Kenyans deserted the streets. With time, customers returned, but the directive to reopen movement into and out of Nairobi saw many people escape the city, which further impacted on the businesses at the place.
"We are just here to make a bare minimum. We are left to sell to only a few passersby," says Waita.
Jackson Amboko, who sells fruit juice, says he is forced to throw away litres of the highly-perishable drink every evening by close of business. Amboko has cut down the amount of juice he used to make pre-Covid-19 by half.
A salonist here says she has had very few customers in the last four months, her full-time business at Club 36 now turned into a few random jobs in a week, sometimes none at all.
At United States International University-Africa (USIU) along Thika Road and behind Thika Road Mall, rentals that are usually always teeming with students are deserted. The houses, just next to the school gate, are quiet, a caretaker strolling around to fix the fence here and there.
"Most of the students left for home. Their belongings are locked in, and we might only see these students when schools reopen. We do not know when that will be," says the caretaker.
He also says the students will not incur costs for the months they have not been living in the houses, as a measure to cushion them against the ravages of Covid-19.
A few stalls in the neighbourhood have seen their steel doors secured, while a nearby shopping centre, which was razed by a fire that allegedly occurred from an electricity fault, will not be rebuilt immediately due to lack of urgency. The customers who could necessitate immediate rebuilding are no longer around.
Right opposite USIU gate is Feroz restaurant, a beautiful eatery owned by Abdirahman Ali. Ali, who also owns a car wash, laments the losses that Covid-19 has caused him, chief among them snatching away his customers — the students.
"We are only offering takeaway services. We used to have around 1,000 orders for takeaway every day. Now, they are around 50," says the distraught owner who himself was, until recently, a student at USIU.
Ali taps heavily from the university's student population, with almost 93 per cent of his customers, on his approximation, students.
"I cannot survive on the remaining seven per cent. The landlord has threatened to take over this place if I do not pay up the rent, because I have not paid for some time now. I used to make sales of close to Sh200,000 a day. Now I do not even take home Sh5,000."
He is now left to serve lecturers who stay around and other workers such as cleaners and security officers as he banks on time to vindicate his decision to hang on.
At the main gate (Gate A) of Kenyatta University, tens of boda boda riders sit anticipating customers, their eyes darting from vehicle to vehicle when they sense a potential passenger alighting. Food hawkers, who are a common sight all along the walkway, are nowhere to be seen. The footbridge, often lined with students and business people sauntering along and pausing to take a view of the superhighway below, is totally clear of human traffic.
Samuel Gathige, a rider, says he used to ferry between 30 and 40 passengers a day. Now, he only carries six.
"With such reductions in numbers, and with fares not increasing, we are running into huge losses," says Gathige.
Trading stalls that had been erected around the school were demolished soon after the students were sent home, vandals making away with whatever materials they could. What was left was salvaged by the police, according to Kamande, a local.
It is the absence of students that has ensured no action is taken to restore the stalls.
Juja has always been associated with Jomo Kenyatta University of Agriculture and Technology (JKUAT). Legend has it that the university is to be thanked for the growth of the town from a small shopping centre into a complete highway town. Going by the scenes in Juja at the moment, it is hard to dispute the narrative.
The town has seen life snuffed out with the absence of students hugely impacting on business.
On a road that runs along the university, pudding, chips and juice stalls stand derelict, looking like ghost houses. Hotels' doors are half closed, almost as if the operators are caught in between closing shop and holding on.
Winnie Marura, who runs a beauty shop, is at a loss to explain the disruption Covid-19 caused her business.
"There are days I do not make a single sale. I feel for my boss because dues have to be paid in spite of whether we sell or not," says Marura.
Her main customers are JKUAT students.
Only metres away, Grace Miriko sits outside her shop, legs crossed at the ankles, arms thrust behind her head. Since the students went home, she has struggled to make ends meet.
"When students were around, business was good. Now, we are just waiting to see if things will get better,'' she says.
But the best picture of the transformation of a town built on Juja Farm, which was formerly called Ndarugu Plains, is shown by the emptiness of the residential buildings near the university.
Joy, a caretaker in one such building, says that out of over 100 students who reside in the house, only 30 are in and are rent compliant. The rest ran home months ago, many of them ignoring her calls when she tries to reach them over accumulating dues.
"You see, even the landlord needs to earn his due. He has loans to pay and other bills to worry about. It is not fair that they have been snubbing my messages while their properties remain inside our houses," she says.
As the anticipation rises that some students may be returning to school in September, many have started sending in requests to landlords to allow them back in inspite of the dues that have accumulated.
A text message sent to Rose from a student who has not paid her rent since March begging to be allowed in and to pay the balance in instalments stirs hope that the much-awaited reopening might be close.
But the landlords will not go easy on the students, Rose says, and perhaps the reopening will be akin to a war-front, from a pandemic and straight into another battle.